Iadace, and welcome to Cypher Chronicles!
Get Cypher Chronicles, and other MCG news, delivered right to your inbox! Enter your email address and click the Subscribe button in the right-hand column, and you'll never miss a post. You can also suggest topics for Cypher Chronicles by emailing us at cychron@montecookgames.com.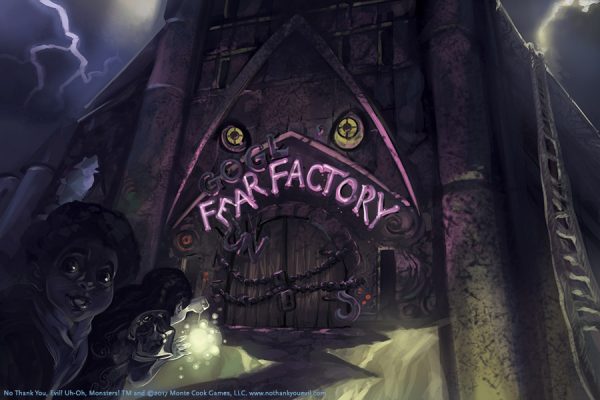 Uh-Oh, Monsters!, an expansion for No Thank You, Evil!, began shipping to Kickstarter backers this week…huzzah! Along with fulfilling the expansion, we also fulfilled other No Thank You, Evil! The Adventures Continue Kickstarter rewards and add-ons, such as extra sets of dice, character sheets, write on/wipe off reusable character sheets, and Woodlynn the Queen Bee Bags. If you missed the redemption messages, check your MCG Shop account for your redemption coupons.
Cool Stuff Coming in for Gen Con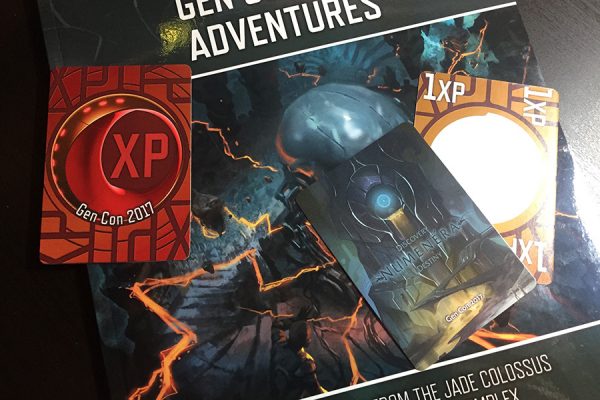 Gen Con is coming up fast, and we're in the final throes of preparation. We make loads of unique things for Gen Con: Special gifts for attendees of the What's New with Monte Cook Games seminar, characters for the Making Your Invisible Sun Character seminar (there are two sessions of this one), and giveaways for the MCG booth—even a full-fledged, exclusive print book with the adventures for our GMs. And for the Learn the Secrets of Invisible Sun seminar . . . well, that one's a secret—but it's pretty cool! It's always exciting to get a new item back from the printer and hold it in your hands for the first time, and there have been a lot of them coming in this week. We can't wait for you to see them at Gen Con!
Invisible Sun Medallions
Speaking of getting new things in, check these out: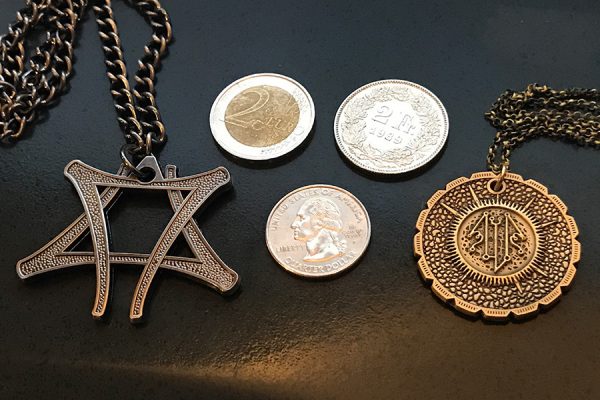 These are the first two medallions for Invisible Sun, representing the Order of the Vance and the Pale Sun. As we announced in this week's Kickstarter update, production for Invisible Sun is ramping up quickly, and we're getting more and more samples, prototypes, and actual finished components almost every week at this point.


"The barrier to entry is lower than ever, the degree of inclusiveness is more accepting than ever, and the possibilities for storytelling are broader." Read the rest of Brian Kurtz's article in Player Perspectives: Learning Through Play.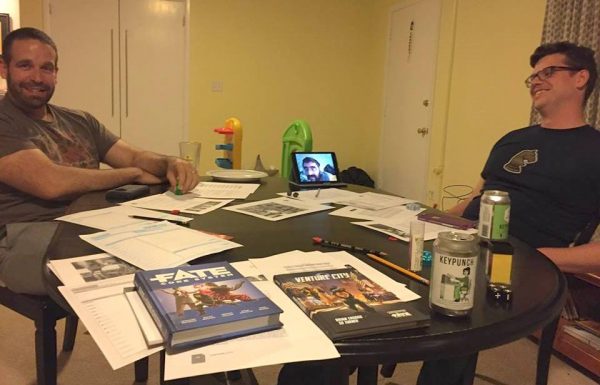 Five Books Set in the Remains of a Dead Civilization, by Daniel H. Wilson, is a great short reading list if you are looking for inspiration for your Ninth World campaign or Cypher System post-apocalyptic game.
Magnetize a skull suspended above a ferrofluid and this is what you get, which looks like an interesting game room decoration to me.


If you aren't following along with the summer adventures of The Game Academy, you are missing out! The Game Academy is an educational, non-profit organization whose mission "is to empower learners to achieve social, emotional and academic success through engaging, interactive role-playing games." They offer unique educational experiences for kids through adventure summer camps, after school enrichment programs, interactive units for alternative education, and more!
Action shots of Our Heroes saving the galaxy during Star Wars Week, with a little help from their Gamemasters (including a guest GM stint by Camp Director Joshua Archer). #adventuregamingcamp #thegameacademy
Posted by The Game Academy on Thursday, August 3, 2017
Reading through Numenera and the Strange. Anyone want to jump in a one shot and check it out with me? #numenera #montecookgames #mcg pic.twitter.com/shrP9APY5h
— RPG Pizzaria (@rpgpizzaria) August 2, 2017


As some of you might know, I have a slight dice addiction. And what does someone with a dice addiction need? Lovely storage for their dice, of course!
If you love Flash Point: Fire Rescue, you're going to want the expansion, Flash Point: Tragic Events. Tragic Events includes the Fire & Event decks that are designed to replace the Hot Spot mechanic in the Experienced game rules, and add exciting new "events" to make each game of Flash Point even more unique.
Keep your lips hydrated and in top gaming shape, and support a good cause by purchasing these awesome lip balms from Long Winter Farm.


If the seas have a ruler, it is the octopus. Their empire has outlived the eight Prior Worlds and spans the world's oceans—all ruled by their queen.
Discover the secrets of the Ninth World's most ancient and, though it is known to few, pervasive cultures. Face off against the aggressive octopi of the Bay of Peyclin, who are secretly building an army to invade the Ninth World's lands. Or play an octopus yourself, with a new focus and descriptor for octopi characters.
Building on content from Into the Deep, this supplement gives you more details on the inner workings of the world of the octopodes.