Hot news about Invisible Sun, Numenera, a Liminal Shores Numenera raffle, and awesome Cypher System shows to watch in this week's Cypher Chronicles.
You can get Cypher Chronicles, and other MCG news, delivered right to your inbox! Enter your email address and click the Subscribe button in the right-hand column, and you'll never miss a post. You can also suggest topics for Cypher Chronicles by emailing us at [email protected].
We've just returned from Gen Con and are hitting the ground running!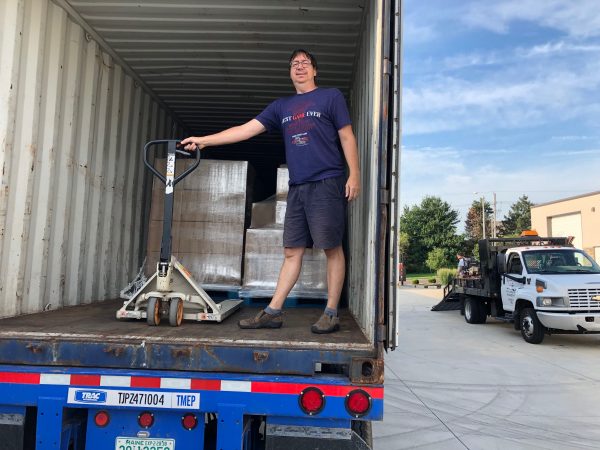 Black Cubes arrived at our Kansas City warehouse today, and are landing at our UK and Australia sites in the next few days. Backers of the reprint Kickstarter are getting their Black Cubes shipped out as they fulfill their rewards, followed by preorder fulfillment, and then the Black Cube will finally go up for general sale!
Liminal Shores, our brand-new foray into the Ninth World, involves the datasphere, the mysterious network of ancient transmissions and information responsible for the supernatural-seeming glimmers that Ninth Worlders sometimes, like strange visions, receive. Through exploration of the datasphere, a new wealth of information presents itself, both about the world the PCs live in, as well as the prior worlds.
The Kickstarter campaign for Liminal Shores, launching August 13th, includes three books (at least to start with):
Voices of the Datasphere

 offers a whole new method of gameplay involving traveling into the datasphere; when you travel to this unique environment, you'll find your character altered in interesting ways.

Liminal Shore details a whole new portion of the Ninth World, and unveils previously unknown intelligent species, creatures, locations, cyphers, artifacts, and more.
Edge of the Sun, an adventure/sourcebook, sends you to a mysterious structure near the sun—which might be responsible for making life on Earth possible a billion years in the future. And after millions of years, it could be failing . . .
Ninth World Giveaway
To celebrate Liminal Shores, we're launching a Gleam raffle. Enter to win a set of the Into the Ninth World books (complete with slipcase and brand-new Numenera bookends!) as you spread the word about the Kickstarter!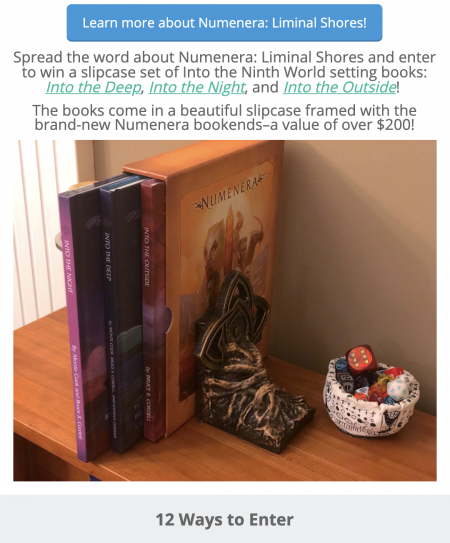 Cypher Streaming Tonight: the Return of Callisto 6 and Numenera: Simulacrum
Catch new episodes of both #Callisto6 (the Cypher System supers show from Geek and Sundry) and #Simulacrum (the new Numenera virtual reality show from Tablestory) this weekend!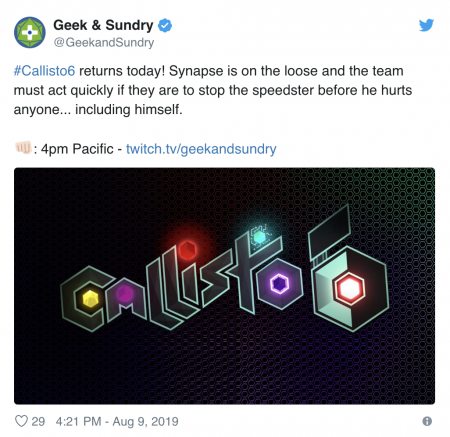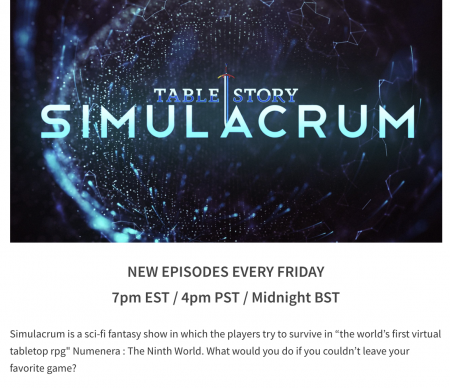 Dark Mythos: Creatures of World Mythology from Audre Schutte. She does wonderful drawings of creatures. Bear has a previous book of hers and it's full of really great work. This is definitely worth checking out!
Fossil parrot a meter tall found in New Zealand: Heracles inexpectatus! A mere 19 million years old. Don't tell Sue the T. rex, they might feel jealous of this new, big, murderbird.
Bruce Brenneise has done some amazing pieces for us at MCG, and he's currently kickstarting a print run on a really cool playmat. There are other options for support, too. Check it out!
And here is chemistry instruction using augmented reality: