Iadace and welcome to this week's edition of the Cypher Chronicles! This will be our last transmission until we get back from Gen Con, so gather round Speakers and Explorers and Adepts. Let me tell you a story of games and glory (or at least games. I'm can't promise there will be glory).
Hope to see you at Gen Con!
Product News
If you're a Kickstarter backer or a pre-orderer, you probably got something in your snail mail or email this week. We started delivering: the Numenera Deluxe Boxed set, Worlds Numberless and Strange, the Cypher System Rulebook, playtests for No Thank You, Evil! We had a few delivery glitches — sorry about that — but it should be all sorted now. If you need more information, check the Kickstarter updates or your inbox/spam folder. As always, if you need help with someone, use our contact us page. Tammie is pretty slammed, so it might take her a day or so to get back to you, but we'll get you sorted. Promise. See below for more specifics in items as well!
Exclusive Numenera Boxed Set Edition: Packing of the boxed set is complete, and the majority of boxes have been shipped with the rest going out over the next couple of days! It's been really thrilling to see all the reports, photos, and videos of people receiving theirs. If you backed the Kickstarter but haven't received yours yet, don't panic—it's on its way!

The boxed set is a heavy and complex item—two factors that aren't ideal for shipping. We were super careful in the packing process, but rough handling can still lead to damaged boxes. If you have an issue with your box, drop a line, including photos of the box and packaging, to [email protected]. But (and this is REALLY IMPORTANT): Be patient. We leave for Gen Con in just a couple of days, and are still fulfilling the Cypher System Rulebook and Worlds Numberless and Strange. We might not get back to you until after Gen Con. That doesn't mean we don't care, though, and we'll deal with every contact personally. Hang in there—as always, we've got your back!

Worlds Numberless and Strange: This week saw the street date for Worlds Numberless and Strange. This book features over 70 imaginative and unique recursions for The Strange. It's also a great companion book for the Cypher System Rulebook, giving you scores of great settings for your Cypher System adventures and campaigns!

Thanks for making Worlds Numberless and Strange #2 on DriveThruRPG already! You're awesome!

No Thank You, Evil! at Gen Con: Are you headed to Gen Con? Come on by the Monte Cook Games booth in the exhibit hall (we're booth 1737)—we'll be running short demos throughout the show! While you're at it you can pick up one of these nifty stickers we're giving away at the booth.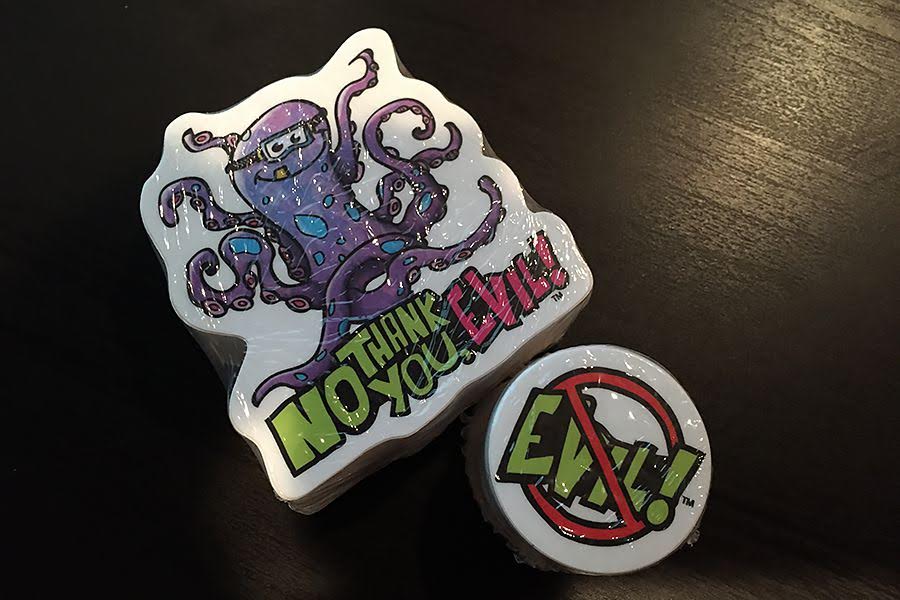 We'll also be offering pre-orders of the Standard Edition of the game, if you missed the Kickstarter (or know someone who did).
NTYE Kickstarter backers: Look for your BackerKit survey invitation in the next few days. Kickstarter does NOT provide us with critical information (such as your address), so this survey is absolutely necessary for us to get your rewards to you. Make sure the invitation email doesn't go to your spam filter! And if you're entitled to playtest access and haven't replied to the email from Zoa, please do so ASAP. (If you didn't get the email, check your spam filter, and if it isn't there reach out to Zoa at

[email protected]

.)
Other Exciting Things
Gen Con is coming! Gen Con is coming! That's the big news this week. We've got seminars, panels, games, demos, signings, goodies, and all kinds of great products. Rumor is, if you bring this cypher to the MCG booth, it will explode into money. (Unless you roll a 1. Then who knows what it will explode into?)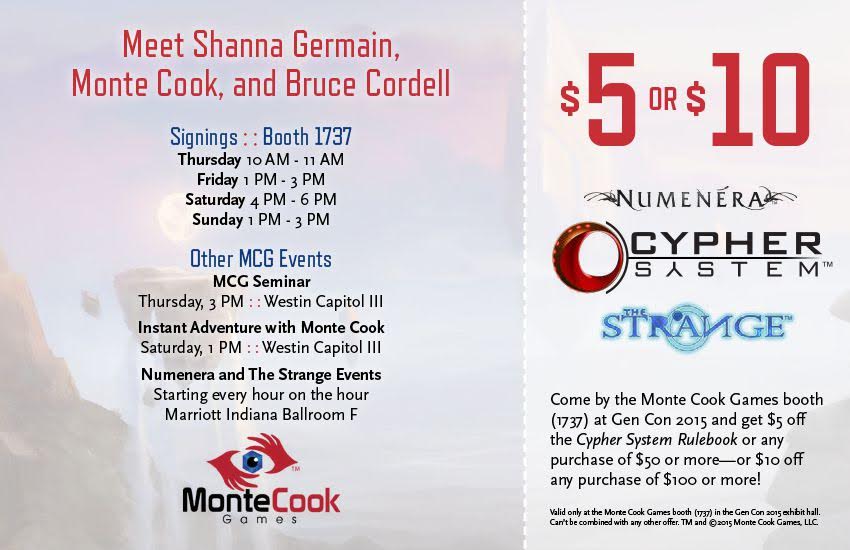 You can find us here. Come and see us!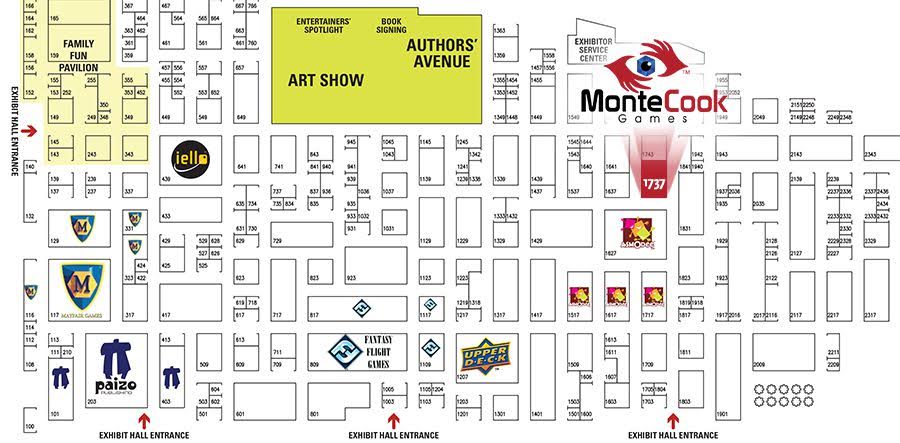 Behind the Scenes
We're announcing something that we think is really, really cool at the MCG seminar during Gen Con. We're very excited about it. We hope you will be too! What is it? Come and have a listen. (Art by Jacob Atienza).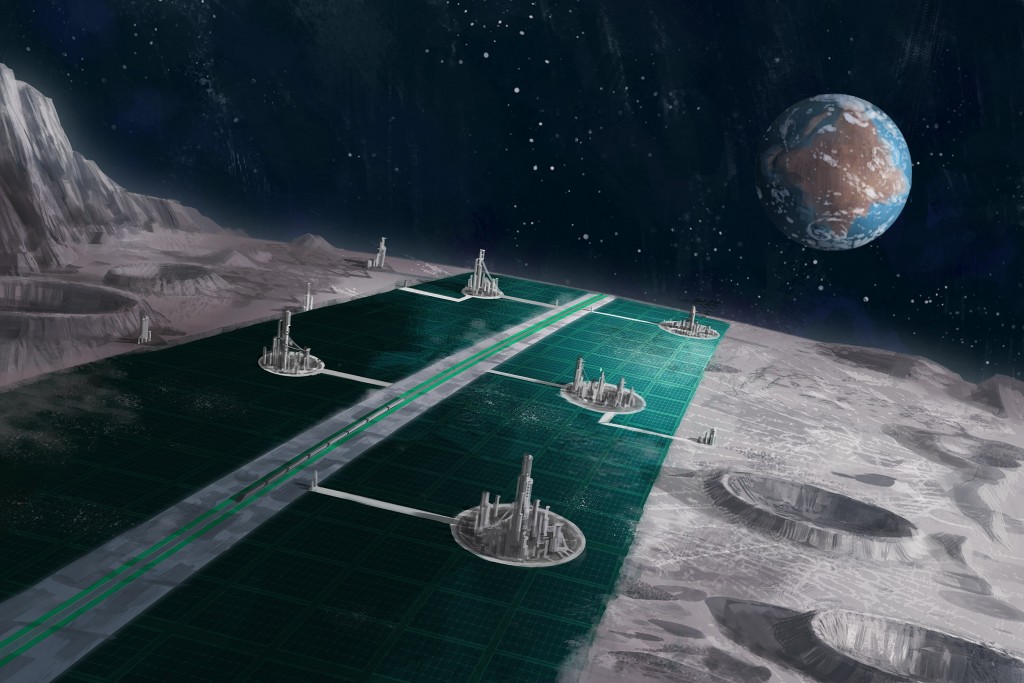 ~
Do you like us? Do you really like us? You can play an important role in helping is thrive and create more great games: Leave a review at DriveThru, Amazon, or with your local game store owner! Share these chronicles with other gamers you know. Invite those you love to sit around a table with you and delve deep into their imagination to create shared memories that will last a lifetime.
P.S. You rock.
Hey, look! Now you can subscribe to get these blog posts right in your inbox. Right down there, at the bottom of this post! Just enter your email and you'll never miss a post (we won't use your email for anything else, we promise). We've also added an easy way to share these posts on social media. You should see the buttons right at the bottom of this page!
Keep up with MCG! Follow Monte Cook Games, the Weird of Numenera, and The Strange RPG on Twitter; like Monte Cook Games, The Strange, or Numenera on Facebook, and subscribe to our MCG channel on YouTube. We also have a Pinterest account, which isn't news, per se, but it has lots of pretty pictures.
Also, don't forget: If you need us for anything or have questions, we're right here.