A new book coming for Numenera. Great tools for managing your characters and your campaign—no matter what game you play. Planetary science. And an ithsyn that plays fetch all by itself. It's been a busy week here at MCG!
You can get Cypher Chronicles, and other MCG news, delivered right to your inbox! Enter your email address and click the Subscribe button in the right-hand column, and you'll never miss a post. You can also suggest topics for Cypher Chronicles by emailing us at [email protected].


Announcing Vertices!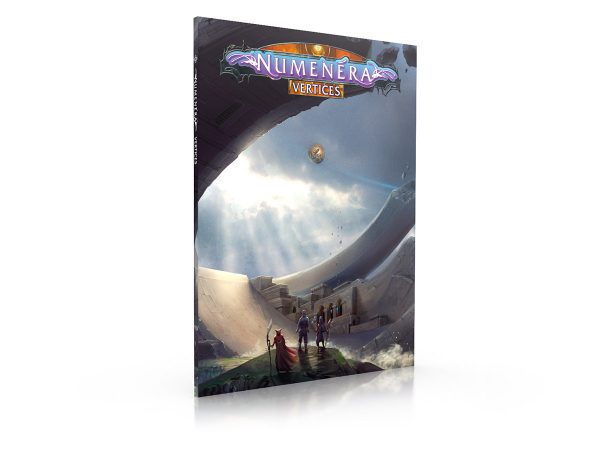 Vertices, a forthcoming adventure and sourcebook for Numenera, will offer adventures and specific places to explore within the datasphere—places first uncovered in Voices of the Datasphere, one of the titles initially funded by the Numenera: Liminal Shores Kickstarter campaign. Vertices, in fact, is the first additional book we've unlocked through stretch goals in that campaign. The campaign just launched a few days ago, but it's already unlocked not just this book, but also an upgrade to Voices of the Datasphere that adds 32 pages of new locations, datasphere inhabitants, and even secrets related to the Clock of Kala to that title. Vertices will be out in 2020, and will be a 96-page softcover print book—unless, of course, the campaign upgrades it as well!
Liminal Shores is going gangbusters. Next up in the stretch goal list: new character portfolios for Numenera. Which brings us to . . .
Check Out These Bad Boys!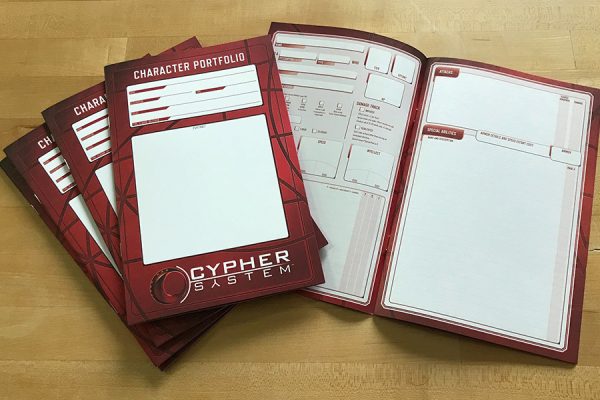 These are first-off-the-presses copies of the Cypher System Character Portfolio. This 24-page booklet gives you everything a character sheet does—plus loads of room for details, notes, drawings, maps, ideas, and campaign journaling. As a perennial Cypher System GM myself (my current game is a zombie apocalypse campaign), this is something my players and I have been awaiting for many months! We expect these to arrive at our warehouse in a week or so. If you're a backer of the Your Best Game Ever Kickstarter campaign and this is one of your rewards, look for fulfillment around the end of this month. For everyone else, the Cypher System Character Portfolio will be available (in packs of five—enough for the whole party!) in late September.
(And if you're a Ninth World gamer? Great news! We're closing in on a stretch goal that will unlock a similar character portfolio for Numenera. Check out the Numenera: Liminal Shores Kickstarter now!)
Speaking of Great Ways to Record Your Character—Or Your Campaign . . .
In case you overlooked it in the rush toward Gen Con, in late July we released two additional notebooks great for any game: the GM Notebook and the Player Notebook.
No matter what RPG you play, it's the details that bring it to life. These two useful and handy notebooks make it easy to create, record, and collect those details—for your character or your campaign. I've been transferring almost a year's worth of notes from my zombie apocalypse game from scraps of paper and worn-out spiral-bounds into my spiffy new GM Notebook, and I can tell you that it rocks. It's so nicely organized, and cues you to fill in all that useful info you like to have at the game table: PC notes, thoughts on NPCs, emergency ideas for when the game takes an unexpected turn, background info, locales, a campaign log, and more. These were a huge hit at Gen Con—and they're available now!
And Speaking of New Releases (and Great Ways to Beautifully Organize Your Gaming Life)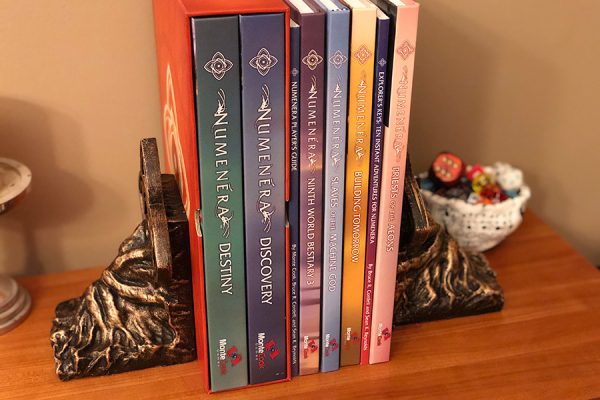 Numenera bookends are now available. Look at how beautiful they are. Looooooook at thheeeemmm.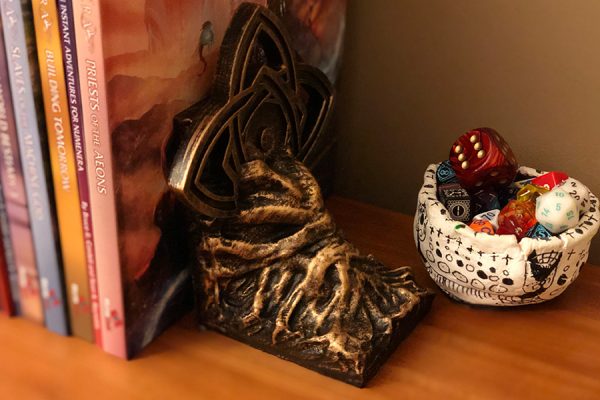 This week it's all astrophysics all the time. Plus an emu playing with golf balls.
From Bear: We all love planetary science here at MCG. It plays an important part of thinking about Numenera's Ninth World (did we mention that Edge of the Sun, funded through the Liminal Shores Kicstarter campaign, might contain some previously unrevealed insights into what happened to Mercury?). And of course it has a significant influence on products such as The Stars Are Fire. What happened in the early days of Jupiter's formation? This study may provide some insight.
From Sean: Continuing the planetary mood, scientists have uncovered a crucial step in the origin of life on Earth: certain amino acids stabilize and protect membranes, facilitating the creation of cell-like enclosed environments.
And back to Bear: As we continue our work on The Stars Are Fire: Astronomers look deeper into space than ever before. Through a new breakthrough approach, a huge array of galaxies never before seen by humans has been revealed.
From Shanna (who loves dinosaurs and dinosaur-adjacent creatures): Look at this emu that loves bouncing golf balls. (Is it actually an emu? Perhaps it's a seriema. Or an ithsyn. They like to play, right?)