Iadace, explorers. We have returned from Gen Con! We'll have a whole report on the whirlwind of awesome that happened in Indianapolis this year, but for now, let me just say: Thank you for everything. It was incredible.
Oh, and also: We won some ENnies! Thank you to everyone who voted for us (and a huge thank you to the judges, who work their butts off to read a LOT of games).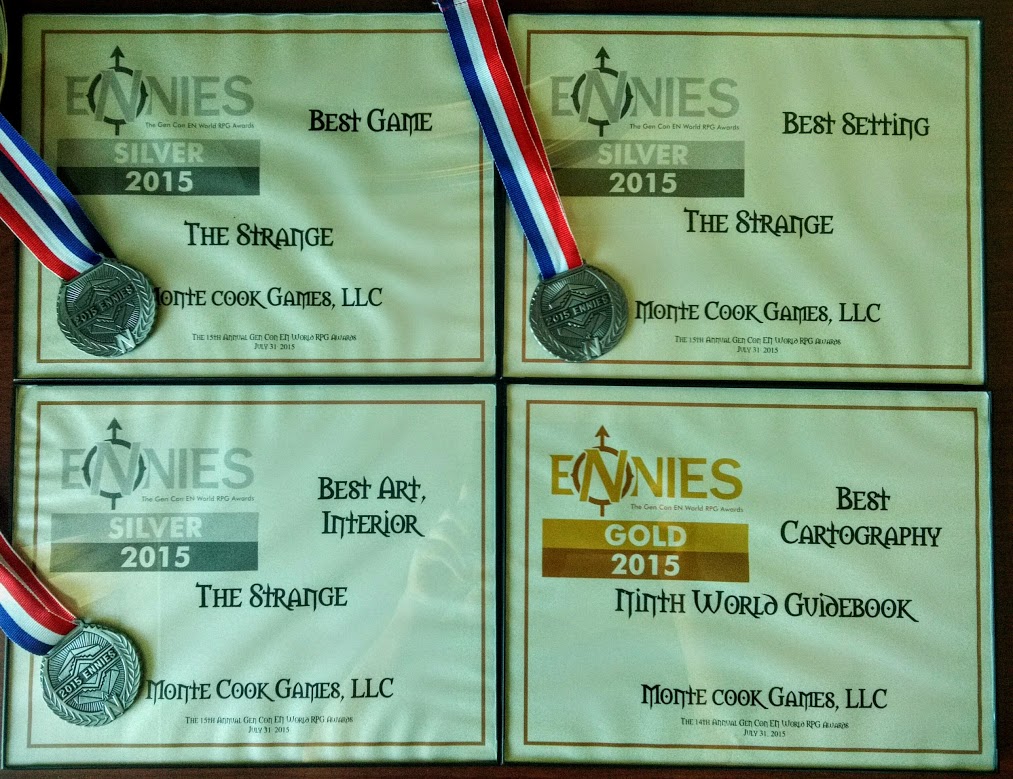 Right now, half of our team is at Kansas City Comic Con, so if you're in that area and you missed Gen Con (or even if you didn't), please head on over and say hello. They're at Booth 805. They like chocolate, coffee, and when you whisper iadace in their ears. (Okay, I might have made that last part up. Truly, I'm amazed they let me write things without supervision).
Oh hey, look! Over there! All the good things we have for you in the Cypher Chronicles this week!
Product News
Here's a quick update on shipping, backing, customer service, and all of those important elements:

Numenera Boxed Sets: All of these that were ordered before July 10th have been shipped! We're compiling a list of backers whose boxes arrived broken, and will be in touch soon about replacements. (See the most recent Numenera Boxed Set KS update for details on this). Not to worry–we'll always do our best to make it right.
Cypher System Rulebooks:  Standard pre-orders have shipped and deluxe versions are going out as we speak. Signed bookplates, dice, and decks will come later!
No Thank You, Evil: If you backed NTYE, you should have received your notice from Backer Kit regarding your rewards. If you didn't receive it, check your spam folder.
Everything else: Everything else is shipped or will be shipped soon.
Customer Service: With all of these products going out, plus Gen Con, plus KS Comic Con, plus a new Kickstarter (more on that in a second), we've been keeping Tammie super busy the past few weeks. She's currently working through all of the customer service requests, and if you sent her a note about something (shipping, products, customer service love, etc.), she will get to you as soon as possible. We're sorry for the delay, but promise we are working hard on getting caught up!
Did you know we launched a Kickstarter this week? It's for a whole new line of Numenera products that delve deeper into the Ninth World. We kicked it off with Into the Night, Into the Deep, Into the Outside, and a brand-new Artifact Deck. We funded in just under an hour (what?!) and have already hit a whole bunch of stretch goals. Your support means the world to us, and we're so excited to be able to offer all of these amazing books, decks, poster maps, and other goodies. We've got 33 days to go, so please help us spread the word and see just how far we can take this thing!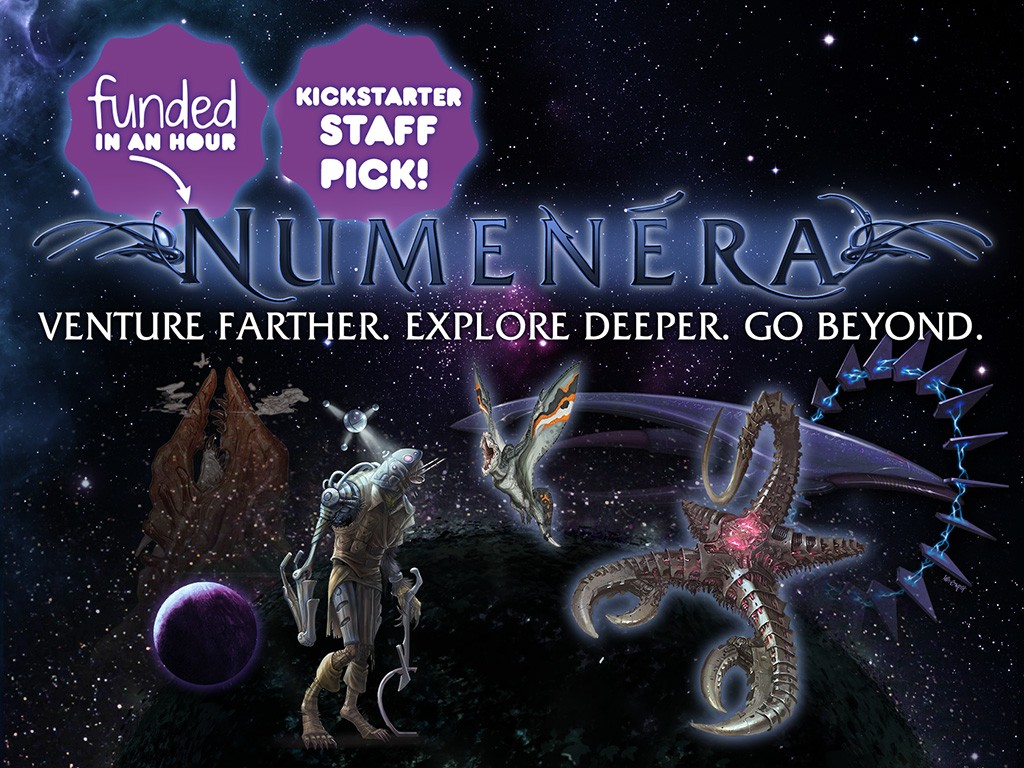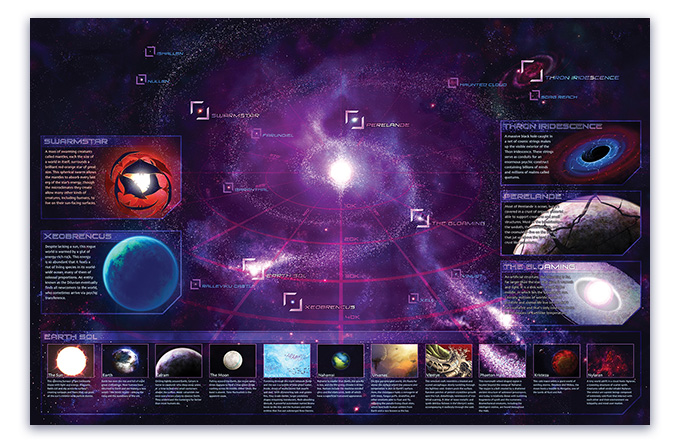 As always, we are hard at work on bunches of products. Currently in the hopper are: Strange Revelations (a collection of 10 instant adventures for The Strange), No Thank You, Evil! (our game for families), Into the Night (the first of the books funded by the new Kickstarter), a handful of new glimmers for both Numenera and The Strange, and more!

Other Exciting Things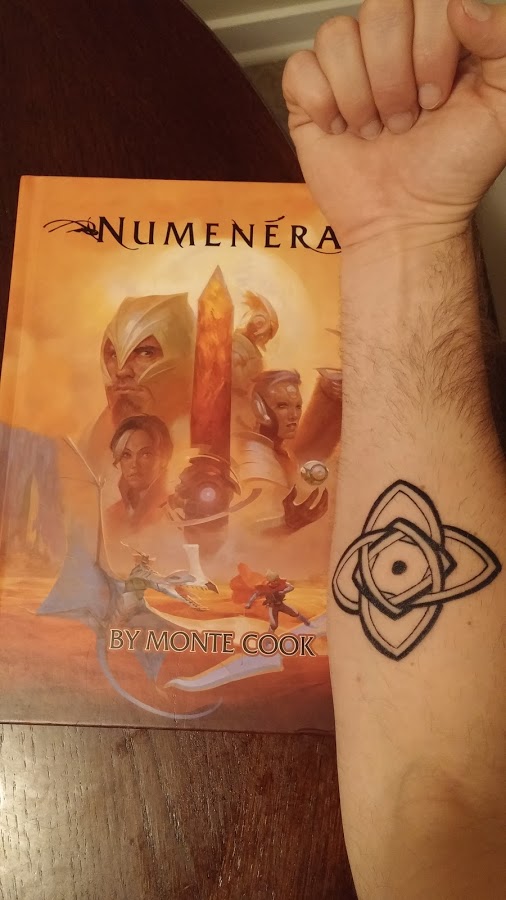 We have so much love for all of you — I'm not going to get mushy here, but except a little mush in the Gen Con write-up, because our booth volunteers, our GMs, our players, our editorial board, every single person we interacted with at Gen Con was incredible, kind, enthusiastic, and a genuine pleasure to be around. Thank you for being the most awesome RPG community out there!
Behind the Scenes
Here's an image from Into the Night, of a place called Ecatora. It's just one of the many, many places you can travel to once your feet leave the earth. Scroll down to read a little about the people who live there and how they get around the area. (Art by John Petersen)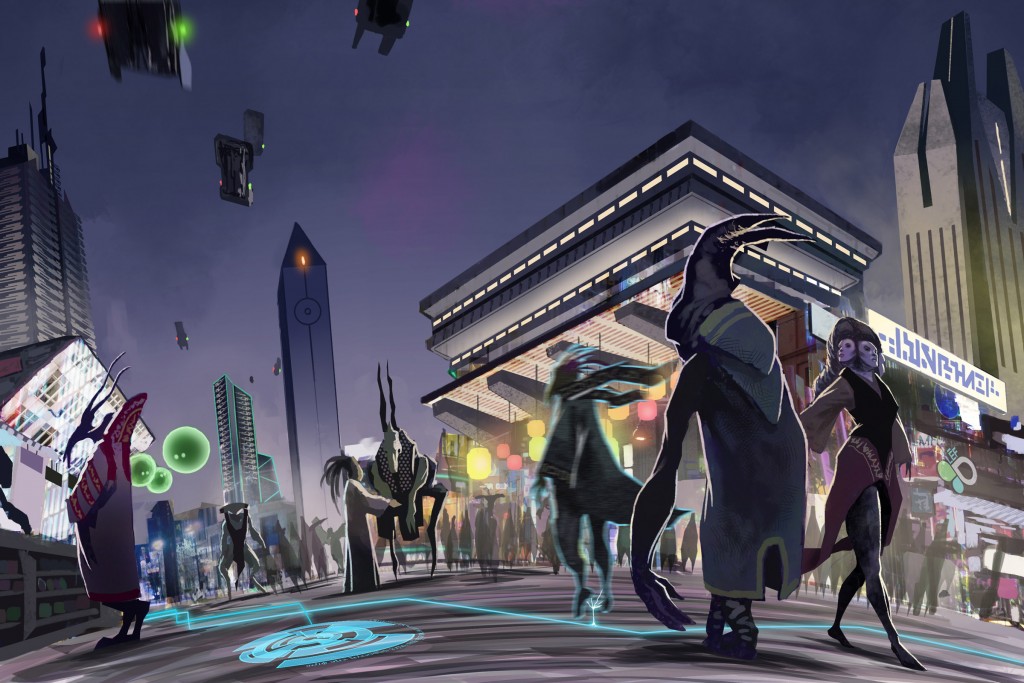 The "people" of Ecatora are as varied in form and dress as is possible to imagine. A human doesn't stand out any more than a silvery insect with clothing of flowers, a three-faced woman with a triple halo, floating green bubbles that speak, froglike hoppers with tentacles for hair, and hundreds of other body shapes do.
Ecatora residents travel via glistening lines of energy that crisscross the ground. If trod upon purposefully, a "slide-line" whisks a traveler to another part of the city—miraculously, without hitting anyone else. Because slide-lines deposit travelers at preconfigured destinations, flying cabs shaped like whorled transports are thick overhead, wending between the often-amazing architecture.
~
Do you like us? Do you really like us? You can play an important role in helping is thrive and create more great games: Leave a review at DriveThru, Amazon, or with your local game store owner! Share these chronicles with other gamers you know. Invite those you love to sit around a table with you and delve deep into their imagination to create shared memories that will last a lifetime.
P.S. You rock.
Hey, look! Now you can subscribe to get these blog posts right in your inbox. Right down there, at the bottom of this post! Just enter your email and you'll never miss a post (we won't use your email for anything else, we promise). We've also added an easy way to share these posts on social media. You should see the buttons right at the bottom of this page!
Keep up with MCG! Follow Monte Cook Games, the Weird of Numenera, and The Strange RPG on Twitter; like Monte Cook Games, The Strange, or Numenera on Facebook, and subscribe to our MCG channel on YouTube. We also have a Pinterest account, which isn't news, per se, but it has lots of pretty pictures.
Also, don't forget: If you need us for anything or have questions, we're right here.