Journey into the fictional worlds created by Shanna, Bruce, and Monte and find adventure, heartache, and joy there. Amplify your Invisible Sun game with tactile items from the Prop Set 2. Watch Monte and Shanna in their Gen Con Industry Guests of Honor videos. And find out what inspired some of the team this week. All in today's Cypher Chronicles.
You can get Cypher Chronicles, and other MCG news, delivered right to your inbox! Enter your email address and click the Subscribe button in the right-hand column, and you'll never miss a post. You can also suggest topics for Cypher Chronicles by emailing us at [email protected].

Liminal Shores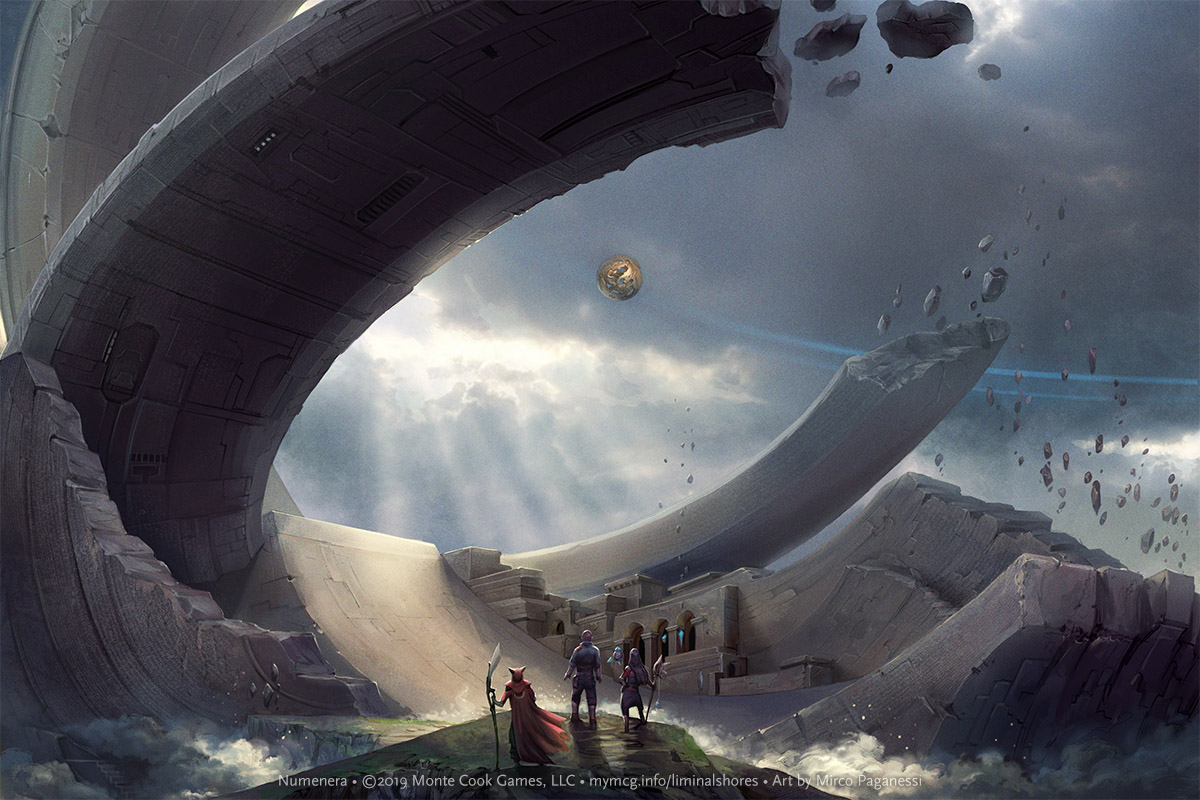 There are loads of Numenera fans who aren't aware of this Kickstarter, and there are loads of people who would be fans of Numenera if they only knew about it—we need your help to reach them, to bring them to Liminal Shores.
Please keep spreading the word about this campaign. Here are a couple of items to retweet or share, or as inspiration for your own posts:
Share/tweet this article, Edge of the Sun, and give us your theories on what is up with the gargantuan object at the Sun's edge.
Search Twitter for tweets tagged #LiminalShores and retweet posts you like.
Thank you for your help!
The Numenera streamed campaign Simulacrum from Tablestory airs tonight at 4 p.m. Pacific, perhaps the glimmer burst is happening in their Ninth World as well… Tune in on Twitch to find out.
Fantastic, Far-out, Fierce Fiction
Has Shanna made you feel all the feels about Talia? Have you translated to Ardeyn with Bruce? Traveled with Monte to the isolated region of Steremoss? If not, you're missing out on some excellent fiction.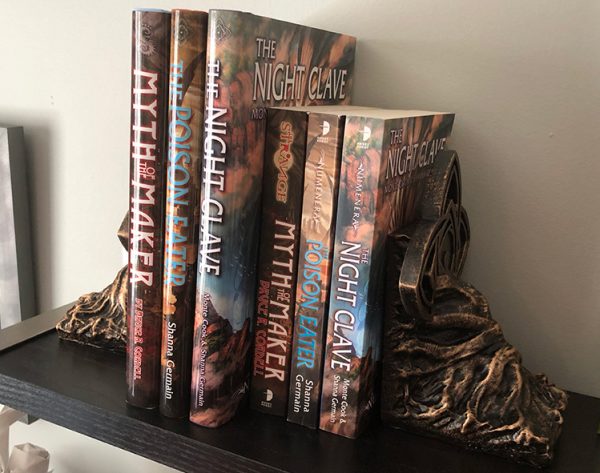 That's a photo of the bookshelf above my desk. And soon, it will hold another book . . . Tomorrow's Bones!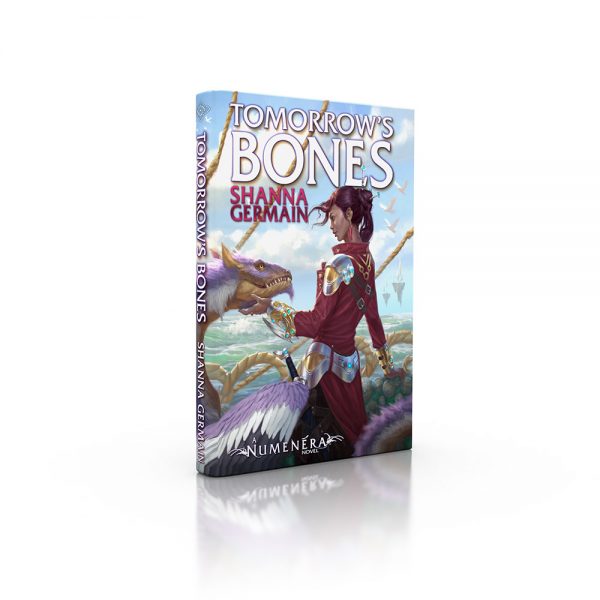 Tomorrow's Bones is an electrifying tale of living ships, kick-ass pirates, gay romance, tiny time travel, weird machines, and four-winged ka-drakes of death and candy kisses. Preorder it now so you'll be one of the first to read about Captain Cire, her crew, and Nye, her headstrong ship. Shanna's fast-paced, delightful story will surely leave you craving more . . .
And speaking of more, our next Liminal Shores Kickstarter stretch goal is to unlock Yesterday's Whispers, an ebook novella written by Monte and Shanna that explores the dark secrets of Dravik Manor. Is the ancestral family all mad, or are they privy to secrets of the datasphere? We'll only get to find out if we reach the stretch goal, so please help us make that happen!
Invisible Sun Prop Set 2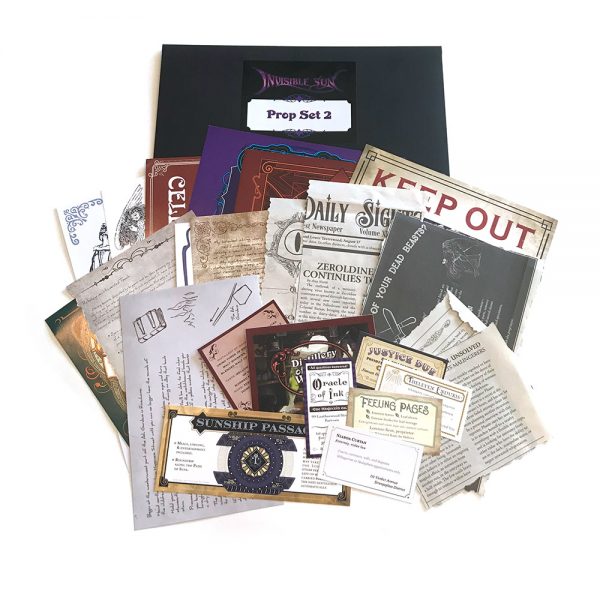 Invisible Sun is a tactile game. Among the many items contained in the Black Cube, there is a large, thick envelope full of little bits of the Actuality—menus, business cards, signs, handbills, posters, train and theatre tickets, letterhead, brochures, postcards—to use at the game table. They really bring the game to life. We liked them so much that we made another new set! Available in print and PDF, you can purchase the Prop Set 2 from the MCG Shop (Prop Set 2 Kickstarter rewards are being filled now, so print purchases will ship soon after fulfillment.)
Gen Con Guests of Honor Videos
As you might recall us mentioning, Monte and Shanna were Industry Guests of Honor at Gen Con this year. You can now watch their GoH events on YouTube . . . no event ticket required!
Creative Resilience, Creating in Difficult Times
Lessons From a Life of Roleplaying

From Sean: Ray Harryhausen was a pioneer and legend in the stop-motion animation field. His restored original stop-motion models are going to be on display at the Scottish National Gallery of Modern art next year.
I love looking at these photos of game boards from the past. It makes me wonder what someone in the future would think if they stumbled upon an unopened Black Cube.
Atlas Games is doing something fun and exciting starting September 1st for game designers and potential game designers!
Are you a game designer? (Hint: anyone can be one!) Starting September 1st, we'll spend a month talking about game design for aspiring and experienced creators alike. Our question for you: what topics or questions would you like to see covered?

— Atlas Games 🔛 Kickstarter with Dice Miner! 🎲⛰️ (@atlasgames) August 20, 2019