Iadace, and welcome to this week's issue of the Cypher Chronicles! This week, nothing's happening and we're all Slacker jacks who Don't Do Much.
*waits for laughter to die down*
Right. Was it the rocking Numenera Kickstarter that gave us away? The Cypher System Rulebook? Worlds Numberless and Strange? Or maybe the brand-new GM Intrusion and Weird Decks?
Next week, that's when we'll be Slacker jacks! For now, look at all of this good stuff we've got for you:
Product News
The Numenera Kickstarter is just blowing us away. As I write this, we are about $1,000 away from reaching $150,000 and hitting the Numenera Character Options 2 book as a stretch goal! Not only that, but we were able to launch our fiction line as part of this Kickstarter and make poster maps and card decks and and and. So many beautiful ands! Thank you to every single backer, word-spreader, and supporter. We appreciate everything you do to help us make gorgeous products that you want at your game table. We have LOTS of great ideas for stretch goals we want to add, so keep spreading the word. Hook your friends, surprise your loved ones, and astonish your enemies! (or something like that).

Into The Night is the first book coming out of the Kickstarter. We're putting the finishing touches on the book and working on the double-sided poster map. Monte just finished writing the ebook supplement about the Nightcraft. It's coming together beautifully. Keep an eye out next week for the preview, which shows off the beautiful graphic design, art, and writing of the Ninth World skies.
Our Numenera GM Intrusion and Weird Decks just hit the streets — or, rather, the web stores! You can get these decks in both print and PDF versions. The intrusion deck is particularly awesome, in my opinion, because I always get stuck coming up with cool intrusions. The cards are even color-coded for combat, interaction, and miscellaneous encounters—just draw the card type that matches the type of scene being played and viola! A new challenge for your players.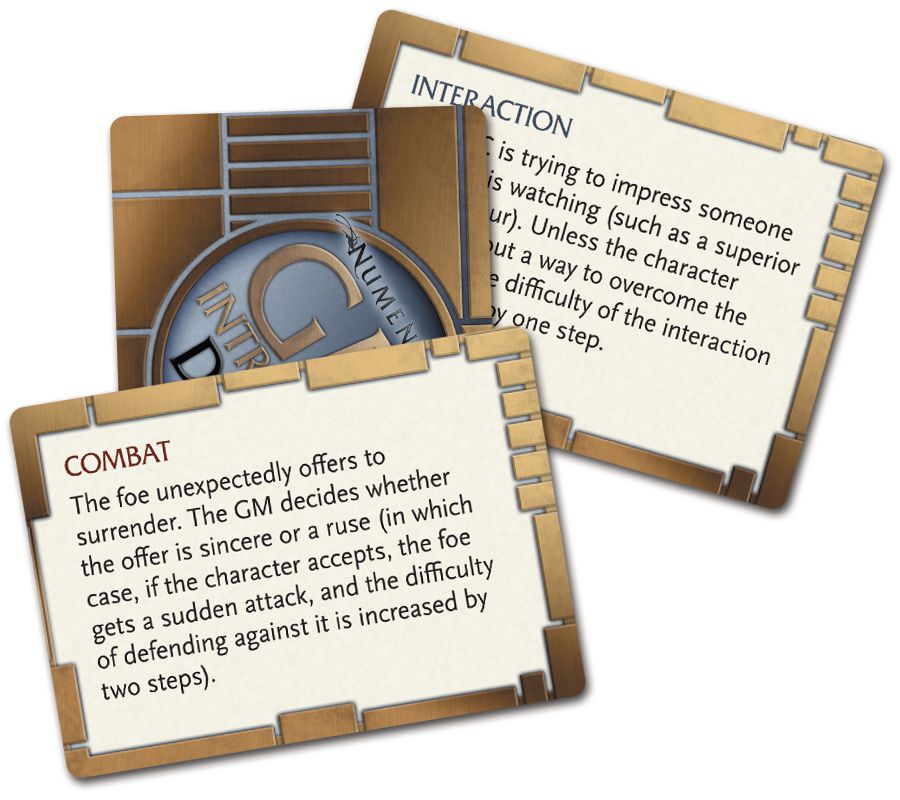 Other Exciting Things
If you have a customer service issue that hasn't been resolved previously, you should be hearing from us tonight. If you haven't heard from us by tonight, it means that something went missing in the datasphere. Here are some additional important pieces of news:

Autographed bookplates and deluxe editions of the Cypher System Rulebook have not yet shipped. Shipping will begin soon!
If you received a damaged Numenera Boxed Set, please send photos and your shipping address to 

[email protected]

(or use the Contact Us page).
If you have received an Numenera Boxed Set but the coupon card is missing the code, please send a photo to

[email protected]

(or use the Contact Us page).
If you have received a duplicate Numenera Boxed Set, please notify us at

[email protected]

 (or use the Contact Us page).
Ravendesk Games is turning the science fiction novel Vurt (by Jeff Noon) into a roleplaying game — and they've licensed the Cypher System to do so! They just hit their Kickstarter funding and are on to stretch goals!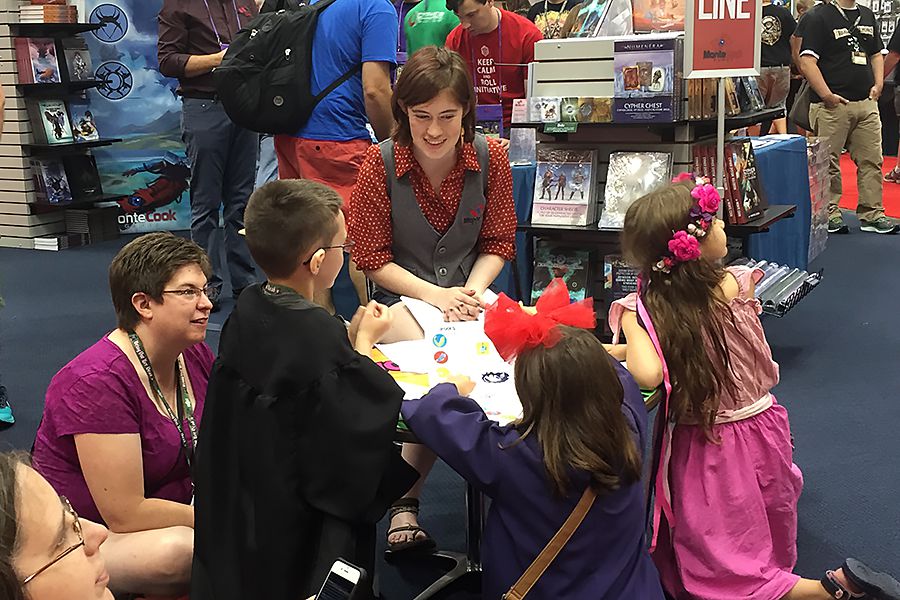 We will be attending PAX and Dragoncon. Stay tuned for more details on our schedules! Hope we'll see you there!
Behind the Scenes
We're getting started on Into The Deep, the second book funded by the Into the Ninth World Kickstarter! You've seen the cover mockup on the Kickstarter, but here's a closer look at the actual cover art from Kieran Yanner. So much scary underwater goodness in a single image!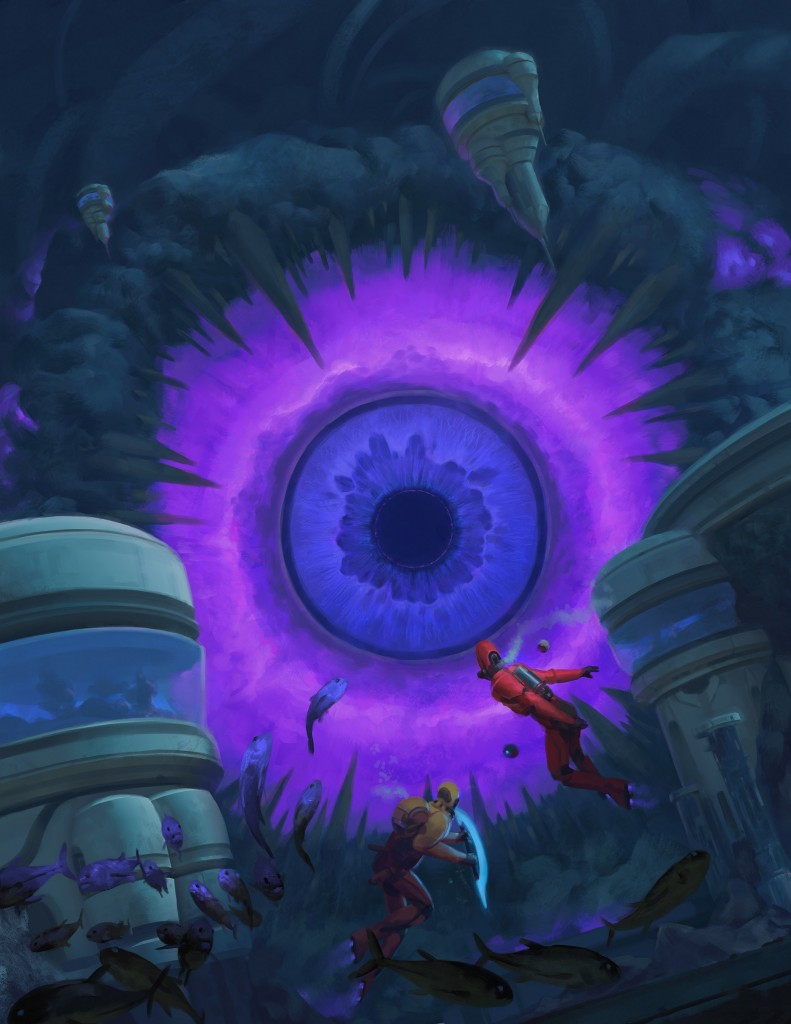 ~
Do you like us? Do you really like us? You can play an important role in helping is thrive and create more great games: Leave a review at DriveThru, Amazon, or with your local game store owner! Share these chronicles with other gamers you know. Invite those you love to sit around a table with you and delve deep into their imagination to create shared memories that will last a lifetime.
P.S. You rock.
Hey, look! Now you can subscribe to get these blog posts right in your inbox. Right down there, at the bottom of this post! Just enter your email and you'll never miss a post (we won't use your email for anything else, we promise). We've also added an easy way to share these posts on social media. You should see the buttons right at the bottom of this page!
Keep up with MCG! Follow Monte Cook Games, the Weird of Numenera, and The Strange RPG on Twitter; like Monte Cook Games, The Strange, or Numenera on Facebook, and subscribe to our MCG channel on YouTube. We also have a Pinterest account, which isn't news, per se, but it has lots of pretty pictures.
Also, don't forget: If you need us for anything or have questions, we're right here.