An ode to cards and accessories, a roundup of the next week's storytelling in silico, an AMA with the design team of Liminal Shores, artificial memories created in mice, and more in today's Cypher Chronicles!
You can get Cypher Chronicles, and other MCG news, delivered right to your inbox! Enter your email address and click the Subscribe button in the right-hand column, and you'll never miss a post. You can also suggest topics for Cypher Chronicles by emailing us at [email protected].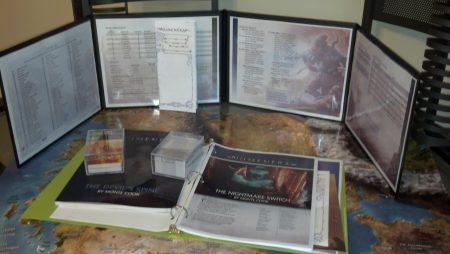 Once I got my first deck of Numenera cyphers, I never looked back. Accessories like decks of cards can augment and strengthen a game so much!
Cards can relieve cognitive load for players by containing mechanical information, they bring the art to life at the table, and they can even serve as reminders of "levers" that you can pull if you're stuck: an XP card for a player intrusion, a cypher or artifact for a perhaps literal lever, and just the right creature to throw at your players when they go somewhere unexpected.
Enter to win a Deck Box, a deluxe corebook slipcase set of Numenera Discovery and Numenera Destiny, and every Numenera card deck available by helping us spread the word about the Numenera: Liminal Shores Kickstarter! Simply go to this Gleam giveaway page and retweet, post, click, and like to help raise awareness of these awesome new books (and more).
Know someone new to the Ninth World?
We now have two ways that new Numenera players can get in on this exciting Kickstarter, including the glimmer bursts, which yield free PDFs that backers of any level can get if they're paying attention to the Kickstarter updates and solve a little puzzle!
New to the Ninth World: Never experienced the award-winning Numenera RPG? This is a great place to start. You get the Numenera Starter Set, which contains everything you need for your first forays into the Ninth World: pregenerated characters, the game rules, an overview of the setting, and a hefty two-part adventure. It even includes dice—and we'll send it to you just weeks after this campaign closes in BackerKit!
Dive Into the Ninth World: You're new to Numenera, but you want it all! You get the Numenera Corebook Slipcase Set that includes the 416-page corebooks Numenera Discovery and Numenera Destiny, plus poster maps, the slipcase, a medallion, and other useful extras. You also get the corebook set in PDF. Plus you get all the benefits of the Onto Liminal Shores backer level, including every title unlocked by this campaign, in print and PDF.
Storytelling in silico
We might not have the datasphere, but we do have our streams. MCG fans will find a ton to love coming up this week:
Friday (tonight!) at 4 p.m. PDT, set your dials to either:
#Simulacrum—the Numenera virtual reality show from Tablestory
#Callisto6—the Cypher System supers show from Geek and Sundry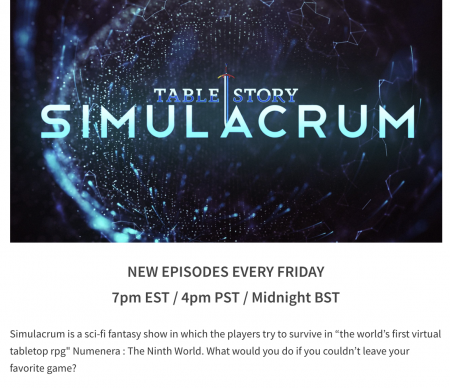 On Saturday starting at 10 a.m. PDT, catch the entire season of Bearing the Light, Monte's Numenera actual play run with players Bruce, Darcy, Sean, and Shanna.
On Sunday, starting at 10 a.m. PDT, we rebroadcast all of The Raven Wants What You Have for a final Invisible Sun-Day before Invisible Sun is officially released (and before the preorder special goes away)!
On Thursday, September 5th, at 4 p.m. PDT, the design team of Liminal Shores is holding an AMA! Bring your questions about the Ninth World, design, worldbuilding, and more to Twitch. Post your questions ahead of time in the comments of the Liminal Shores Kickstarter.


The crew from the Cypher Unlimited Discord have been producing awesome YouTube videos! Check out their most recent video, What's Your Favorite Monte Cook Games Book?, and weigh in!
A successful artificial memory has been created (via manipulation of neurons with light!) and confirmed in mice. It's as scary as it is exciting, and brings to mind all kinds of sci-fi stories. Definitely something I'll be referencing in my games using The Stars Are Fire.