News comes on little fairy wings! Pandemonium Noir, a Cypher System-powered RPG set in the worlds of Weird Tales has just launched its Kickstarter. Next week holds the release of We Are All Mad Here as well as a livestream about Fairy Tale RPGs. All this, cool science, and more in today's Cypher Chronicles.
You can get Cypher Chronicles, and other MCG news, delivered right to your inbox! Enter your email address and click the Subscribe button in the right-hand column, and you'll never miss a post. You can also suggest topics for Cypher Chronicles by emailing us at [email protected].
---

Running Fairy-tale RPG Campaigns
We Are All Mad Here brings fairy tales to the Cypher System, and its release is right around the corner. Come celebrate the release and learn from two good witches who know it best: Shanna Germain, lead designer of We Are All Mad Here, and Tammie Webb Ryan, game mistress extraordinaire. Darcy Ross, friendly fey of the Heartwood, will moderate and bring audience questions to these canny enchantresses.
Tune in on Wednesday, September 9th, at 5 p.m. Pacific on MCG's Twitch channel. Bring us your questions about running fairy-tale games in the Facebook event, on Twitter, or live in the stream!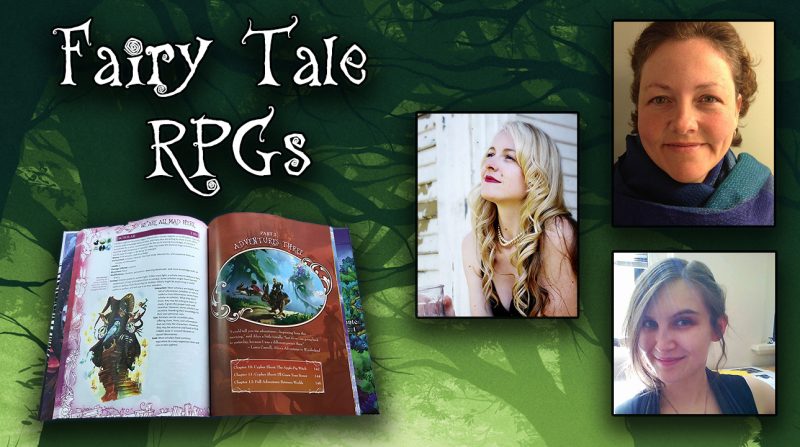 Ravendesk Games' Weird Tales Cypher System Kickstarter is live!
Pandemonium Noir is live! Our friends at Ravendesk Games have just launched a Kickstarter to bring the worlds of Weird Tales Magazine to a Cypher System RPG. It's got a wild tone and looks like a ton of eerie fun. Check it out.
Based on James Aquilone's Dead Jack series, Pandemonium Noir is a creepy fun fantasy-horror setting which began in the pulp pages of Weird Tales and has since spawned two novels — with a third on its way! This tabletop RPG, powered by Monte Cook Games' Cypher System, kicks off a series of games inspired by the legendary stories and creations spanning nearly a century of Weird Tales Magazine™.

The game is set in the dimension of Pandemonium, a collection of diverse lands populated by monsters and other supernatural beings. ShadowShade is the capital city (think New York City, 1950, as imagined by Hieronymus Bosch, Billy Wilder, and Ed "Big Daddy" Roth). Here in Pandemonium, you play the fabled creatures of myth and nightmare. You are the weird in these weird tales.
Want to learn more? Take a look at the Kickstarter, or watch this interview with creator Alex Lepera on the Cypher Unlimited channel.
Like all Cypher System content, you'll be able to pull from this book into any of your other games—a perfect match with Stay Alive!
Gaming Online
What are the challenges and the perks of playing #RPGs online? Monte Cook and Darcy Ross dive into their experiences with online gaming and share tips and tools for great online play experiences. Just the juicy bits, excerpted from our last #SplitTheParty video.
(And check out that gorgeous overlay art, from the forthcoming Numenera book Liminal Shore, illustrated by Biagio D'Alessandro.)

Why now is the golden age of paleontology: Are we living in the golden age of paleontology? National Geographic thinks so, and this fun little video explains why.
Some researchers still think that Oumuamua might be alien technology because we're still having a hard time describing why the interstellar object was speeding up . . .
Left at the Bottom of the Garden Chapter Two: These miniatures are really cute, the story the sculptor created for them is really cute, and even if you don't use them for gaming they'd be really cute decorations or ornaments.