Dozens of Ninth World creatures and characters for your gaming table. The solar system scaled to a marble-sized Earth. Invisible Sun back in print. And gamers go behind the scenes of a new fantasy-steampunk TV series. All in this week's Cypher Chronicles!
You can get Cypher Chronicles, and other MCG news, delivered right to your inbox! Enter your email address and click the Subscribe button in the right-hand column, and you'll never miss a post. You can also suggest topics for Cypher Chronicles by emailing us at [email protected].


Ninth World Characters and Creatures for Your Game Table
Have you been following the Numenera: Liminal Shores Kickstarter campaign? Just last weekend, backers unlocked these: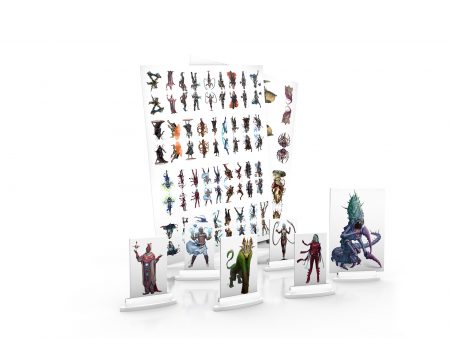 That's right: we're going to make standups for Numenera! They will feature double-sided cardstock with plastic bases, printed in full color at 28 mm scale and featuring dozens of Ninth World characters and creatures.
Numenera: Liminal Shores has already funded four books, with a fifth in the stretch goal queue now. It's also funding some cool extra bits and pieces—the sorts of things that can be useful and fun at your gaming table, but might not be practical to produce outside of a Kickstarter campaign. Speaking of which . . .
Check Out This Gorgeous Playmat
The Numenera playmat was first introduced in 2015. It's been popular with Numenera players, Asset Team members, convention GMs, and others because it presents useful information, gives you a great die-rolling surface, and makes a beautiful focal point for your gaming table. It's so popular, in fact, that it's been sold out for quite some time. As part of the Numenera: Liminal Shores Kickstarter, we've decided to revive it, making it bigger and even better!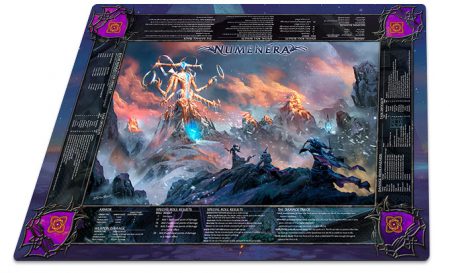 The new playmat will be nearly twice the size of the previous version. It will feature new art and a larger assortment of game information. You can reserve yours now as an add-on in the Liminal Shores campaign. But hurry, because . . .
Liminal Shores Is Entering Its Final Week!
Numenera: Liminal Shores is our fifteenth Kickstarter campaign. If you took part in any of the first fourteen, you know that the final week is always the most exciting. It's not uncommon to unlock multiple stretch goals per day in those final days—and there's no reason to expect Liminal Shores to be any different. Take advantage of the incredible deals our Kickstarters offer, and help shape and improve the products we offer. Stay tuned for announcements of new products as we unlock stretch goals. If you haven't already, back it now!
(Oh, and don't miss out on the glimmer bursts—free glimmers that the datasphere has been sending to backers. Only backers can get these PDFs with playable Numenera content!)
Invisible Sun Is Back in Print—for Now
Rejoice, vislae, for your return to the Actuality is at hand. The Invisible Sun Black Cube and the Vislae Kit are back in print. The reprint is being delivered to Kickstarter backers and preorder customers, and a small quantity remains in stock. If you've felt the call of the Actuality—if you've come to suspect that this Grey world is not your true home—summon the Black Cube and experience its many wonders. But don't delay; the remaining quantity of Invisible Sun isn't expected to last for very long!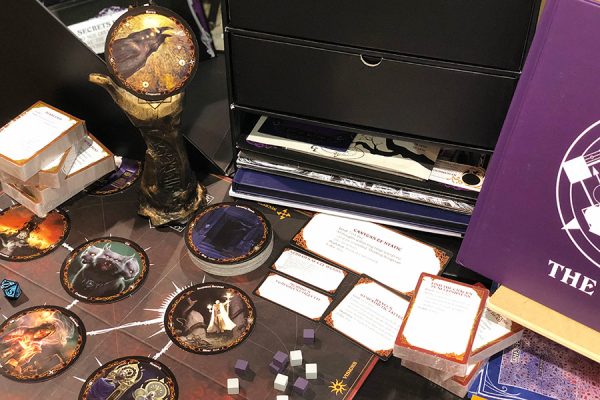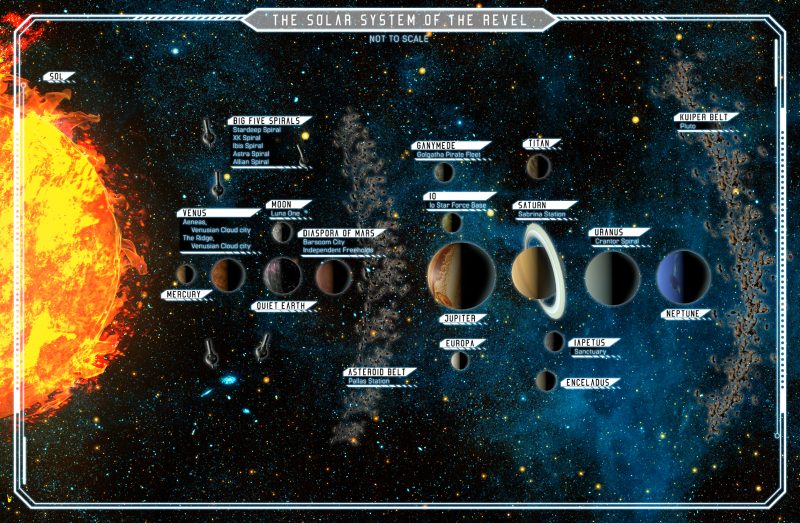 Sometimes it's hard to grok things at really huge scales. (Like, one billion years in the future.) That image above? It's from the forthcoming The Stars Are Fire, our science-fiction sourcebook for the Cypher System. When you see images of the solar system like that one, they're usually intended to give you a sense of the relative size and order of planetary bodies—they're never actually to scale with the distances involved. For example, if the earth was the size you see above, the entire solar system wouldn't fit in the image—it would actually be miles across. Here's a really cool video that models the solar system to scale in real life!


If you haven't been watching Carnival Row, you should check it out. The steampunk setting is unique, the characters are fantastic, and the story is really, really good. And the best part? There's a streamed game coming to Geek & Sundry set in the Carnival Row world, and the characters in that game actually appear in the show. Here's a behind-the-scenes look at the making of that sequence: