Iadace and welcome to Cypher Chronicles!
Get Cypher Chronicles, and other MCG news, delivered right to your inbox! Enter your email address and click the Subscribe button in the right-hand column, and you'll never miss a post. You can also suggest topics for Cypher Chronicles by emailing us at [email protected].


Numenera 2 Kickstarter Launches September 19th
As a skilled adventurer, you have traveled more than most and seen your share of small, isolated communities in the Ninth World. There's just something about the village of Ellomyr, however, that has caught your attention. The folk welcomed you warmly when you arrived, sharing their food and their homes. These people clearly work hard to maintain a pleasant place to live and raise their families. Like so many little villages, it lies in the shadow of ancient ruins that no one completely understands. Among other weird relics of the prior world, Ellomyr's central square is built around the infamous and immovable Trilling Shard, an ancient symbol-covered stone that quavers with sound at rare times.
Join us on Tuesday, September 19th, for the launch of the Numenera 2 Kickstarter!  This is going to be an exciting Kickstarter campaign for a beautiful two-book set that expands Numenera in intriguing ways.
Over the course of this Kickstarter campaign, we're going to track the development of Ellomyr, an isolated Ninth World community. As a backer, your involvement and choices during the campaign will directly affect Ellomyr. As threats or needs arise, you–the backers–will help the village overcome these threats. The more you participate in the campaign, the more easily the threats will be overcome, and the more Ellomyr will thrive and grow as a community. Spread the word about #Numenera2, and join us on September 19th to become part of the Numenera story!
Numenera Discovery Your Destiny Sale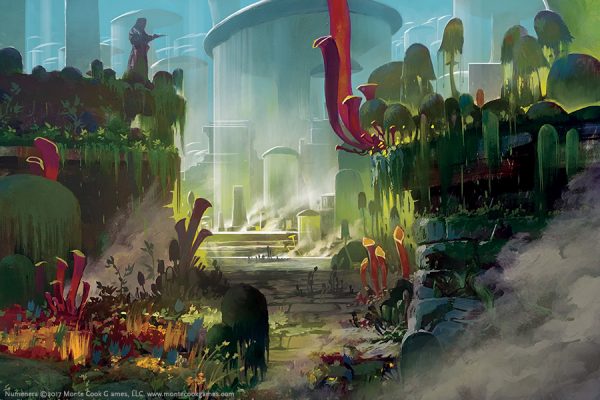 This is the last weekend for the Numenera Discover Your Destiny Sale, where you can save 20% off the retail price of all Numenera titles, print and PDF! Grab some Numenera goodness, save a bunch of money, and know that these products will be compatible with Numenera Discovery and Numenera Destiny (with the exceptions of Numenera Character Options, and Numenera Character Options 2, which will remain compatible, but won't be quite as useful).
The Spire of the Hunting Sound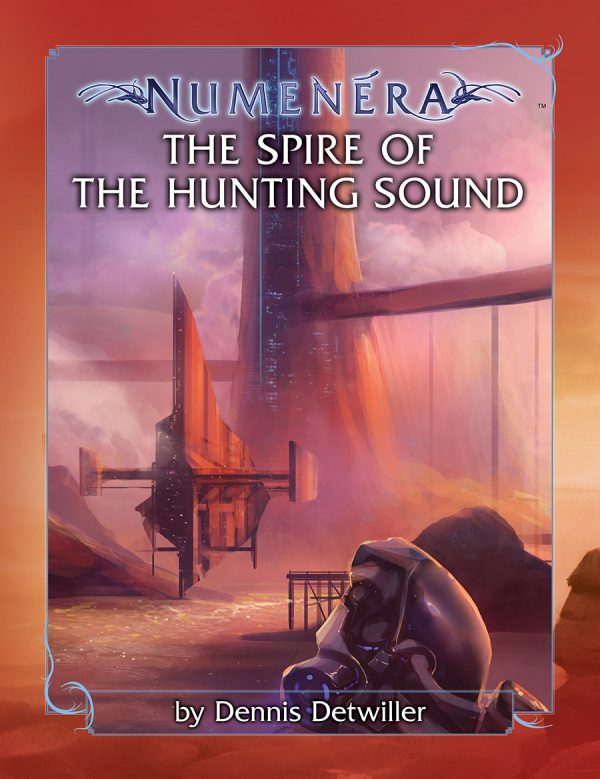 The Spire of the Hunting Sound is a Numenera adventure—plus complete quickstart rules—for novice and veteran players. If you've never played Numenera, or don't even own the game rules, you'll find everything you need (except dice!) to learn, run, and play the adventure. Experienced players will love this adventure written by Dennis Detwiller, and GMs will love its quick playability. It comes with a set of five characters, fully pregenerated and formatted to make it easy to learn Numenera. And it's free on the MCG Shop!
The Sooth Deck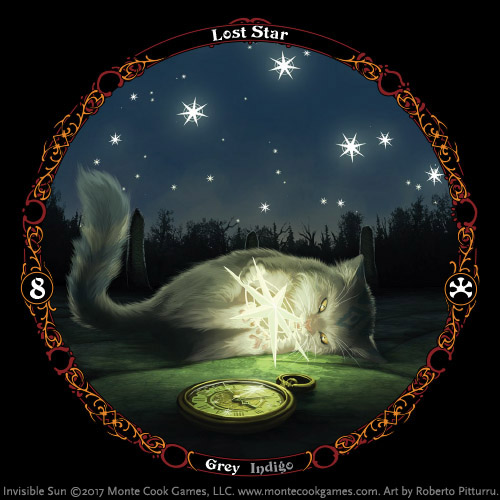 In this edition of the Invisible Sun Diary, Monte talks about the Sooth Deck. "Magic in the game, then, is always changing. The right spell to cast last round might not be the best choice this round."


This is just drawing me deeper into Invisible Sun. I desire to Merge With the Black Cube. https://t.co/ligyrZrmYo

— Gregory (@Guldensupp) September 12, 2017


Have you heard the news? Wheelhouse Workshop has transitioned into Game to Grow, a non-profit organization founded on the belief that games of all kinds have the power to improve people's lives. And you can encourage their efforts by supporting and spreading the word about their Indigogo campaign, Don't Just Game. Game to Grow!
If the idea of a silk scarf, pocket square, or necktie designed with a Victorian pattern and topped off with dinosaurs intrigues you, then don't miss Don Moyer's Dinosaurs on Silk Kickstarter.
The Haunted Swordsman, by Kevin McTurk, is a live action samurai tale set in a world of demons and ghosts. To bring the tale to life, the creator will use 36-inch-tall bunraku puppets, traditional in-camera effects, and good old-fashioned smoke and mirrors trickery.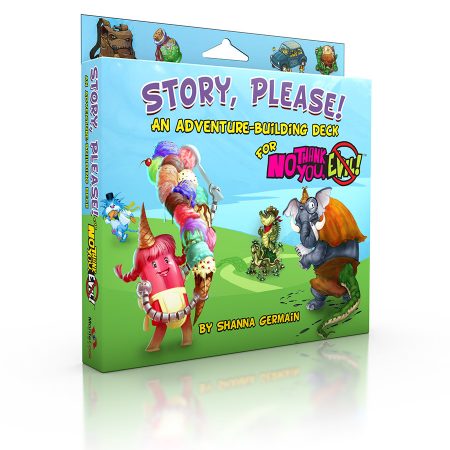 Journey into Storia in adventures of your own design! Combine an engaging STORY card with one or more cool PLACE and PERSON cards to outline your quest. Then give your adventure a surprising TWIST, and maybe some fun and useful STUFF. There are even maps and handouts! Pick cards, draw them at random or mix and match. Create a great story with all the details you need—in minutes!