Iadace and welcome to Cypher Chronicles!
Get Cypher Chronicles, and other MCG news, delivered right to your inbox! Enter your email address and click the Subscribe button in the right-hand column, and you'll never miss a post. You can also suggest topics for Cypher Chronicles by emailing us at [email protected].


Numenera 2 Kickstarter Off To A Tremendous Start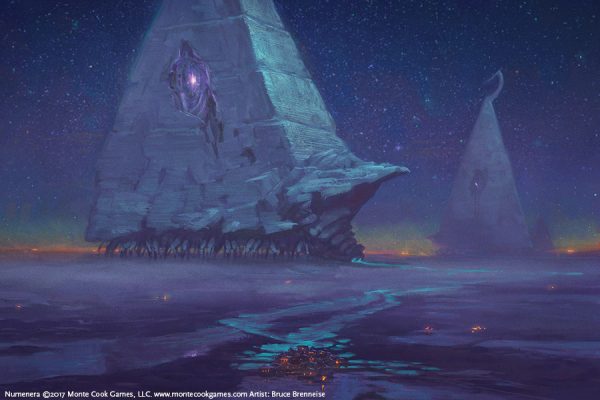 We launched Numenera 2 early this week, and the response was nothing less than tremendous. Thank you. As Charles Ryan, our COO, said, the launch "was the best Kickstarter day I've ever experienced. By far, bar none." We've unlocked several stretch goals, and are working on another one even now.
Numenera Discovery and Destiny await for those brave enough to seek out the works of the prior worlds. Characters who uncover and master the numenera can unlock the powers and abilities of the ancients, and bring new light to a struggling world.
Please head over to the campaign and check it out if you haven't already. And if you would, please help us spread the word about Numenera 2 with the hashtag #numenera2.
Welcome To Ellomyr
As part of the Numenera 2 Kickstarter, we're following the development of a small Ninth World community called Ellomyr. In the days and weeks to come, Ellomyr will face the kinds of challenges and dangers that many communities in the Ninth World are confronted with.
As Ellomyr faces these challenges, we'll ask for your help, so the community can grow and thrive. Will Ellomyr ultimately become a thriving city that offers a safe and bright future for Ninth World citizens, or will it be lost to the darkness and dangers that threaten it? We'll only know when this campaign is completed.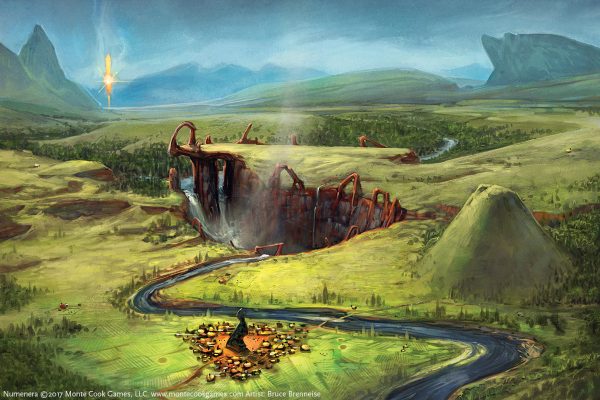 Fans of the Cypher System created a Discord server called Cypher Unlimited! Discord is a free chat and voice service made for gamers, so it's great for discussing things in different chat rooms, as well as wrangling a group to play together over voice channels.
Co-creator Al Mejias explains that despite the servers newness, there "has already been some very lively discussion about game ideas, helpful tips for games, and friendly banter about whatever is on people's minds. Everyone who has joined has been fantastic so far and we even have regulars already."
Read more here, or just go check out Cypher Unlimited!


The Strange Cypher Deck, XP Deck, and Creature Deck are terrific game aids that make it easy to randomly determine and track transient items. The Strange Cypher Chest brings them all together in a single print product that gives you all three decks plus a great way to store them! The three decks come in a sturdy rigid box, sized to sit neatly alongside your The Strange books on your RPG shelves. The internal tray holds the three existing decks, with room to store future expansions.