Do good and watch Arcana of the Ancients live-play by the WebDM folks, Bruce, and special guests this weekend, benefiting COVID-19 relief funds! Plus, be like Shanna and support up-and-coming game designers with the IGDN Scholarship. Career opportunities at MCG, some wonderful RPG recommendations for you, and more in this week's Cypher Chronicles!
You can get Cypher Chronicles, and other MCG news, delivered right to your inbox! Enter your email address and click the Subscribe button in the right-hand column, and you'll never miss a post. You can also suggest topics for Cypher Chronicles by emailing us at [email protected].
---

It has been one of my greatest joys in the role as Community Relations Coordinator to work with you—yes, you!—amazing fans, streamers, podcasters, and other RPG-loving folk. Connecting with you over video and seeing the stories you bring to life has been wildly fulfilling for me, and for everyone at MCG. We're enjoying Tablestory's current campaign set in the Horizon Zero Dawn world using Numenera, we're looking forward to the Streampunks' upcoming campaign of Predation, and we continue to enjoy ongoing podcasts playing Arcana of the Ancients, Numenera, and more.
While it is bittersweet to be leaving at the end of the month, you can follow in my footsteps and join MCG as either an intern or Community Relations Coordinator!
---
The WebDM folks are a fantastic bunch who have run Numenera, and an amazing 80s vampire girls show called "The Lost Girls" using the Cypher System, plus plenty more that we adored. We're delighted that this weekend they'll be running Arcana of the Ancients in Jim's home setting! Read on for more.
Arcana of the Ancients Game for Charity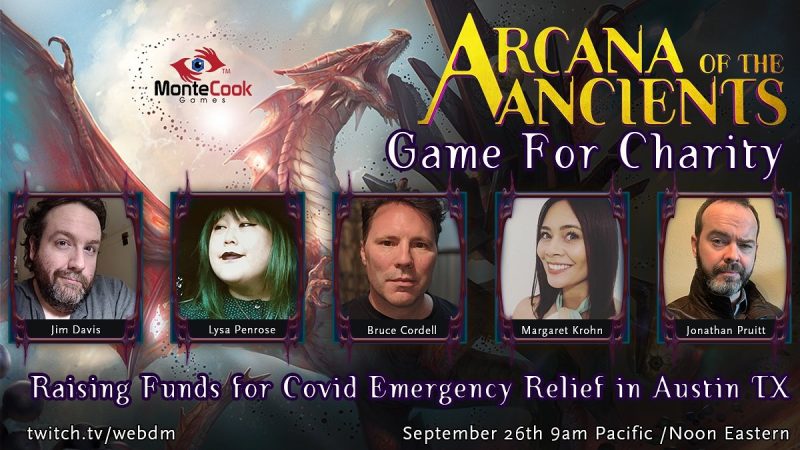 The wonderful folks at WebDM are running a D&D game using Arcana of the Ancients this Saturday, set in Jim Davis' custom world, and benefiting some great charities for COVID-19 relief in Austin, TX. It has an incredible cast, including our own Bruce Cordell, the second half of WebDM Jonathan Pruitt, cozy witch queen Lysa Penrose, and gaming/streaming extraordinaire Margaret Krohn. We can't wait to watch!
Tune in to WebDM's Twitch channel on Saturday at 9 a.m. Pacific / 12 p.m. Eastern.
We'll be giving out some cool freebies and we'll also be donating all proceeds from sales of Arcana of the Ancients on Saturday to their two selected charities. Check out the free preview of Arcana of the Ancients to read WebDM's foreword to the book!
P.S. The WebDM folks are also big fans of Ptolus, so if you'd interested in either the 5e or Cypher System versions of that coming out next year, get in on the Ptolus Backerkit deals now before they're gone!
Numenera Character and Creature Standups Are Here!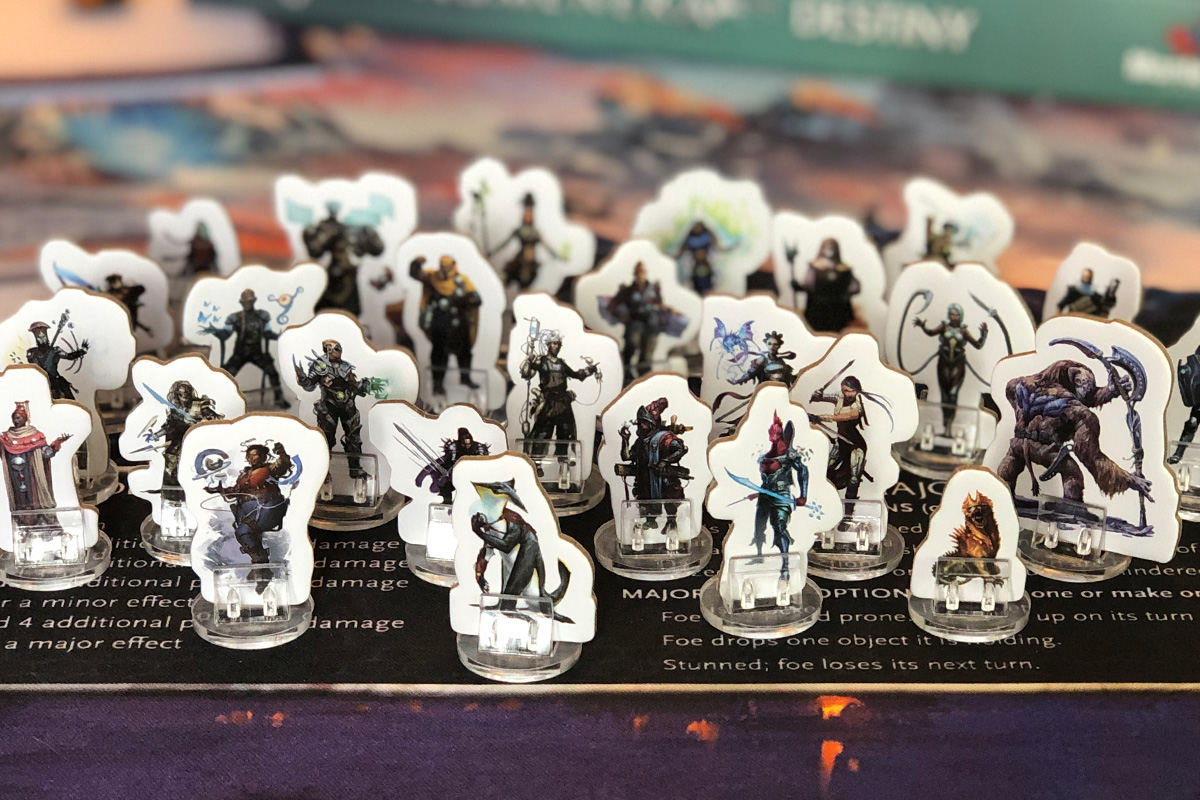 I love showing off Numenera art, and these just-released standups make it even easier to do so. Gorgeous, double-sided, and sturdy standups for NPCs (or PCs!), creatures to fight or reason with, and even seskiis to travel alongside.
The Numenera Character and Creature Standups come in print (in a box of ready-to-go standups with base stands!) or PDF, which comes in two versions: One that's identical to the printed standups (for printing on heavy stock if you have your own bases), and another that lets you fold the standups into self-standing tents. Print as many as you need for your encounters!
I must point out that these would be perfect also for any Arcana of the Ancients– or Beneath the Monolith-powered science fantasy 5e games you might be playing!
IGDN Metatopia Sponsor
Metatopia is a very special event that is taking place online this year. It's where game designers come to mingle, discuss concepts, critique one anothers' games, and hone playtests into refined products. The Indie Game Developer Network traditionally raises funds to allow marginalized creators to attend and playtest their games—I was one of their recipients and am so grateful for the experience! This year, they are using the funds to support networking and mentorship opportunities for the awardees, in addition to attending the online version of Metatopia.
We are delighted to have our own Shanna Germain donating her time as part of the Industry Leaders team, alongside the talented Eric Lang and Banana Chan. Shanna will be meeting 1-on-1 with scholarship awardees to support their design and professional growth initiatives. Monte Cook Games will also be a financial sponsor of the program.
The IGDN scholarship an excellent cause, and we encourage you to donate if you can, and apply if you're an early career or aspiring designer!


Into the Mother Lands—I am so excited for this new game and Twitch stream coming in October! Tanya DePass (whose piece you might recall from Your Best Game Ever) is the creative lead on the worldbuilding, joining a fantastic team on both the development and streaming side of things. Here's the pitch: "A new Afrofuturist sci-fi RPG hand crafted by an all Black & POC team of developers, artists, broadcasters & crew."
Judges Guild Deluxe: Dark Tower, Caverns of Thracia, & More—These are Monte's favorite Judges Guild products from back in the day. It's no coincidence that they're all by Jennell Jacquays, a fantastic designer and artist.
The Wagadu Chronicles—Monte also recommended this cool new RPG/video game project, loving its dual-nature and how it creates a synthesis of tabletop and online gaming.