Iadace and welcome to Cypher Chronicles!
Get Cypher Chronicles, and other MCG news, delivered right to your inbox! Enter your email address and click the Subscribe button in the right-hand column, and you'll never miss a post. You can also suggest topics for Cypher Chronicles by emailing us at [email protected].


Big Things Happening in Ellomyr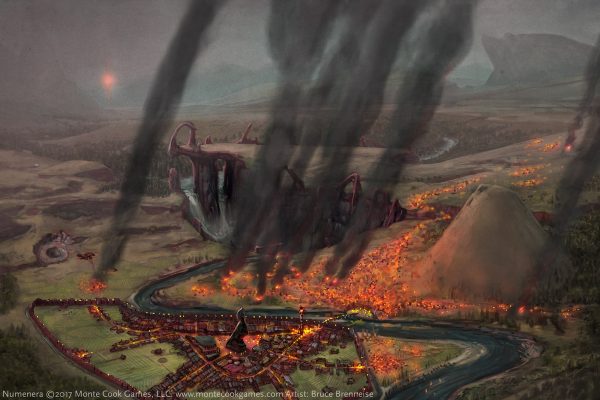 The past week or so have been very eventful in the small Steadfast settlement of Ellomyr. Rumors had reached the community of a giant margr horde amassing not too far away, and the people had to prepare or face being overrun. Fortunately, they were ready by the time the horde moved in—they'd built defenses and scavenged bizarre numenera items they were able to bring to their aid. And though many from the village had fled, at the darkest hour they returned and helped turn the tide.
Since then the community has been growing. Wrights have set to work building a number of installations that can benefit a growing town, including a water purifier, a protective force field generator surrounding Ellomyr, and a sustenance synthesizer.
These events have been shaped by the contributions and choices of the Numenera 2: Discovery and Destiny Kickstarter campaign's backers—and the events in turn will shape the content of The Trilling Shard, a Kickstarter-exclusive sourcebook every backer will receive. As far as we know, nothing like this has ever been done with Kickstarter. It's really fun, and the creative contributions of our backers have been incredible. If you haven't done so yet (or if you've backed, but haven't been keeping up with the campaign), check it out!
The Night Clave: The Next Official Numenera Novel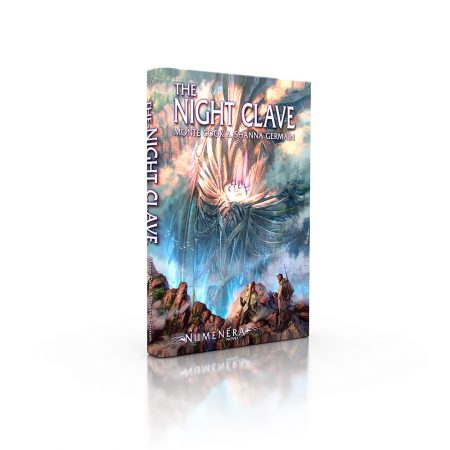 The Night Clave, by Monte and Shanna, is at the printer now, and we've opened preorders at the MCG Shop. It will be available in softcover and ebook (and probably audiobook, too) from our friends at Angry Robot Books, but the only way to get the deluxe hardcover edition is from the MCG Shop. It'll be out in November, but if you'd like a taste you can download a sample chapter now!


Part of the #InvisibleSunRPG spreadsheet. So many books, decks, dice, handouts, props, etc! We go to the printer soon; plan your Sun party! pic.twitter.com/Df2JT1LJ2o

— Shanna Germain (is mostly not here b/c deadlines) (@ShannaGermain) October 4, 2017
Playing some #Numenera at @JetpackComics . pic.twitter.com/gvvnC69kpm

— The Madman (@benkramer) October 5, 2017

James Walls is hosting a Numenera Deck Tutorial live on YouTube at 8:00 PM EDT this Sunday. Join him, along with Jeremy Land, Marc Plourde, and Andrew Lyon! (He may have been inspired in part by our article yesterday about why our decks are cool.)
The mostly submerged continent of Zealandia may have been much closer to land level than previously thought, providing pathways for animals and plants to cross continents from 80 million years ago.
How cool would these masks be for Invisible Sun cosplay?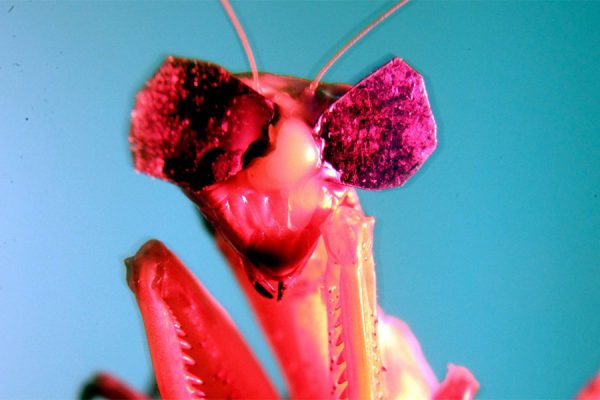 Mantises can hunt birds, eat brains, and see in 3D. We love mantises, but catching birds to eat their brains? Uncool, man. Uncool.
The band The Academic performed on Facebook Live, and used the system's delay to loop layers of music as they built their song. It has to be seen to be believed. Cool and creative!
We're hearing some really good things about The Well, a gorgeous-looking VR CRPG with a unique visual style from Turtle Rock Studios.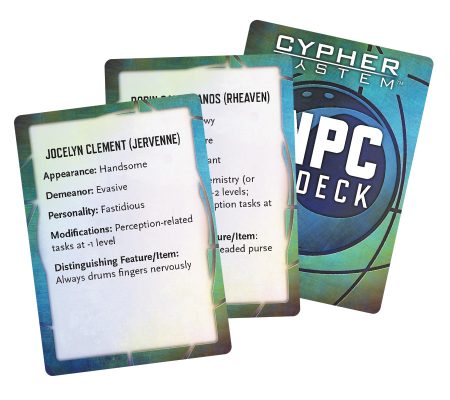 Breathe life into an infinite variety of NPCs—for any campaign!
Putting together a new adventure or campaign? GMing an impromptu encounter? Got a game session that's gone in an entirely unexpected direction? In almost any gamemastering situation, one of the greatest challenges is coming up with nonplayer characters (NPCs) that are interesting, unique, and fleshed out—particularly when time is short. The 100-card NPC Deck helps you breathe life into your NPCs with details of their appearance, personality, abilities, and possessions—even their names.
Just create a role to fill—shopkeeper, mobster, duke's seneschal, street urchin, ship captain—and assign the NPC a level. Then use this deck to fill in details and inspire you. Best of all, the NPC Deck is setting-neutral—even game-system-neutral! The details provided will work in virtually any campaign setting.