Iadace and welcome to Cypher Chronicles!
Get Cypher Chronicles, and other MCG news, delivered right to your inbox! Enter your email address and click the Subscribe button in the right-hand column, and you'll never miss a post. You can also suggest topics for Cypher Chronicles by emailing us at cychron@montecookgames.com.
Numenera 2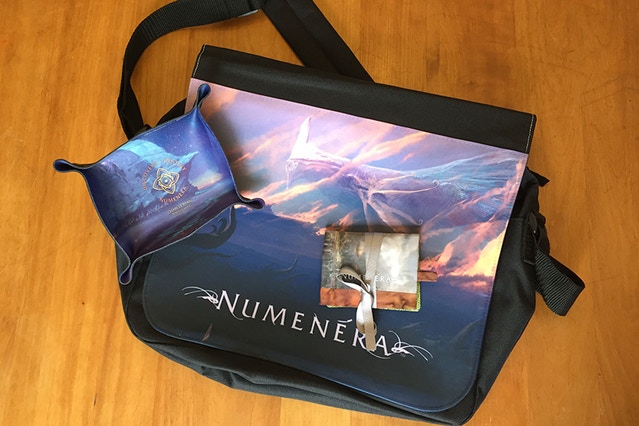 Backers are making the Numenera 2 Kickstarter into something really special, so we made two big upgrades this week. First, we expanded The Trilling Shard, the sourcebook detailing the community of Ellomyr, into a 64-page (or more) book with a poster map! Remember, you get that Kickstarter-exclusive supplement at every reward level.
We also added a Player's Kit as an add-on, pictured above, that would steal the heart of any Numenera fan! A high-quality bag with vibrant Numenera art, a wonderful All Rolled Up dice bag, and a personalized Numenera snap-together dice tray, you should check this out! Pictures don't quite do these items justice–see Charles demonstrate it in our recent Glimmers from the Datasphere video. The kit is a Kickstarter exclusive, so don't miss out –you can back for a dollar and just get the add-on if you like.
The Kickstarter is going strong, and it is not over yet by a long shot. We're nearing a stretch goal for the Ruin Deck (aren't decks cool?!) and heading toward the Ninth World Bestiary 3! To make these dreams a reality, we need your help spreading the word far and wide about #Numenera2: Numenera Discovery and Numenera Destiny.
The Iron Wind Threatens Ellomyr
Ellomyr, the Ninth World community, has grown. Fantastic people have flocked to it, built up its defenses, and built machines to feed the hungry and isolate clean water. The Trilling Shard itself has been tapped to send messages across the Steadfast via the datasphere–a heartfelt message by Darius, and Stijak's plea for aid to Ellomyr.
But a numenera-seeking expedition went awry, and the only member to return came back with a haunting vision of the future: the Iron Wind comes to Ellomyr in 6 months. (Darius went on that expedition and hasn't yet returned; we're very worried.)
Stay tuned! We'll be looking for backer input to decide how Ellomyr reacts to this news!
Reviews and Other News

Egg Embry on Tessera included us in their list of the top 5 Kickstarters to back! Included among all these excellent Kickstarters is Cavaliers of Mars, a game full of swashbuckling, intrigue, and romance on the dying planet Mars. We're launch day buddies, and their Kickstarter ends in 5 days, so be sure to check them out! Egg had these kind words to say about our Kickstarter:
It's Monte Cook, it's Numenera, it's breathtaking art, it's (as of this writing) over 2,400 backers and over $450,000, it's one of the five 6- or 7-figure RPG Kickstarters running in October, 2017, and it's going to be epic in every sense of the word.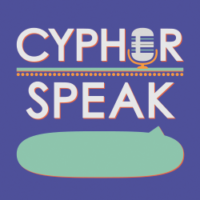 And for a dive into the setting and lore of Predation, give a listen to Cypher Speak Episode 20: Dinosaurs and Lore of Future-Past!
Cyphers for Charity: It's CypherTober at Lawful Good Gaming!
Lawful Good Gaming organizes tabletop games whose entrance fee is proof of donation to supported charities. This month, they're hosting a number of great Cypher System games benefiting 350.org, the Southern Poverty Law Center, and hurricane relief organization United for Puerto Rico.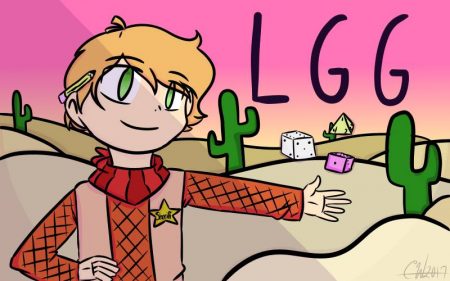 Help out by offering to run a game, donate and play in a game, or help out by spreading the word so these excellent events can all fill up full of charitable gamers!
We've gamed with every one of these GMs and can attest that they would all be epic!

I think #ninthworlders agree. #numenera https://t.co/gnN8Q9EGjv
— Ville Ojanperä (@Conceptnaut) October 9, 2017


Poison never lies.

Talia was once one of the twelve martyrs of the forgotten compass, a prisoner of the unhuman creatures known only as the vordcha. She barely escaped that life with her body and soul intact.

Now she has a new life as a poison eater in the city of Enthait. Here she is hailed as one of the city's protectors. No one knows her history. No one has asked about her past. She's been here long enough that Enthait is her home now, these are her people. She loves them and they her.

But in the Ninth World, the past is a living, breathing thing. And when it hunts you down, you can run. You can fight. Or you can die.
The Poison Eater is the first official novel set in the Numenera world, and is presented in this deluxe, limited hardcover edition. If you already have The Poison Eater, check out the free first chapter of The Night Clave, Shanna & Monte's upcoming Numenera novel!