A spooky breeze comes through here at Monte Cook Games–our friendly local medium brings us news from the ghosts of the Pale Sun.
You can get Cypher Chronicles, and other MCG news, delivered right to your inbox! Enter your email address and click the Subscribe button in the right-hand column, and you'll never miss a post. You can also suggest topics for Cypher Chronicles by emailing us at [email protected]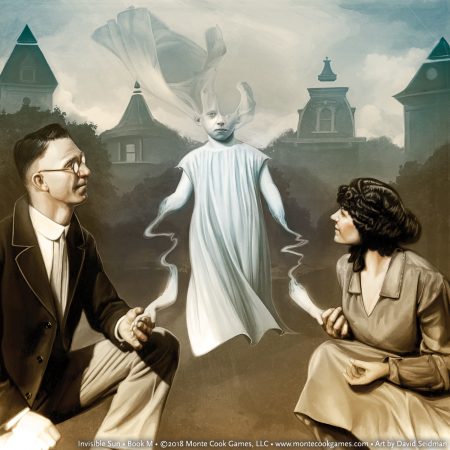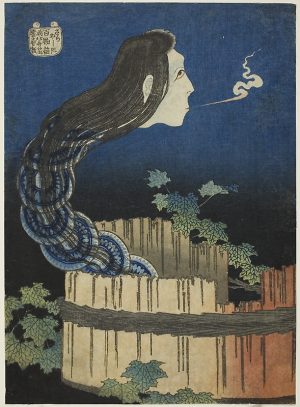 Last weekend, I became Shizuka, a beautiful Edo period weaver in a small fishing village, and secretly an ancient and clever fox (kitsune). My husband was an ex-samurai, tortured by the ghosts of his past. We told ghost stories, secretly about our own lives, along with the other villagers, blowing out a candle as each story concluded.
This game was a LARP at Big Bad Con, run by designer Julia Ellingboe called Tales of the Fisherman's Wife: Hyakumonogatari Kaidankai and modeled after a real-life Japanese parlor game called Hyakumonogatari Kaidankai, or A Night of 100 Weird Tales. It was a lovely experience and I can't wait to facilitate it myself!
Eerie and dreamlike, I couldn't help but think about how to bring these stories and aesthetics into my Invisible Sun games. The Art Institute of Chicago has a fantastic exhibit called Ghosts and Demons in Japanese Prints that I highly recommend scrolling through to find new spirits for your goetics to meet.
Invisible Sun was on the tongues of many I spoke with at Big Bad Con–people who enjoyed the streamed narratives of A Woman With Hollow Eyes and The Raven Wants What You Have, people who played it at the con, and even two complete strangers that I overheard in a nearby restaurant: "Yes, and on the other side is the Nightside Path of Suns…" It makes me so happy that we're going to try to reprint this game and bring in this audience that is just beginning to learn about it!
We'll have exciting offerings for both current vislae and those looking to escape Shadow for the first time. The Kickstarter goes live on Tuesday, October 23rd! Sign up here to get notified when it begins.
Strange Streaming
For more spooky goodness, catch the marvellous Asset Team member Burst0fHope running Game of Screams from Strange Revelations on the Scratticus channel, Saturday at 7 p.m. Pacific!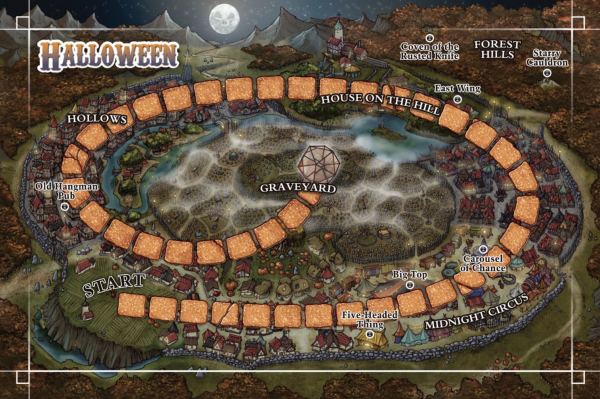 Plus, a new show of The Strange just began on the GeekSpaceTV stream: Worlds Beyond! It has a fantastic GM, RandomTuesday, and cast, and we can't wait to watch future episodes, which air Wednesdays at 7 p.m. Pacific on the GeekSpaceTV Twitch.
If you've got questions for Bruce about The Strange, Numenera, Invisible Sun, or anything else, you can bring those questions for today's final day of the Ask-Me-Anything with Bruce Cordell and Sean Reynolds! Browse the already-answered questions for insights into the creative process (and sandwich preferences) of these two creators.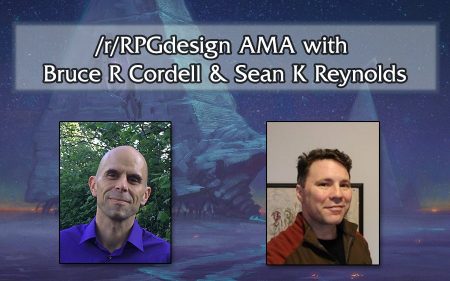 We loved Gameplaywright's fantastic White Box, a kit and guide to designing your first tabletop games. Now they're Kickstarting Meeples Together, a book about how and why cooperative games work. When I play board games, I almost only like to play co-op games, so I'm really eager to read this!
ORUN: Post-Apotheosis, Afro-Centric, Space Opera RPG has a stellar team behind it, beautiful art, and worldbuilding that I can't wait to sink into. Look at these space travelers called Luminaries or Djali–I want to play a plant person!
From Bear: Do you love playing cards? How about gorgeously illustrated playing cards? Jason Engle, one of our fabulous artists for Invisible Sun and other games, is currently running a Kickstarter of his own creation: Mausolea Playing Cards.