Playing the tile game in the warehouse to make room to receive more awesome goodies. Subtle Cypher Deck is in the (US) house! Get your sci-fi freak on with The Stars Are Fire. Download the free Cypher Shorts to spice up game night and be roleplaying within minutes. All this and more, in today's Cypher Chronicles!
You can get Cypher Chronicles, and other MCG news, delivered right to your inbox! Enter your email address and click the Subscribe button in the right-hand column, and you'll never miss a post. You can also suggest topics for Cypher Chronicles by emailing us at [email protected].

We've been doing fall cleaning (that's a thing, right?) and reorganization at our Kansas warehouse in preparation to take delivery of Subtle Cypher Deck, Numenera Deck Boxes, and Enchiridion of the Path in the very near future. It's like a giant 4D tile game: move these pallets over there, move those pallets to the rear, move another pallet onto the industrial shelving, et voila! More room for new products! Fortunately, both Charles and I generally like this type of game, so while it makes for a few long, physically strenuous days, it is enjoyable to see the end results.

Holy cats! Speaking of the Subtle Cypher Deck, it was delivered as I was typing this . . . huzzah! As soon as it arrives at our international fulfillment houses, we'll begin fulfilling it to those for whom it is a Kickstarter reward. If the Subtle Cypher Deck is not one of your Kickstarter rewards, here is what you are missing: a 100-card deck to generate cyphers quickly and easily—with all the necessary text on the card. These subtle cyphers are sudden inspirations or insights, bursts of adrenaline, or just bits of good fortune, as opposed to magical or technological items. Once we've fulfilled the reward to our backers, you'll be able to purchase the Subtle Cypher Deck from the MCG Shop.
The Stars Are Fire
Those of you who know me know that I love sci-fi, so if aliens, starships, amazing technology, and interstellar exploration excite you, trust me when I say you are going to really dig The Stars Are Fire. With a complete sci-fi setting, a full-length adventure, two sci-fi Cypher Shorts, and a huge catalog of sci-fi equipment (all graded according to the tech level and style of your game—from contemporary to fantastic), The Stars Are Fire gives you everything you need to satisfy your Cypher System sci-fi roleplaying addiction.
The Stars Are Fire is available to preorder now from the MCG Shop. When it is released, The Stars Are Fire will be fulfilled to our Kickstarter backers first, then to preorder customers, and then it will be for purchase on the MCG Shop and at all fine FLGS world-wide.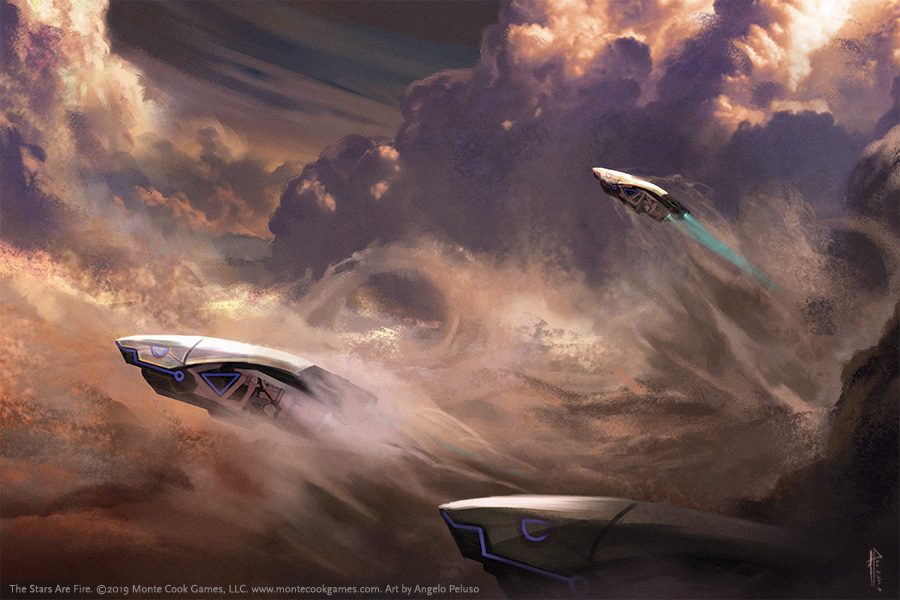 Cypher Shorts
If you are looking for something quick and easy to play, check out Cypher Shorts. Cypher Shorts help you turn an "elevator pitch" into a full-length adventure in a matter of minutes. Take any idea and, using the strengths of the Cypher System and the guidelines in this product, turn it into a full-fledged adventure in minutes. And it's free!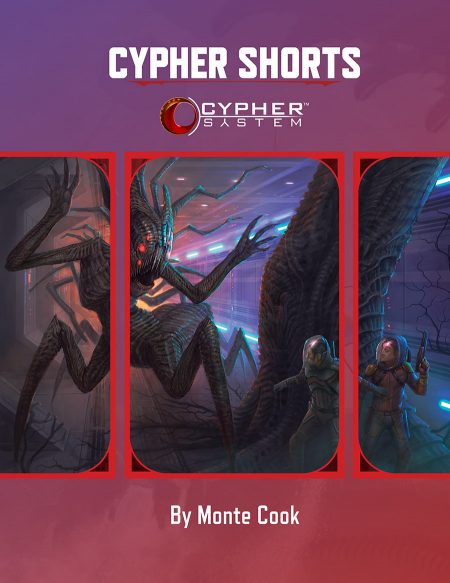 Spooky Streaming
Catch beloved cast members of Callisto 6 in a spooky new show coming from beyond the grave: #BeyondTheGate, a streamed game of Geist run by Eric Campbell. Ghosts, unfinished business, and feelings are sure to be in attendance. The first episode is tonight (October 18th) at 6:30 pm PDT on twitch.tv/queuetimes. Tune in and get spooked out!