Iadace and welcome to this week's Cypher Chronicles! Let's dive right in.
Product News
We are taking pre-orders for Strange Revelations: Ten Instant Adventures for The Strange. Protect Earth from a malefic Lovecraftian entity. Search for salvage on a derelict spacecraft. Set off into the dark energy of the Strange itself to defend the Orb of Worlds. Strange Revelations is a must-have for beginning and veteran GMs of The Strange, and anyone who'd like to play RPGs as easily and spontaneously as board games!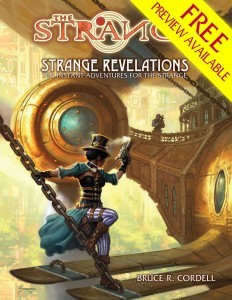 The Cypher System XP Deck is available now! Get it in print or PDF from the MCG Shop or DriveThruRPG…or in your mailbox if you pre-ordered it, because all those orders have shipped!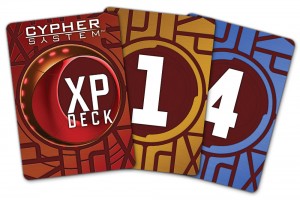 Other Exciting Things
Jennifer, our new customer service guru, is busily answering questions and responding to queries! We had a bit of a backlog due to the recent fulfillment, but we should be able to catch up quickly. If you are awaiting a response from us, you won't be waiting much longer.
94% of backers have completed BackerKit for Numenera: Into the Ninth World Kickstarter…huzzah! Thank you for your quick responses.
Today is Zoa Smalley's birthday! If you received your print edition of Into the Night recently, chances are she helped pack it. If you see her online today, please wish her a happy birthday!
Shoutout to our NINTH WORLD RETAILER and ULTIMATE RETAILER backers of Numenera: Into the Ninth World! Please give them some love:
Get Inspired
Rabbitfish "watch each others' backs" when feeding, which is a complex social behavior that most people wouldn't expect of fish. Makes you wonder, doesn't it? We can totally imagine these creatures evolving
Behind the Scenes
Ten new Instant Adventures™ are heading your way soon, courtesy of Strange Revelations. Like Weird Discoveries, Strange Revelations includes two pieces of art per adventure that the GM can show to players at critical junctures, such as this wonderful creature by artist Joe Slucher: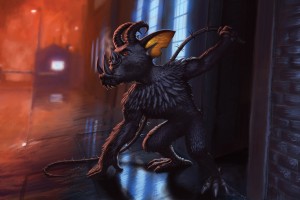 Isn't the creature simply adorable?
~
Do you like us? Do you really like us? You can play an important role in helping us thrive and create more great games: Leave a review at DriveThru, Amazon, or with your local game store owner! Share these chronicles with other gamers you know. Invite those you love to sit around a table with you and delve deep into their imagination to create shared memories that will last a lifetime.
P.S. You rock.
Hey, look! Now you can subscribe to get these blog posts right in your inbox. Right down there, at the bottom of this post! Just enter your email and you'll never miss a post (we won't use your email for anything else, we promise). We've also added an easy way to share these posts on social media. You should see the buttons right at the bottom of this page!
Keep up with MCG! Follow Monte Cook Games, the Weird of Numenera, and The Strange RPG on Twitter; like Monte Cook Games, The Strange, or Numenera on Facebook, and subscribe to our MCG channel on YouTube. We also have a Pinterest account, which isn't news, per se, but it has lots of pretty pictures.
Also, don't forget: If you need us for anything or have questions, we're right here.