Iadace and welcome to Cypher Chronicles!
Get Cypher Chronicles, and other MCG news, delivered right to your inbox! Enter your email address and click the Subscribe button in the right-hand column, and you'll never miss a post. You can also suggest topics for Cypher Chronicles by emailing us at [email protected].

Numenera 2: Discovery and Destiny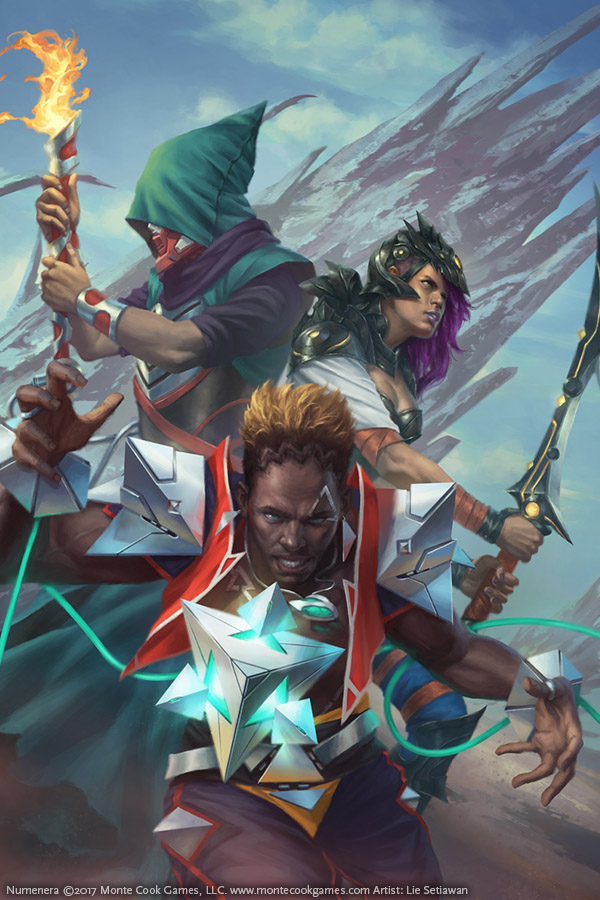 Today is the day! If you are going to join the campaign or encourage your friends to join, today is your last chance, because tonight at 7 PM CT, the Numenera 2: Discovery and Destiny Kickstarter campaign ends. Numenera Discovery and Numenera Destiny have funded–along with many other books, decks, and rewards–which means we get to make the very best version of Numenera ever! These books will replace the corebooks and greatly expand your options for gameplay, so whether you're a player, GM, fiction-lover, or collector, we implore you to discover your destiny, be a part of Numenera history, and take advantage of the great deals offered by this campaign quickly before it becomes a glorious memory in the datasphere.
New to Numenera 2: Discovery and Destiny?
Here's a quick-reference guide to the campaign so far, which you can share with your friends!
Stretch goals have unlocked these new products, all of which are part of any backer level that gets all the titles.
Don't miss these very cool add-ons, most of which are exclusive to this campaign. To get an add-on, simply increase your pledge amount by the cost of the item, without changing your backer level. We'll ask you after the campaign what the extra was for. You  can use our handy pledge calculator to figure out your total pledge.
And if you want a taste of some of the wonderful fiction, art, and other contributions to the Ninth World and the fate of Ellomyr from our backers, you can find a great sampling here, here, and here.
Tomorrow's Bones
We're thrilled we get to publish 
Tomorrow's Bones
for you, and, of course, no one is more thrilled than Shanna, who will be its creator. 
Tomorrow's Bones
will be the third official Numenera novel, and it was funded thanks to the
Numenera 2: Discovery and Destiny Kickstarter
. Full of ancient ruins, strange ships, weird creatures, and Jaekel pirates,
Tomorrow's Bones
will take you on a Ninth World high-seas adventure with a Numenera twist, and is yet one more reason to tell your friends about
#Numenera2
.

When Cooper (7) designs a #numenera monster (level 10) for tier 2 characters pic.twitter.com/WfU8XlNXzC

— Judge James (@ILive4Crits) October 21, 2017

Goblins Animated is the cartoon version of the Goblins Comic, a journey into a fantasy world from the point of view of the monsters. Laugh, cry, and despair at the escapades of Complains of Names, Thaco, Minmax, Big Ears, Forgath and many more, who do the best they can in circumstances always a little out of their control.
Carnival of Monsters, by Richard Garfield, challenges you to explore exotic, fantastic lands and collect extraordinary monsters to display in your carnival, earning the adoration of the crowd and the fame that only a true carnival master can enjoy.
The Book of the Hakutaku is a creative and engaging bestiary of yokai—the spirits, monsters, and ghosts from traditional Japanese folklore, illustrated by Matthew Meyer.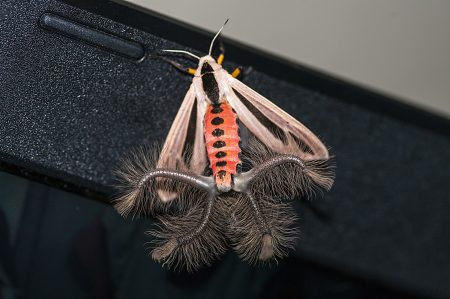 Creatonotos gangis, a moth species that can be found in South East Asia and Australia, is a beaut of a wee beastie, don't you think? Toss in a bit of weirdness (perhaps it whispers the names of travelers twisted by the iron wind), and you have perfect inspiration for Ninth World fauna.
There's some great stuff on the tubes these days. Dirk Gently's Holistic Detective Agency is perfectly, wonderfully Strange, and we can't wait to binge Season 2 of Stranger Things!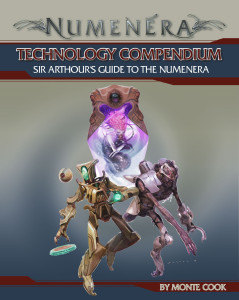 Technology Compendium: Sir Arthour's Guide to the Numenera serves up hundreds of new cyphers, artifacts, and oddities for your Ninth World campaign!