Wowza. This week has been a big one for us–gamers getting together for charity, Callisto 6 show coming to its season 1 finale (plus a raffle), The Strange officially being brought under the Cypher System umbrella (plus a sale), and exciting new things Invisible Sun!
Invisible Sun gets even tastier for your eyeballs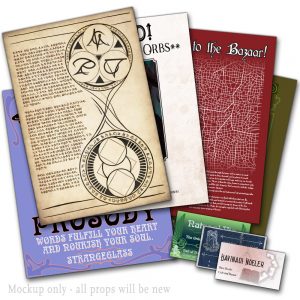 Like the beautiful glowing lure of an anglerfish, I made tons of player aids, props, and visual aids to channel my nervousness when I was a beginning GM. I hoped it would dazzle my players so that they wouldn't notice my inadequacies. I came to learn that GMing is not nearly the arcane art that I worried over, but I also came to appreciate the way that art and handouts and props elevate a gaming session for both the GM and players.
The Kickstarter to reprint Invisible Sun just funded its first stretch goal to create a new digital props set expanding on what already comes within the Black Cube! And now, we're working toward a new print product: a second book of the beautiful art coming out of Book M, The Secrets of Silent Streets, and other upcoming supplements. Perfect for show 'ems, inspiration, and drooling over with friends. I hope we make it!
The new art book would be available as an add-on on the Kickstarter, so if you want it as bad as I do, share Invisible Sun and the Kickstarter with a friend!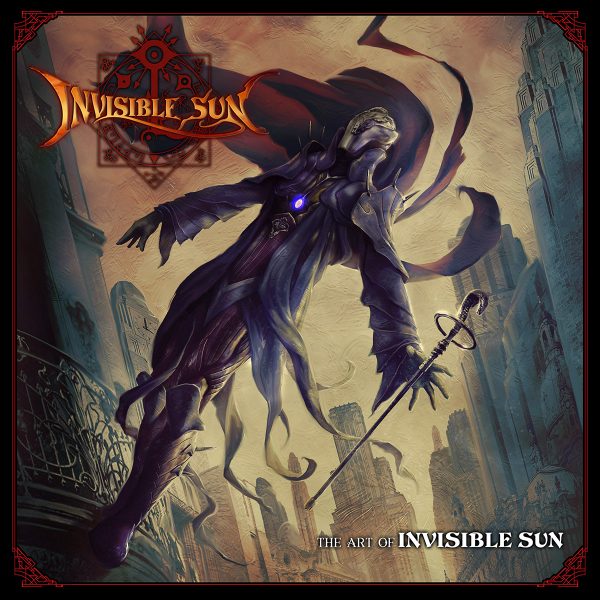 Extra Life

For many years, I was a grad student moonlighting as a gamer in the spaces in between. It was still really important to me to support good causes with my little spending money, and ideally good gaming causes. One of the first times I got to play The Strange was with Bruce Cordell in a charity auction game! The adventure we played was later released as The Hum, one of my favorite adventures of all time.
Right now, we're raising money for Extra Life, a fantastic charity that brings gamers together to play and stream games while donating to Children's Network Miracle Hospitals. Starting tonight through the end of the weekend, we're hosting a variety of MCG-created and other games on our Twitch channel–see the schedule at right or on our Extra Life page.
We make your donations go even farther, too! With a donation of $15 or more to our Extra Life team, Monte Cook Games will match your contribution AND you get a $5 coupon you can use over at our huge sale on all Cypher System and The Strange products! Speaking of…
A Strange Sale
This week we announced that we're officially rolling The Strange support into Cypher System products. All the Cypher System settings we've created, like the Worlds of the Cypher System (Predation, Gods of the Fall, and Unmasked) make for perfect recursions. Populate your fantasy campaign with creatures from The Strange Bestiary, or build an '80s teen horror recursion from Unmasked. Need a few hundred cyphers and artifacts for use in—well, just about any game? The Encyclopedia of Impossible Things is an amazing resource (and one of the go-to favorite resources of the Owl of Lysia team). It all works together wonderfully!
To celebrate, we've launched two new products (the Translation Deck and the Strange Deck), brought two very limited deluxe products out for sale (A Strange Box and the deluxe Cypher System Rulebook), and all titles for The Strange and the Cypher System are on sale at the MCG Shop! Bring your $5 coupon from your Extra Life donation and get cool stuff!



Callisto 6 Finale! Win a free Cypher System Rulebook!
Callisto 6 reaches its season 1 finale tonight at 4 p.m. Pacific on Geek & Sundry's Twitch channel and Project Alpha, with special guest Taliesin Jaffe from Critical Role. This custom supers/cyberpunk world has a fantastic cast and story to tell, with Your Best Game Ever consulting expert Eric Campbell as GM!
To celebrate its finale, we're raffling off 6 Cypher System Rulebooks! Get entries into the raffle by completing simple social media tasks that bring Callisto 6 and the Cypher System to new people.
One of the actions you can take is to vote on Measure Z, which has in-game consequences: will the world of Callisto 6 become an even darker cyberpunk timeline as megacorps take over? Or will the world be born anew outside of the influences of megacorps, with even more superheroics (for good and for ill)? Vote and watch the Callisto 6 finale at 4 p.m. Pacific.
The raffle ends Sunday night; don't miss out!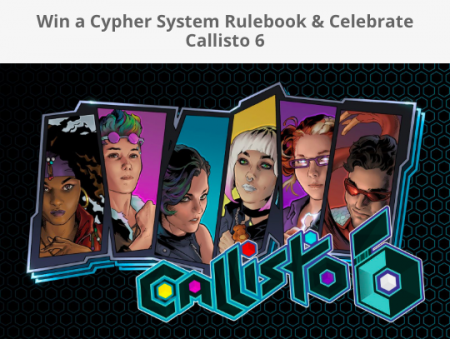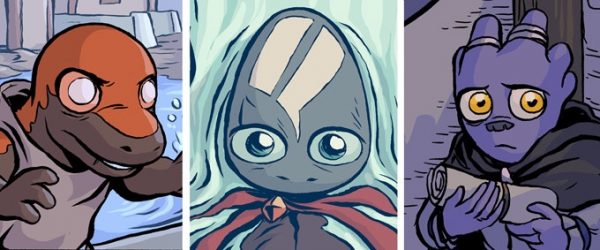 Vattu Tower & Shadow is a fascinating fantasy web comic series that is now getting a print version of the third book in the trilogy, and you can hop in now and get all three books with a pledge. Zoa said: "I like the otherworldliness [Evan Dahm] is able to put into his art and stories while having them so familiar at the same time."
So nicht, Schurke! – Ein Spiel der Fantasie: No Thank You, Evil! is getting a German translation! You can back it on Kickstarter now.

Turn is a slice-of-life supernatural roleplaying game with quiet drama about shapeshifters in small, rural towns. I spoke with designer Brie Sheldon about this game at Big Bad Con, and they had me totally hooked from the pitch and from some of the poetry within the book (see below). I can't wait to get it!