Massive damage, random dungeons, games for charity, and creepy clowns who happen to be MCG employees. Welcome to a post-Halloween Cypher Chronicles!
You can get Cypher Chronicles, and other MCG news, delivered right to your inbox! Enter your email address and click the Subscribe button in the right-hand column, and you'll never miss a post. You can also suggest topics for Cypher Chronicles by emailing us at [email protected].
How was your Halloween? (Click through for larger images. If you dare.)


The Numenera Deck Box Is Here!
If you don't know why, just watch:
The Numenera Deck Box is available in limited quantities only, and we expect it to sell out pretty quickly.
Darcy Is at Gamehole Con
Gamehole Con opened yesterday, and MCG's Darcy Ross is representing! This is a very RPG-heavy event that draws loads of friendly gamers but retains a pleasant, small-con feel. If you're in Wisconsin or environs, and aren't snowed in, drop on by!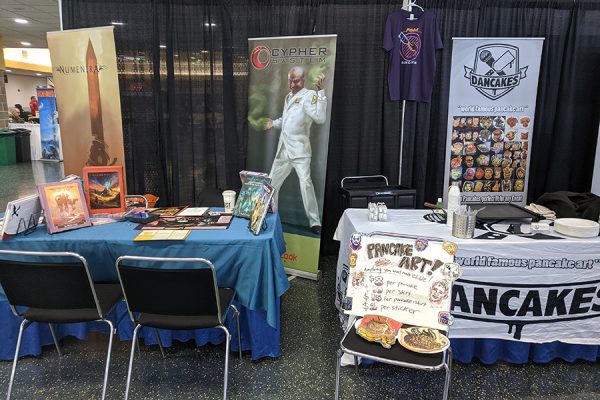 Who Doesn't Need a Better Way to Store and Use Their Gaming Gear?
Bear recently grabbed this cabinet for storing and organizing all the things for his ongoing Cypher System and Invisible Sun games. It rolls to the gaming table, and easily holds all the stuff. Isn't it a sweet arrangement? (Click through any of the photos for a closer look.)
Watch Some Games for Charity
It's that time of year again, when gamers by the hundreds run events for charity via Extra Life in support of Children's Miracle Network hospitals. Here are a couple of events we're supporting this weekend!
Saturday at 5:00 p.m. EDT/2:00 p.m. PDT: Asset Team member and RPG writer John Marvin runs Numenera at Uncle's Games in Spokane, WA. Participants can get some great MCG goodies for supporting the store and the charity. John Marvin is a top-notch GM, so don't miss out!
Saturday at 8:00 p.m. EDT/5:00 p.m. PDT: Arcana of the Ancients! Meric Moir of Massive Damage Adventures is a playtester and got special permission to include Arcana of the Ancients in his charity Dungeons & Dragons 5E game. Every donation of $25 or more enters you to win one of several fantastic prizes, like PDFs of Your Best Game Ever and Arcana of the Ancients! Go to their Extra Life page to donate and watch the live stream.
Speaking of Massive Damage Adventures . . .
Tonight Massive Damage Adventures also releases the next episode of their podcast—and in this session they're playing Shotguns & Sorcery, a Cypher System RPG based on the fantasy noir novel series of the same name by Matt Forbeck. A relatively quiet evening in the Torchlight Club is interrupted by a wily goblin thief, a squad of corrupt guards, and the hunt for a mysterious artifact. From slapdash gangster to enigmatic gentleman to entitled heiress, everybody wants to get their hands on the prize—and they'll kill for it!
Need a Dungeon? In a Hurry?
Sometimes you need a dungeon—stat! The One Page Dungeon generator gives you a random dungeon, complete with a pretty spiffy map and copious dungeon dressing, with a single click.