You can get Cypher Chronicles, and other MCG news, delivered right to your inbox! Enter your email address and click the Subscribe button in the right-hand column, and you'll never miss a post. You can also suggest topics for Cypher Chronicles by emailing us at [email protected].

Greetings Recursors, Explorers, Nanos, Heroes, Vislae, and All!
There's so much going on at MCG, we barely have time to take a breath right now, so please forgive me for making this Cypher Chronicles a short one. Here's a small sampling of some of what the team is up to:
Monte and Shanna are guests at Gamehole Con. If you're there too, be sure to catch one of their seminars.
Darcy is a guest U-Con. Catch up with her at one of her many panels.
Bruce and Sean are hard at work on the Ninth World Bestiary 3.
Bear is laying out Slaves of the Machine God.
Charles is running Invisible Sun – Return to the Actuality (reprint Kickstarter).
And I'm busy packing and shipping North and South American Kickstarter rewards and shop orders.
Invisible Sun – Return to the Actuality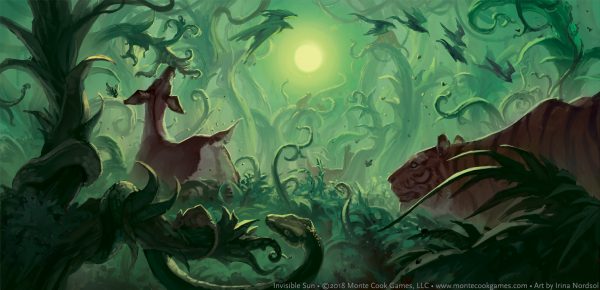 Walk the #PathOfSuns with us! Each day until the Kickstarter campaign ends, we're posting a challenge for Invisible Sun fans on social media. Check out stories of #InvisibleSunRPG, the #RPG hobby, and the hopes and delights of games future and past. When you respond to the challenge, please include the hashtag #PathofSuns and a link to the Kickstarter so we can bring new folks to the Actuality!
Win a Vislae Kit!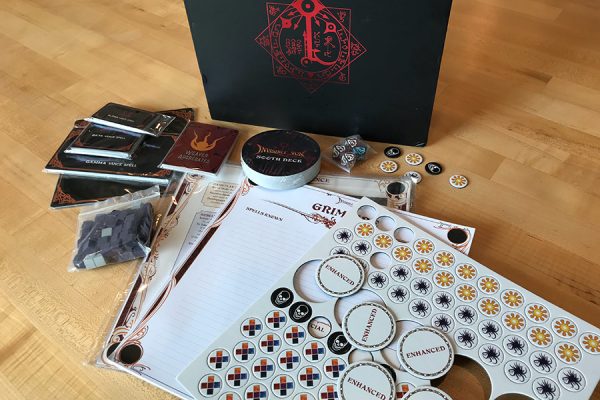 Help us spread the word about the Invisible Sun reprint Kickstarter and be entered to win a Vislae Kit for your efforts! We want everyone to escape Shadow, but we don't know everyone, so we need your help. Tell your friends and ask them to tell their friends. Let's make this a campaign to remember!
On the Fence About Invisible Sun?
Are you undecided about backing the Invisible Sun reprint Kickstarter? Tune in this Saturday at 1 PM EST to twitch.tv/webdm, as Grant Ellis will be Walking the Path of Suns with Steven Lumpkin. Steven is on the fence about Invisible Sun. Will Grant be able to show Steven the path to the Actuality? We hope so!
Arm of the Sphinx
Have you seen Joe Slucher's video of painting Arm of the Sphinx for Invisible Sun? It's fantastic!
The Sale Continues!
All titles for The Strange and the Cypher System are on sale at the MCG Shop. Just look for the red SALE tag beside products to save big, and get a head start on your Christmas gift shopping!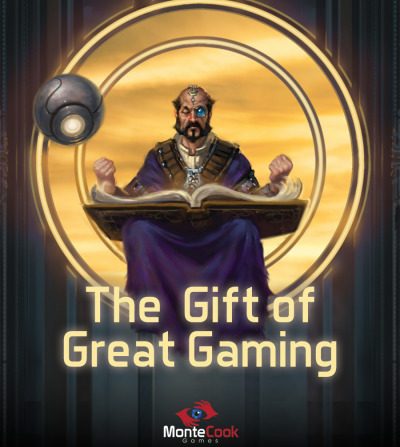 Customer Service and Fulfillment
Unfortunately, we are behind on both customer service and fulfillment. Though we are working as hard as possible to catch up—and will continue to do so—it makes us sad that many of you are waiting to hear back from us on your support tickets, and many of you are waiting longer for your orders and rewards to ship. Your patience is greatly appreciated, and your support means the world to us.
Shin Sets
We can't end on a sad note, so take a gander at these beautiful shins!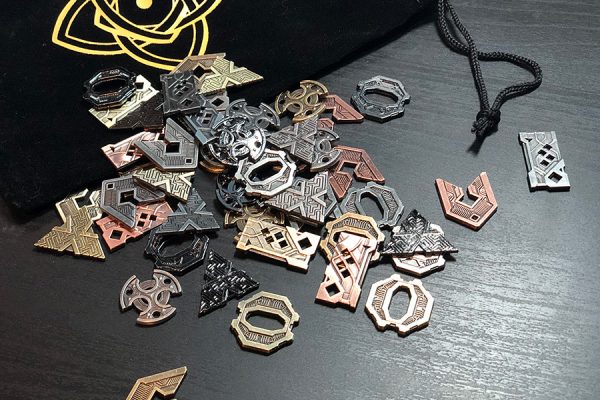 But please be patient. They just arrived at our main warehouse today, and quantities need to be sent to our international fulfillment centers before we can fulfill rewards to backers.