Iadace and welcome to Cypher Chronicles!
Get Cypher Chronicles, and other MCG news, delivered right to your inbox! Enter your email address and click the Subscribe button in the right-hand column, and you'll never miss a post. You can also suggest topics for Cypher Chronicles by emailing us at [email protected].

Superheroes and Horror in a Dark Eighties
Top Gun is in theaters. "Papa Don't Preach" is on the radio. Halley's Comet is in the sky, and Iran-Contra is in the news. At school, you're a regular kid—a jock or a nerd; a metal-head or a New Wave rocker. But when you put on your mask, you become . . . someone else.
Unmasked is a setting of superheroes and horror from Dennis Detwiller, a master of both. And it's a 192-page campaign setting for the Cypher System, with new character types, descriptors, and foci, a complete setting, and adventure material. And it's available now in hardcover and PDF!
(And don't forget about Beyond the Mask: Unmasked for Numenera and The Strange, so you can loot the '80s for your other campaigns!)

Give the World a Gift, or Give One to Yourself—Either Way, It's on Us!
Here's $5 from us to you: 2017MCGHolidayGift. You can use this coupon code at the MCG Shop to make a $5 donation to one of three great charities—or get a little present for yourself!
To turn it into a donation, simply choose your charity, put the $5 donation in your shopping cart, and use the coupon code at checkout. It costs you nothing, and MCG makes the donation! Or you can pick up a book, deck, or other product (Unmasked, for example!) and get $5 off, or choose a glimmer (like Escape from the Jade Colossus), and the coupon code makes it completely free!
Want to GM, but Uncertain How to Get Started?
It's not too early to make a New Year's resolution. Join us in January for New Gamemaster Month, and we'll help you take the plunge. It's easy! The program begins the week of January 7th, and you'll be a GM by early February. Look for more details in the weeks to come—but for now, feel free to join the New Gamemaster Month Facebook group and start connecting with other gamers who will take the journey into gamemastery with you!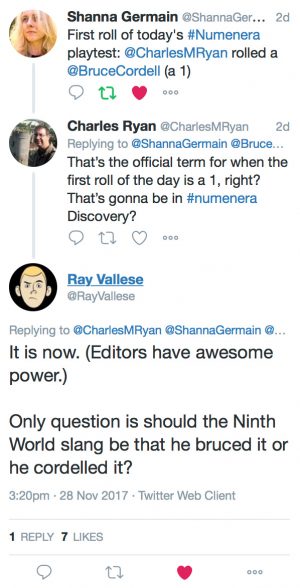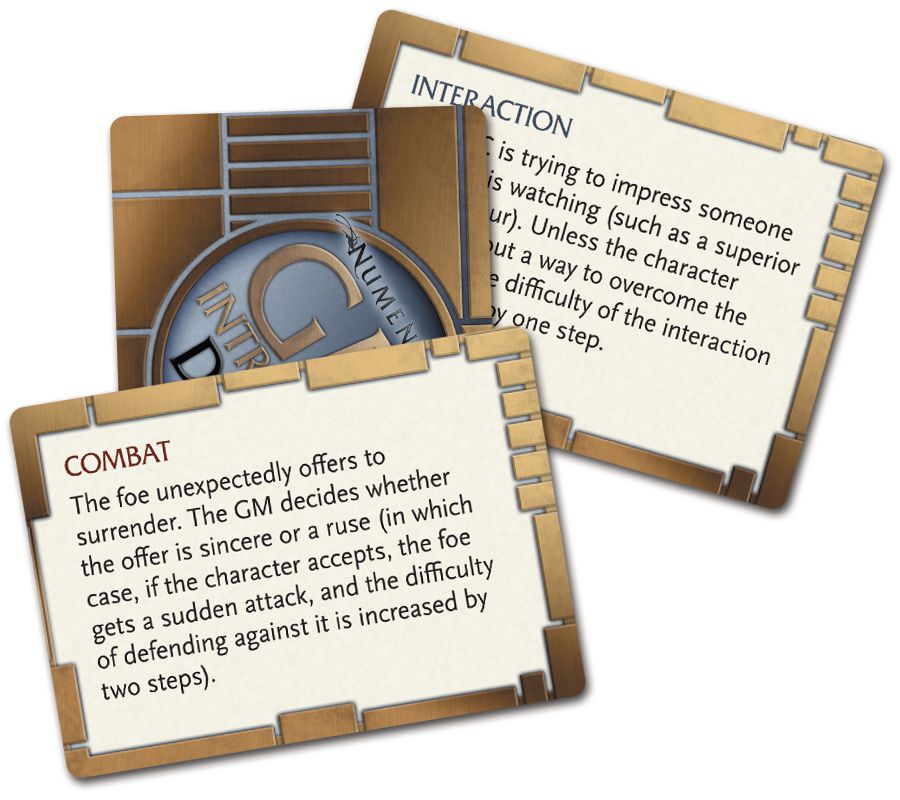 The recent Numenera 2: Discovery and Destiny Kickstarter campaign funded three new decks and a cool box to store your MCG deck collection. What, you don't have any of our decks? Then you must not realize how time-saving, inspiring, and useful they are! Unless you have more GMing time and ideas than you can use (and does anyone have more time and ideas than they can use?), these decks are a lifesaver.
The Numenera Intrusion Deck serves up random intrusions—combat, social, or miscellaneous. Perfect for when your player rolls a 1 and you've just used your last planned intrusion idea. Let the pace falter while you try to think up something new and clever? Or just do something lame, and regret it five minutes later when the perfect intrusion hits you? Or just draw a card? (Or three, and pick your favorite result.) It says Numenera in the title, but the Intrusion Deck is great for any Cypher System campaign!