All the goodies that make your games glitter in this week's Cypher Chronicles! We cover cool tools, a tempting slipcase dream for Invisible Sun, a huge sale, news from space, and more to inspire and delight you.
You can get Cypher Chronicles, and other MCG news, delivered right to your inbox! Enter your email address and click the Subscribe button in the right-hand column, and you'll never miss a post. You can also suggest topics for Cypher Chronicles by emailing us at [email protected].
Whether I'm playing or gamemastering, I love props, handouts, and tools that center gorgeous art at my table and make my games easy to run. When I first started GMing Numenera, I found the Cypher and XP Decks great for reminding players what they had, and reminding me to present players with new cyphers and GM Intrusions.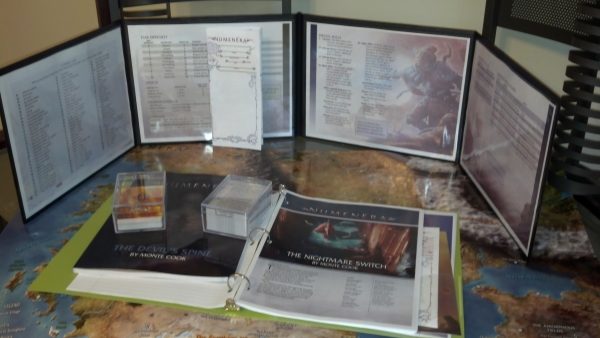 Plus, I'm just a sucker for tactility—I loved wearing my apostate medallion in our Invisible Sun actual play, The Raven Wants What You Have, and was always very impressed with Bruce's shades and hat.
Our current Goes to Eleven sale discounts almost everything in our shop by 11%, and gives a deeper 25% discount to accessories that enhance your games: dice, cards, props, notebooks, and even Your Best Game Ever! Check out how what members of our Asset Team have to say about our card decks. Perhaps you'll come away inspired, or with a gift idea for a GM in your life.
News from Invisible Sun
Enchiridion of the Path has wound its way to a release in Shadow this week, bringing an entire book's worth of detachable handouts to your Invisible Sun narratives! Many of our earlier releases for Invisible Sun (including the massive Directed Campaign) are on sale right now as well—don't miss out.
In other news, we have been listening to the whispers from savvy vislae, who noted that the Book M slipcase happens to hold the 4 hardcover books from the Black Cube just perfectly. . .
While we didn't print enough slipcases for general sale, we've launched a very short Kickstarter campaign to find out if enough of you Invisible Sun players would like these slipcases for your books as well! If you'd like a slipcase, the only sure way to get one—the only sure way to ensure that they get made at all—is to pledge now. If we fund by Thursday, November 21st, we'll go ahead with a print run and get these lovely slipcases into your hands.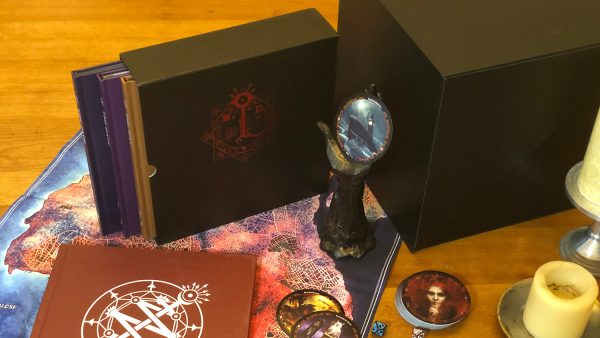 Darcy Interviewed on Cypher Unlimited
I had the pleasure of joining the Cypher Unlimited Discord crew for an interview! I got to show off Enchiridion of the Path and my new love, The Stars Are Fire. Check it out, and follow them on YouTube and Twitch for more great content.
Gen Con 2020
It's time to make plans for Gen Con 2020, and we want you to participate! This is our call-out for GMs and demoers for Gen Con 2020. You can run official MCG adventures, or (and this is new for 2020) you can run adventures you designed for one of our games, or any of your favorite existing MCG adventures, under the umbrella of official MCG events. Find out more in this article by Charles, and let us know how you want to participate.


Ready for The Stars Are Fire? Have some exciting space news:
In art news, the ever-creative David Byrne is bringing an "immersive theater project" to Denver next year. Immersive theater strikes me as suspiciously similar to an RPG or a larp… Can't wait to hear more.