Everyone can be a hero in our Heroes of the Cypher System Kickstarter! With the arrival of Godforsaken, we're delivering the final rewards for the Your Best Game Ever! Kickstarter. We have fun recommendations for you, and don't miss our #FollowFriday social media shout outs. All this in today's Cypher Chronicles!
You can get Cypher Chronicles, and other MCG news, delivered right to your inbox! Enter your email address and click the Subscribe button in the right-hand column, and you'll never miss a post. You can also suggest topics for Cypher Chronicles by emailing us at [email protected].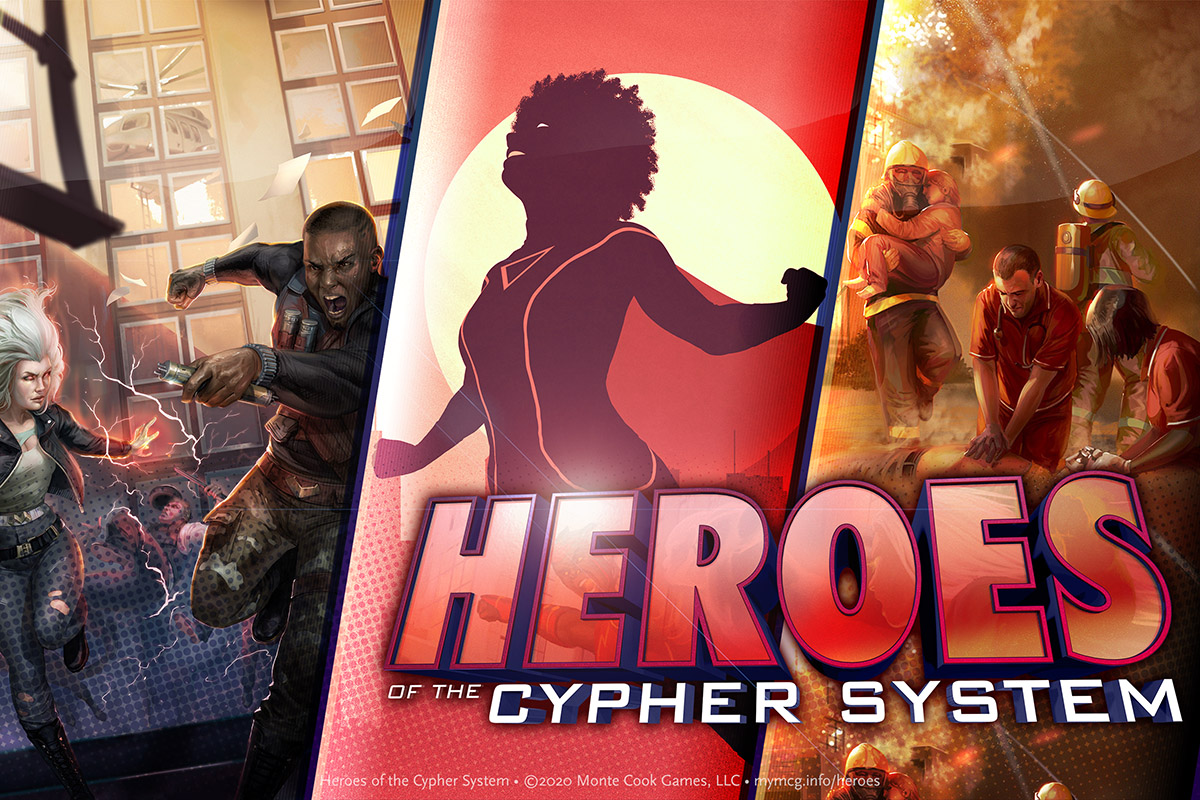 Well, hello there! It is I, Shanna the She Devil. And this week, I have done a truly villainous thing and stolen Cypher Chronicles for my very own! BWAHAHAHAHA!

Okay, fine. Our usual Cypher Chronicle writers went on vacation and I offered to help them out. BUT I AM STILL A VILLAIN. Fear me! (And send me cookies!)

So what's happening this week? First, we're knocking down stretch goals and flying to new heights in our Heroes of the Cypher System Kickstarter! Want more details about the cool books we're making? Take a look inside Claim the Sky, and then read all about Monte's vision for Boundless, the setting inside the book.

What's up next for stretch goals? A Cypher System Intrusion Deck, perfect for every single Cypher System game you play!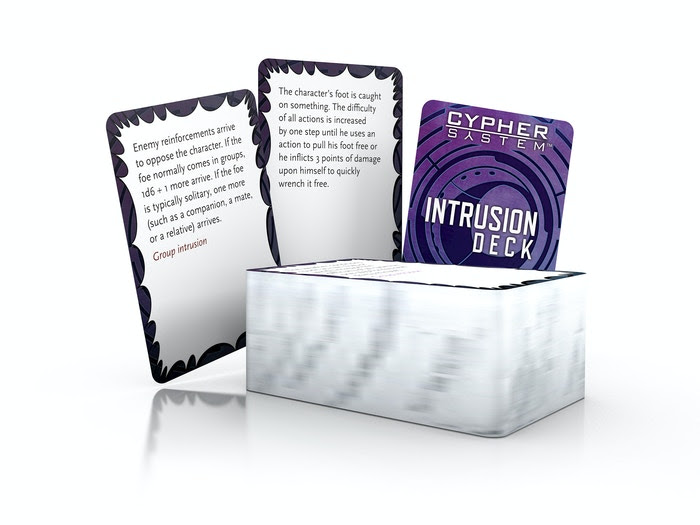 Will you help us hit this exciting stretch goal? It's easy. Just:
Tell your friends what you love about the Cypher System!
Share one of our social media posts/tweets and add your own thoughts to it.
Tell those who've never tried Cypher System that every pledge level includes the complete Cypher System Rulebook in PDF, so they don't have to own the corebook already to get in on this great Kickstarter.
Tell your first responder friends that we have a backer level just for them!
Share the Kickstarter page far and wide and invite others to share in the awesomeness of our close-knit community.
Godforsaken is heading to backers!
This week, we're in the process of delivering the final rewards for the Your Best Game Ever! Kickstarter. That includes the final book, Godforsaken, as well as the set of art cover prints for the four Cypher System genre books and the bundle of signed bookplates. Check your email for fulfillment instructions!

If you didn't back the Kickstarter or pre-order, keep an eye out next week, when Godforsaken will officially go on sale.
This week designer Sean K Reynolds appeared on the Cypher Unlimited stream to talk about Godforsaken, Ptolus, and the Heroes of the Cypher System Kickstarter. As usual, Sean spills some of the beans, hints at other beans, and accidentally reveals a spoiler.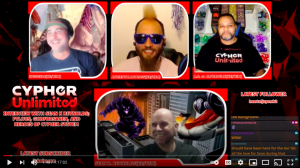 The holidays are coming up, and one of the best ways to buy thoughtful gifts is to shop at cool companies like ours online. No going to the store or standing in line at the post office. We've got you–and your loved ones–covered! (And if they already own all of our products… well, first, they're awesome. And second, they might be interested in some of our cool masks, shirts, laptop skins, leggings, backpacks, and even blankets with images from Invisible Sun, No Thank You, Evil!, Numenera, and more!)

If you do plan on purchasing gifts directly from the MCG Shop that you'd like to arrive in time for Christmas, please make your purchase sooner rather than later. Our guidelines follow, but these are not guarantees.
For shipments in the Americas, here are the official holiday shipping guidelines from the USPS, but shipping times have varied greatly this year and have been hard to predict, so we strongly recommend making your purchases by December 10th.
For shipments in the UK, make your purchases before December 15th.
For shipments to the EU (fulfilled from the UK), make your purchases before December 10th.
For shipments in Asia Pacific (fulfilled from Australia), make your purchases before December 10th.
Internship Applications
Applications for our paid academic intern close today! If you're interested or know someone who is, point them to our website for all of the details!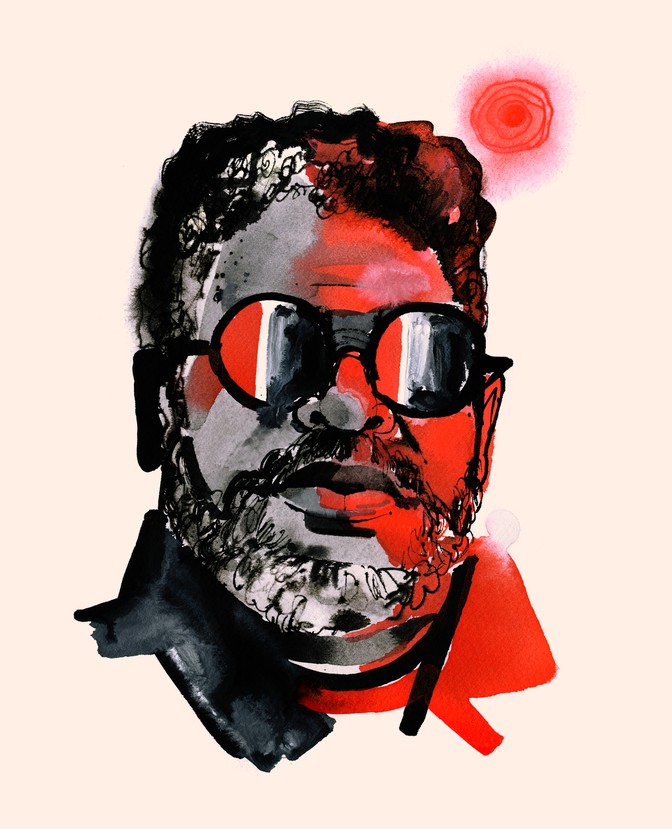 The Role-Playing Game That Predicted the Future is a great article about game designer Mike Pondsmith's vision of the future and his thoughts on game design and the world. Mike, the founder and lead designer of R. Talsorian Games, has lots of interesting things to say.

From LaTia: In what's probably the fastest Kickstarter fulfillment I've ever seen, I just got this set of safety tool cards that are very large, very clear, and come with very straightforward instructions for their use.
From Shanna: I am drooling over these beautiful dice sets. It will probably not surprise you to hear that my favorites are the sweary ones!