Iadace and welcome to Cypher Chronicles!
Get Cypher Chronicles, and other MCG news, delivered right to your inbox! Enter your email address and click the Subscribe button in the right-hand column, and you'll never miss a post. You can also suggest topics for Cypher Chronicles by emailing us at [email protected].


Show Off Your Beautiful Game Books!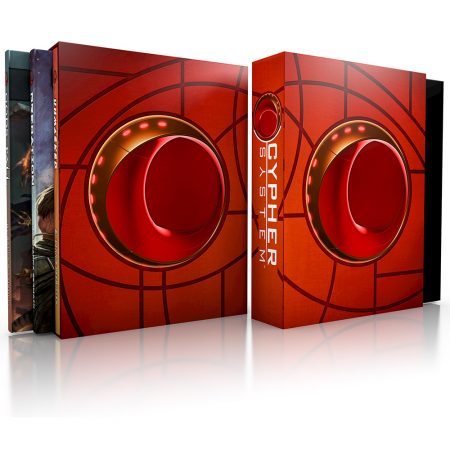 Gaming has come a long way since we spent most of our time hidden away in our parents' basements. These days you can get awesome deluxe editions of great games and play them on your handcrafted $5,000 custom-built gaming table. For many of us, gaming is a centerpiece of our lives, and we love to show it off. And now you can show off your Cypher System setting books in style, with the new Worlds of the Cypher System Collector's Slipcase. What? Don't have Predation, Gods of the Fall, and Unmasked? No problem: You can get all three titles bundled with the slipcase at a great price!
Numenera Exclusives You'll Be Sorry to Miss!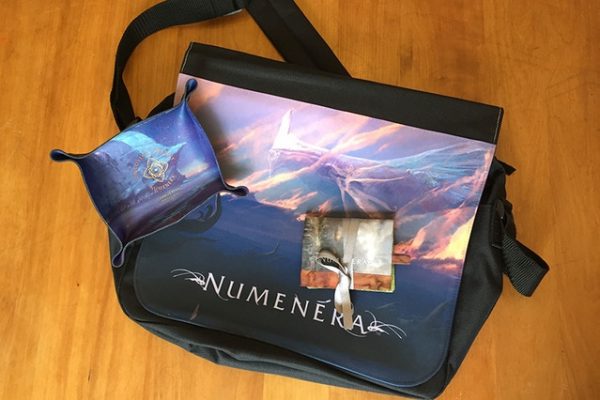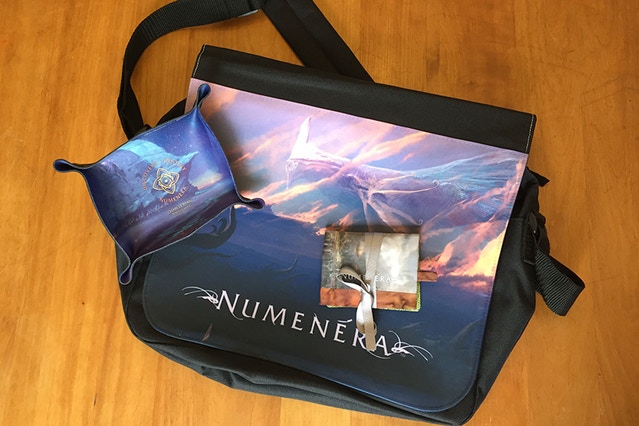 The Numenera 2: Discovery and Destiny Kickstarter campaign featured some really cool extras, including Numenera bookends, a metal shin set, a very attractive Order of Truth T-shirt, the handy and beautiful (and personalized) Player's Kit (pictured above), the deluxe corebook set, and more. Did you miss it? Not to worry—you can still get these items via BackerKit. And you can get in on some of the Kickstarter's best deals, even if you missed the campaign—but only for a limited time.
Help MCG Give Hundreds to Charity
If we gave you a $5 bill and said you could get yourself a little something, or immediately give it to charity, which would you do? (Don't worry, there's no wrong answer.) Because that's what we're doing with the MCG Holiday Gift! Here's the five bucks: 2017MCGHolidayGift. Use that coupon code to get something for yourself (or a friend) at the MCG Shop—get a glimmer for free, or take $5 off a pricier item (like the new slipcase!). Or tell us to give it to charity instead! We're already giving hundreds of dollars, on behalf of gamers like you, to the ACLU, Doctors Without Borders, and the Atlantic Hurricane Relief Fund. What will you do with your five bucks?
Get a Taste of Numenera Destiny and Discovery Starting in January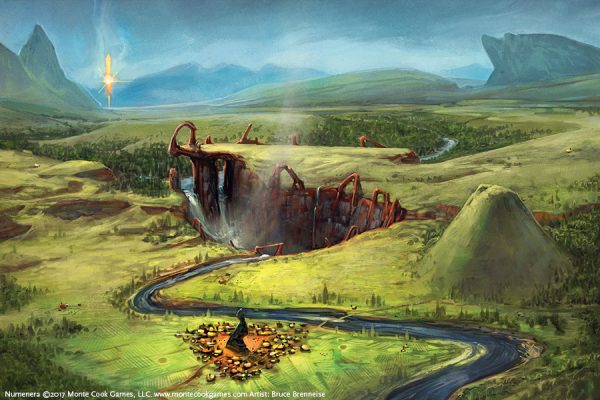 The next season of Cypher Play begins in mid-January. It features adventures associated with the Ninth World settlement of Ellomyr, and gives you an early look at some of the new material coming to Numenera with the launch of the Numenera Discovery and Numenera Destiny corebooks in June. As a reminder, everyone who plays in Cypher Play gets a free copy of the adventure to take home. Don't miss it—check with your friendly local game store to see if they're taking part! Don't know what Cypher Play is all about? We're glad you asked!
Shopping MCG for the Holidays? Hurry!
The holidays are almost upon us. If you're ordering anything from MCG and want to get it before Christmas, take note of these dates!
US customers: For free shipping, order no later than December 13th. You have until December 19th if you select priority shipping.
UK customers: For non-tracked shipping, order no later than December 14th. You have until December 20th if you choose tracked shipping.
EU/EEA customers: For non-tracked shipping, order no later than December 11th. You have until December 18th if you choose tracked shipping.
Customers outside of the US, UK, and EU/EEA (such as Australia): We can't guarantee shipments will reach you before Christmas, but it's still possible if you choose tracked shipping and order ASAP.






Normally we'd root for the octopus, but you've got to feel for this poor crab as it dodges not just deadly cephalopods, but also land-crawling moray eels.
A dinosaur that's a mashup of a goose and a, erm, little velociraptor, I guess? Go home, evolution. You're drunk.


Numenera: Strand is a short film set in the Ninth World. It's a great way to get a little taste of Numenera's atmosphere, and to introduce friends to the Ninth World as well. The complete film is available free to watch on YouTube and Vimeo (and embedded just there, above!).