A look into space from a dinosaur's-eye view, a busy week at the MCG warehouse, and great gifts for the holidays—all in today's Cypher Chronicles!
You can get Cypher Chronicles, and other MCG news, delivered right to your inbox! Enter your email address and click the Subscribe button in the right-hand column, and you'll never miss a post. You can also suggest topics for Cypher Chronicles by emailing us at cychron@montecookgames.com.


Thinking about Gifts for the Holidays?
It's that time of year again! When we think of gifts, we think of great games. If you have gamers on your gift list, be sure to visit the MCG Shop next weekend for our Black Friday/Cypher Weekend sale. You'll find great deals on great gifts for gamers of all ages and interests. Whether it's a family with creative kids, a gamer keen to try Numenera or Cypher System, a loved one who's been eyeing the Actuality, a diehard fan who wants to dive ever-deeper into our worlds, or an RPG player of any system looking to up their game, we'll have a great deal you won't want to pass up. Look for offers on:
Introductory products and corebooks for gamers looking to get into our worlds.
High-end, exclusive deluxe editions that are impossible to find!
Great bundles of supplements and supporting items.
All at prices that make these easy gifts to give—or to give yourself!

A Busy Week at the MCG Warehouse
With the many Kickstarter fulfillments of recent months, plus a pretty busy autumn for the MCG Shop, our Kansas warehouse has been putting in long hours getting products out to our wonderful backers and customers. We've been thrilled to be shipping Enchiridion of the Path, the Numenera Deck Box, the Subtle Cypher Deck, The Stars Are Fire, The Key, Cypher System Character Portfolios, Invisible Sun medallions, and much, much more over the past couple of months—but we're also excited to see things leveling off just a bit!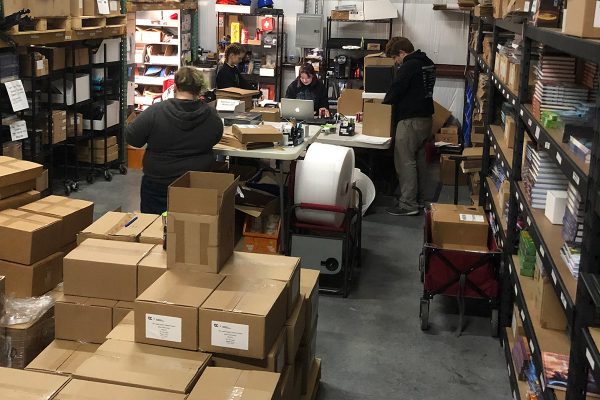 Backers and customers Down Under are probably aware that we began operations with an Australian fulfillment center this autumn—this ultimately saves shipping time, reduces shipping cost, and eliminates Customs fees and duties from our shipments. Getting this center stocked up and fully familiar with our range of products (including not just the 100+ for-sale items on the MCG Shop, but also dozens of exclusive Kickstarter rewards) hasn't gone as quickly nor as smoothly as we'd have liked. The good news is that we've turned the corner on the vast bulk of our stocking issues; and with just one more round of items to get fully spun up—which should happen over the next couple of weeks—things should be operating as normal very soon.
But There's More on the Way!
It's time to rest on our laurels, right? Nope! As busy as we've been sending products out to you this autumn, we've been equally busy making new ones. Just as our warehouse took delivery of The Stars Are Fire, we sent several additional titles into the latter stages of the production process.
Tomorrow's Bones is on press now.
And we recently sent the new Numenera XP Deck to press.
Along with the new Numenera playmat.
And components of The Nightside.
And Stay Alive!, the excellent horror sourcebook for the Cypher System, is in proofing and goes to press soon!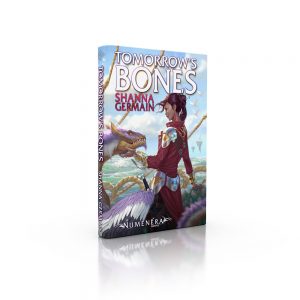 We all know the Earth was a little different back in the age of the dinosaurs—but it's amazing to think about how different the rest of the universe might have been as well. Here are some bits of news to inspire both your Predation and The Stars Are Fire campaigns!
Dr. Jessie Christiansen points out that the dinosaurs walked on the opposite side of the galaxy from us, in this really cool video demonstration.
Closer to home, it turns out that Saturn would have looked a lot different to dinosaur astronomers—the planet didn't begin to develop its famous rings until the early dinosaurs were already around. (And those rings are now starting to disappear!)