We're thankful for each other, our families and friends, great games, and especially for you and your support, so we're celebrating with great sales for Cypher Weekend! We have loads of recommendations for you, plus some great social media posts to share. All this and more in today's Cypher Chronicles!
You can get Cypher Chronicles, and other MCG news, delivered right to your inbox! Enter your email address and click the Subscribe button in the right-hand column, and you'll never miss a post. You can also suggest topics for Cypher Chronicles by emailing us at [email protected].

Yesterday was Thanksgiving (for those of us here in the United States), and although I and my family did not travel, as we traditionally do, to spend it in person with those we love, it was nevertheless a wonderful respite from the seemingly relentless flow of bad news that we've all experienced throughout 2020. If you celebrated Thanksgiving (or even if you didn't), we hope you had a relaxing, pleasant day yesterday.
Great gaming gifts!
I'm looking forward to continuing an upbeat mood as we move deeper into the holiday season, and I've already begun my gift shopping. If you're starting your holiday gift-buying process as well, and there are gamers on your list, we have some deals you'll want to check out this weekend!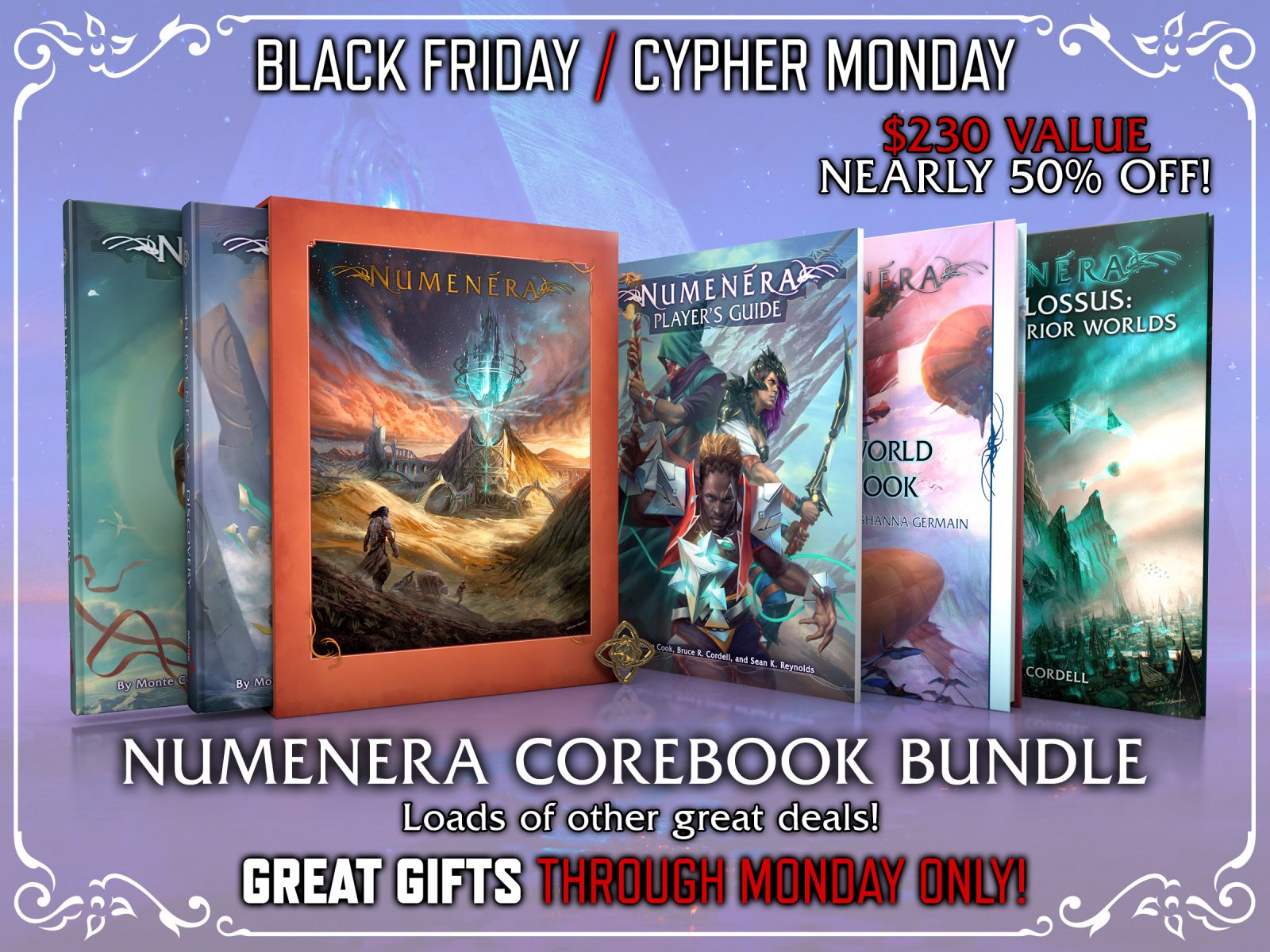 For the past several years we've had special offers on Cypher Weekend—and this year is no exception! This weekend only, we have some amazing savings on MCG games. Deals include:
All of our core products. Buy the Cypher System Rulebook, No Thank You, Evil!, the Invisible Sun Black Cube, or any of our corebooks, and get a suite of supporting products for free!
Bundles of supplements. Save 50% or more on bundles for Numenera, The Strange, No Thank You, Evil! Invisible Sun, and the Cypher System. Plus Your Best Game Ever, and our 5e-compatible titles.
Rare deluxe editions not normally available at any price (let alone Cypher Weekend prices!).
This sale ends at midnight PST on Monday, and quantities of some items are limited.
Godforsaken is out!
Fantasy is, of course, the genre that brought tabletop RPGs to the world—and for many of us, it's our first RPG love. From classic high fantasy and swords and sorcery to grittier stuff, wuxia, and modern fantasy, the genre spans a wide range of preferences, styles, and subgenres. Whatever your favorite take, Godforsaken has you covered. And it's out now, at your FLGS, DriveThruRPG, the MCG Shop, or wherever you get your games!
Here's a quick taste of the inspiration you'll find inside the 224-page hardcover:
Heroes of the Cypher System Kickstarter
We have fourteen days to spread the word about our Heroes of the Cypher System Kickstarter and reach the goal that unlocks the Cypher System Bestiary! I know we can do it with your help, so please keep up the great work.
Help us spread the word. Here are some things you can do:
Take a look inside Claim the Sky and share the article with your friends who love superheroes and RPGs.
Tell your friends about Boundless, the dangerous, exciting setting included in Claim the Sky.
Tell your friends what you love about the Cypher System! Or better yet, show them by running a Cypher Shorts game for them!
Share one of our social media posts/tweets and add your own thoughts to it.
Tell those who've never tried Cypher System that every pledge level includes the complete Cypher System Rulebook in PDF, so they don't have to own the corebook already to get in on this great Kickstarter.
Tell your first responder friends that we have a backer level just for them!
Share the Kickstarter page far and wide and invite others to share in the awesomeness that is our close knit community.