Iadace and welcome to Cypher Chronicles!
Get Cypher Chronicles, and other MCG news, delivered right to your inbox! Enter your email address and click the Subscribe button in the right-hand column, and you'll never miss a post. You can also suggest topics for Cypher Chronicles by emailing us at [email protected].
Share Your Excitement for Numenera 2 and Invisible Sun!
Are you as excited for Numenera 2 and Invisible Sun as we are?
Vote for these games, and others, at EN World's Most Anticipated RPGs of 2018! Voting ends Saturday December 16th–vote now!


Make a 2018 Resolution: Become a Gamemaster!

We are SO excited to announce New Gamemaster Month! Building on our program from years past, we've now got a dedicated website, where you'll find resources to teach you how to GM not only Numenera, but also Unknown Armies from Atlas Games and Trail of Cthulhu from Pelgrane Press!
The program begins January 9th, but you can add to the conversation now by joining the Facebook group, following the Twitter account, and using the hashtag #NewGmMonth.
If you're already a GM, share this with friends you'd like to see take on the gamemaster mantle!
New Unmasked Adventure!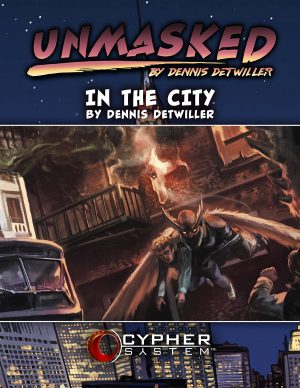 Unmasked gets a new adventure! Get it now and see whether you, a couple of kids with a smattering of strange powers, can save one of your own…
Everyone loves Patty. Top of the class. Student council. Debate club president. Unashamed trekkie. But her boyfriend Robert is another matter—violent and troubled. And secretly, you and your friends know, a prodigy.

Trouble is brewing—trouble bigger than you find in Boundary Bay. Because Robert's family has some dark connections, and when Robert runs off to New York City, Patty follows him. Will the player characters let the mob get a hold of a prodigy's power?
Unmasked: In the City is an adventure for the Unmasked setting for the Cypher System. It can be played as a part of a campaign or as a standalone adventure, and works well for beginning or experienced characters. You need both the Cypher System Rulebook and Unmasked to play this adventure.
Last Day to Preorder Numenera 2 and Sweet Add-ons!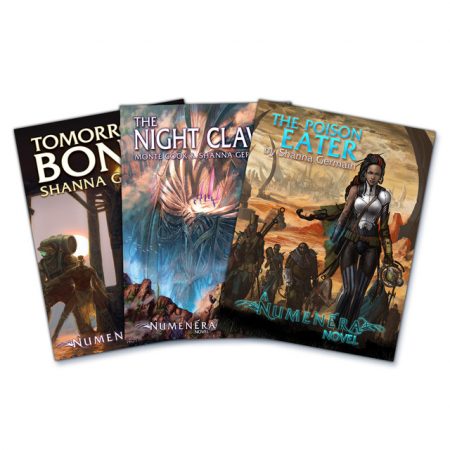 Discovery your destiny, before it's too late! Today is the last day to go to Backerkit and "slacker-back" several Numenera 2 Kickstarter pledge levels, or get in on tons of really neat add-ons and exclusives:
Dicember: MCG Plays Numenera for Charity on Tuesday, 12/19!
The Exploding Dice Twitch channel is hosting #Dicember, a series of RPGs played throughout December on Twitch to raise donations for St. Jude Children's Hospital.
On Tuesday, December 19th at 9pm ET, Sean K. Reynolds will run a Numenera game on their channel for players Shanna Germain, Monte Cook, and Bear Weiter! It's going to be a blast,


Brian Kurtz made a "No Thank You, Voldemort!" game for his daughter and it looks VERY cute!
Chris Piazzo is inspiring us all with his big-kid props for Unmasked: Trapper Keepers for getting into the 1980's setting!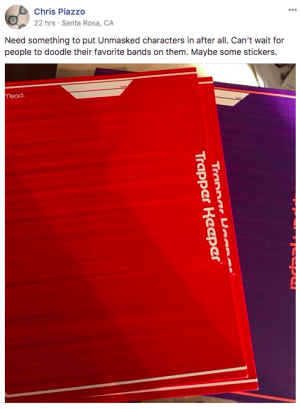 MCG Gift Guides!
Seeking a last-minute gift for a gamer in your life? MCG has some suggestions for game-related things that made them happy this year:
Shanna: Write-on/Wipe-off notebooks are one of my favorite things to have at the gaming table, whether I'm playing and GMing. They're perfect for drawing maps, sketching quick creatures, keeping track of encounters, and even passing secret notes to players. Now Wipe Book 2.0 has gone a step further and offers the original notebook in re-useable graph paper. They also come in pocket sizes, or even as a giant, stand-along chart.
Bruce: You know what game-related thing I got (to use recently) that I loved? A dice tower! It takes up space, but oh wow, so elegant. Plus, I feel like it absolves me of poor dice rolls, so win-win!
Darcy: For the last few years running, my go-to gift to gamers has been an All Rolled Up! They're great dice bags that come in different sizes and can carry everything you need for different games. They're handmade and extremely durable (I've put a lot of miles on my very first Tiny All Rolled Up which always has my minimum viable Cypher GM tools in it), plus they come in SO many different types. I can always find one (or multiple) that perfectly match the person I'm trying to give a gift to!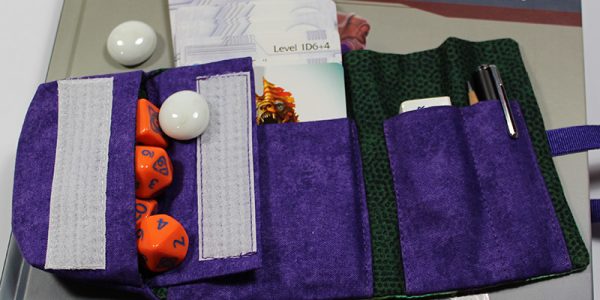 Chicago awarded "Best Twitter Use by a Local Dinosaur" to our favorite, Sue the T-rex! It includes a delightful interview with them.
Journals of History! We have a lot of notebook nerds amongst us, and this was a total delight into the notebooks other folks have kept over time.
John Petersen's piece "Faceoff" from Predation was accepted for an exhibition at the Octagon Center for the Arts! John's art always inspires us–we're thrilled to see this piece get a chance to inspire many more people.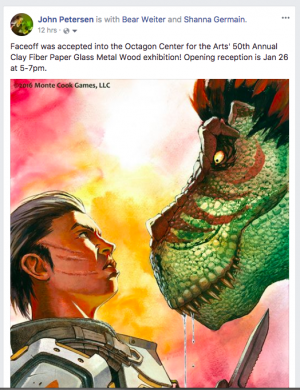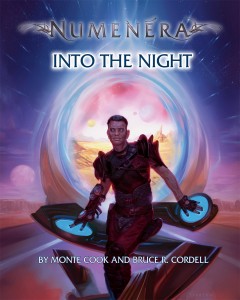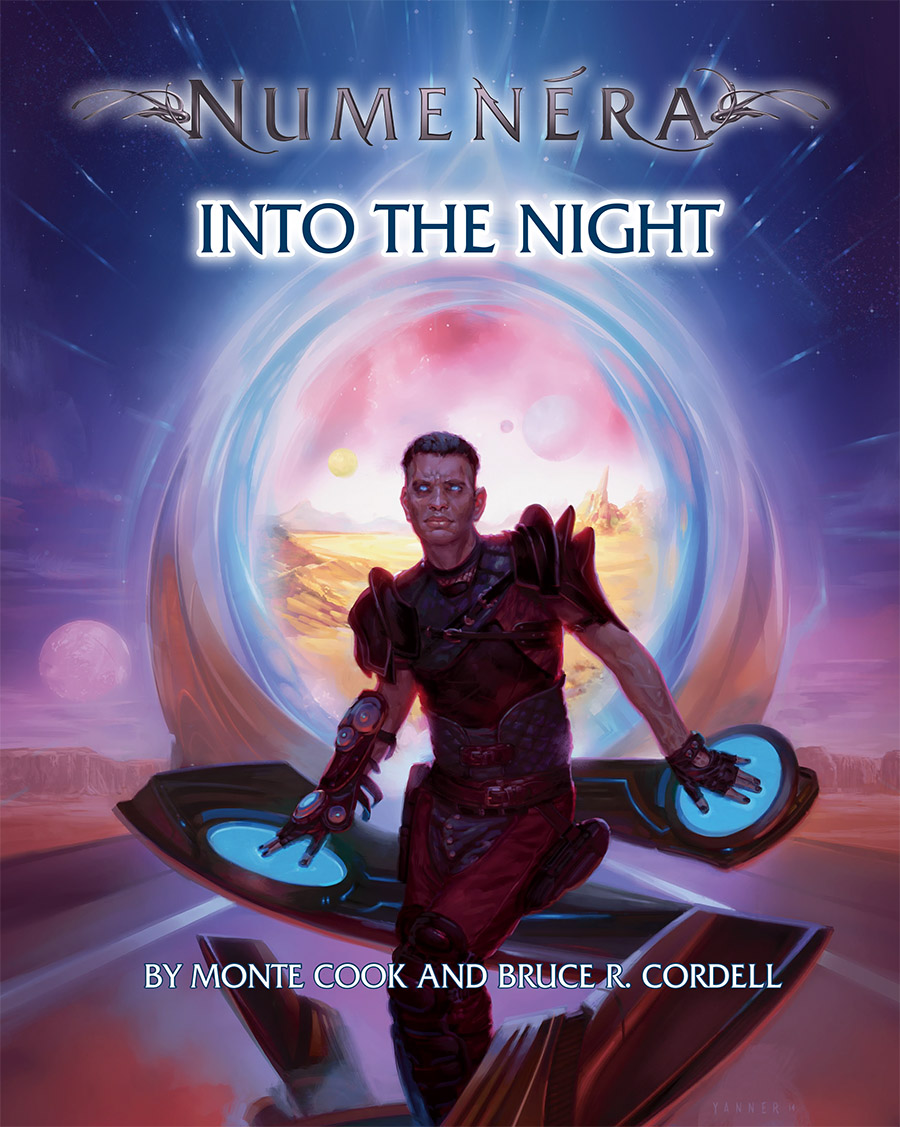 Into the Night: Dark, Mysterious, and Filled With the Unknown
The people of the prior worlds reached for the stars. They engineered our world and others, opened doorways to other dimensions, and rewrote the laws of time and space. The remnants of these efforts litter the Ninth World, but they aren't limited to Earth. Through the magic of the numenera left behind by the ancients, the stars can be plied. Craft sail the void as if it were an endless sea, intricately designed doorways open onto distant worlds, and even stranger means of travel beckon those who are bold enough to cross the vastness of the night.
Like the Ninth World, the realms beyond Earth are mysterious, majestic, terrifying, and filled with the unknown. Will you join the midnight pilgrims and discover what lies beyond Earth's shores? Into the Night brings fantastic new locations, character options, creatures and NPCs, and cyphers and artifacts to your Numenera game!