We're wrapping up the year, and looking forward to 2019 and all the new gamers and gamemasters it might bring. Science brings us strange news of gene activity beyond death, and streams bring us exciting one-night events you won't want to miss. All in a day's Cypher Chronicles.
You can get Cypher Chronicles, and other MCG news, delivered right to your inbox! Enter your email address and click the Subscribe button in the right-hand column, and you'll never miss a post. You can also suggest topics for Cypher Chronicles by emailing us at [email protected].
New Gamemaster Month is coming!
A new year is just around the corner. As it approaches, via these fleetingly-short winter days, the bright light at the end of this chilly tunnel is my beloved New Gamemaster Month!
I learned to GM with the Numenera corebook, and in my ensuing enthusiasm I've encouraged a good number of other first-time GMs to get in the saddle, with the Cypher System or otherwise.
With this fifth annual New Gamemaster Month, the program is significantly expanded. You can learn to become a GM with guided instructions for Numenera, Unknown Armies, Trail of Cthulhu, and RuneQuest!
Sign up now to receive biweekly instructions when the program starts on January 8th. In the meantime, join the community on the Facebook Group.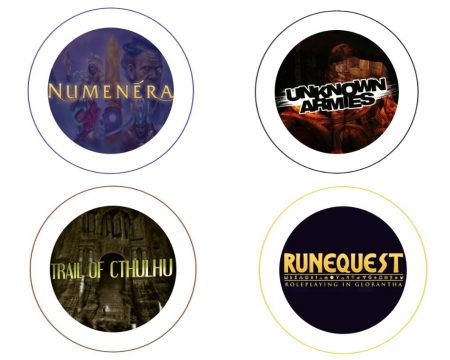 And don't forget about the Holiday Gift–take $5 off at the MCG store, for you or perhaps a friend you'd like to encourage to become a new GM! Or, direct us to donate those $5 to a charity! Win, win, win.


From Sean, genes that turn on only after you die: Even after you die, your cells keep on living for a while. And sometimes they start activating DNA that's been dormant since you were a fetus. A rogue nano or mad scientist could find a way to exploit that…
The fantabulously geeky Marlowe family are streaming a one-shot of Numenera called Longest Night! Monica Marlowe, the 2015 Paizo RPG Superstar, will be GMing an adventure whose story has refused to let her go until she lets it out into the world. This promises to be a fantastic session! Tune in to the Marlowe House Twitch channel on Friday, December 21st at 5 p.m. Pacific.
For getting in the holiday spirit, a charity stream of Invisible Sun brings you KRACKATUCK, "the tale of THE HRINDRASA AND THE RAT-KING… a surreal retelling of a beloved holiday favorite." The WebDM Twitch channel is hosting the event, which will raise funds for charity and includes a great cast of players and GM Jason Robinson. Check out this Twitter thread for more information.
KRACKATUCK
An Invisible Sun holiday special

Sat, Dec 22
1–4pm Pacifichttps://t.co/Unallvl4mh

GM @VafeR
Co-written by @VoxExMachina
Produced by @IanGameSmith

Players@legendaryflames@HiReiMika@RourkeBywater@IanGameSmith

Thanks @WebDMshow for hosting this charity event! pic.twitter.com/ejUDEZTgc5
— Jason Robinson 📎 (@VafeR) December 13, 2018