Good cheer, charity, and spooky delight await you in today's Cypher Chronicles! Darcy dives in to our charity opportunities with the MCG Holiday Gift and the Worldbuilder's charity, and reveals her undying love for the vampires of Stay Alive!
You can get Cypher Chronicles, and other MCG news, delivered right to your inbox! Enter your email address and click the Subscribe button in the right-hand column, and you'll never miss a post. You can also suggest topics for Cypher Chronicles by emailing us at [email protected].
It's the season of gratitude, charity, good spirits, and (if you're anything like me) frantic shopping for everyone on your gift-giving list.
Please take advantage of our Holiday Gift, in which we give you a coupon in our store worth $5, which you use for your own purchases or you can direct us to donate to one of three charities: the American Civil Liberties Union, Warrior Canine Connection, or Doctors Without Borders. And, if you're ordering any physical products from us, please have a look at these order deadlines that we've estimated to help you order in time for the holidays!
MCG is also supporting the fantastic charity Worldbuilders, which raises donations for Heifer International to help families around the world break out of poverty. Every $10 you donate enters you to win one of many wonderful prizes, including some fantastic Numenera and No Thank You, Evil! fiction! The fundraiser ends December 17th, so hurry and do some good while winning prizes.
Stay Alive!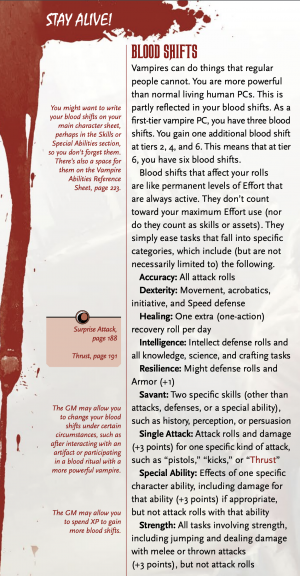 Stay Alive!, our new book of Cypher things that go bump in the night, is finally here—well, on preview and preorder!
Many months ago, I playtested some character options from Masters of the Night, Stay Alive!'s new mini-campaign setting about playing newly-transformed vampires in the modern world. I cannot overstate how elegant, fun, and flexible the new mechanics were!
Check out the free preview. You'll get a glimpse of the setting, vampire abilities, blood shifts (see the excerpt at right), and vampire bloodlines and gifts.
I've played some vampire games in my day, but that playtest was the most fun I have ever had playing a vampire. You are going to love this setting and these fantastic character options!
Like The Stars Are Fire, Stay Alive! is a book filled with advice, tools, and options. While there is general advice on running any kind of horror game, Sean also delves in to specific elements of horror that you might want to play with—for instance, "Killer Toys." He dives in to what makes that element scary, what makes it a risk, what rules modules you might take advantage of, and finally how to make it extremely effective in your session.
---


From Charles: Prehistoric cave paintings discovered in Indonesia are about twice as old as those in Europe—at least 44,000 years old. These paintings might depict humans with animal features, which leads the researchers to consider: "[i]f the painting's figures do in fact blend the human and the non-human, they suggest that the artist behind them could think abstractly and creatively." Learning about pre-historic human minds is so exciting!
From Shanna: These Game Stamps are very cool. They could be used to create something interesting at the game table, or—better yet—in my bullet journal!