Iadace and welcome to this week's edition of The Cypher Chronicles! If you are a Kickstarter backer who's getting The Ninth World Guidebook, you should have your PDF in your hot little hands this week. In other news, we've got the official Numenera short film poster, a contest for the The Strange, and much more more.
PRODUCT NEWS
 The Ninth World Guidebook is here! If you're a Kickstarter backer or a pre-orderer (yeah, I know that's not really a word), you should be seeing the email about the PDF download in your inbox. The print books will also start shipping shortly. Here's the scoop from Tammie (in addition to doing customer service, she's in charge of making sure your books get out the door and arrive at your doorstep!):
Fulfillment of the Ninth World Guidebook (print and PDF) is being accomplished through the MCG Shop. All of the coupon codes have been sent out to backers via email. Fulfilling rewards through the MCG Shop has two major advantages. It puts you in charge of deciding when and to where your available rewards are shipped, allowing you to change your address at will and also allowing you to group rewards together to save on shipping.
In Translation: The Strange Character Options went to press this week! Here's a bit about the Resolute descriptor, accompanied by its art: When you set your mind to something, little can stop you. Your friends call you determined and unflappable in the face of adversity. Your detractors call you stubborn and incapable of changing your mind even when a better course of action becomes possible. Stubborn? Maybe. But you try to temper your dogged nature so that it doesn't make you inflexible. Sometimes you even succeed.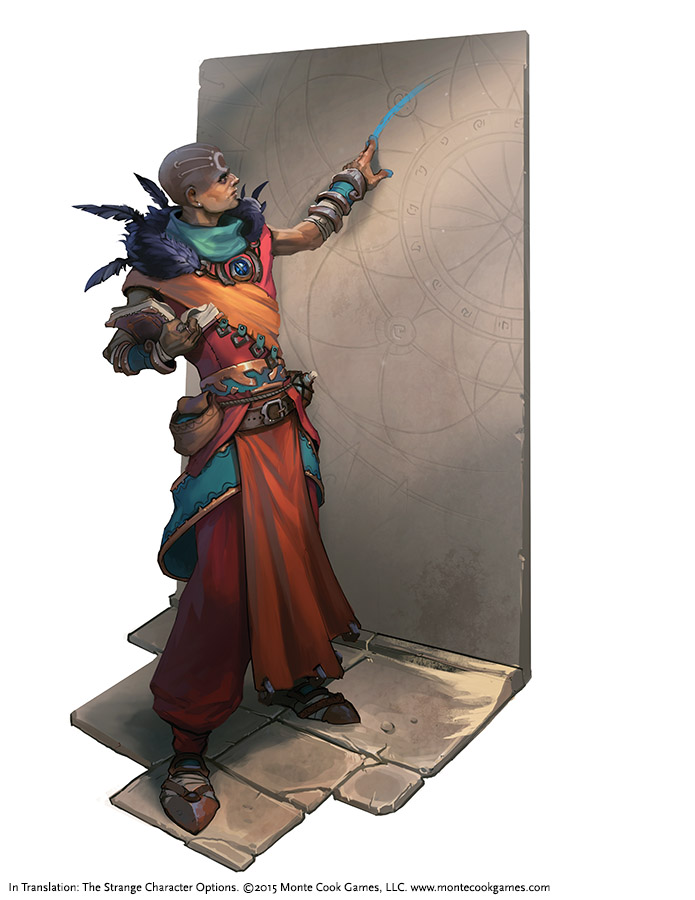 Numenera: Strand is coming soon to a Kickstarter near you! This short film is going to be amazing. Here's the way it's going to work: we are paying for the basic version of the film out of the original Numenera Kickstarter funds, and the company creating the film is going to crowdfund it to make it even more awesome. We are so excited about this for so many reasons! The director is not only talented, he also plays Numenera and he started this film as a labor of love, which means he really gets the Ninth World and he is as passionate about making something amazing as we are. The actor who plays the Drifter is perfect–also super talented and he really embodies the humans of the future in his physical appearance. It's just going to be incredible. Stay tuned: their KS goes live on February 2nd. They're a Swedish team, so the KS will be based there (but they'll be including estimated dollar amounts on all their backer levels, for those of us who don't know the kronar/dollar conversion).
OTHER EXCITING THINGS
NaNewGaMo—(Inter) National New Gamemasters Month—is in its last week. We've heard from some players who took the leap to gming and that makes us super happy!
We're having a contest on The Recursion Codex site! Make up a recursion and post it to the site (following all the contest rules, of course) and you could win some really cool things. Including the chance to have your recursion adapted for inclusion in the upcoming book, Worlds Numberless and Strange!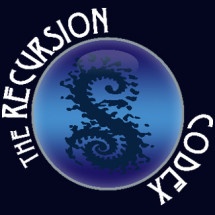 GET INSPIRED
 Bruce's inspiration for the week! He says, "I heard Roger Penrose on Science

Friday

explaining his relatively new hypothesis on how the the universal accelerating expansion of the universe 'stretches out' to eventually become the next big bang, repeat. It sort of blew my mind."
BEHIND THE SCENES
We're hard at work on the Numenera Boxed Set. Here is the mock up of the Setting Book cover, complete with brand-new art from Kieran Yanner. We're leaving the backs word-free, so that it's super pretty and you'll notice that each book will have the section's page numbers on the front. Inside, the page numbers are the same as in the corebook, so if a corebook callout tells you that you can find Navarene on page 137 of the corebook, you will also find it on page 137 of the setting book. That means, no matter what books your group has at the table, everyone can easily find everything! Cool, huh?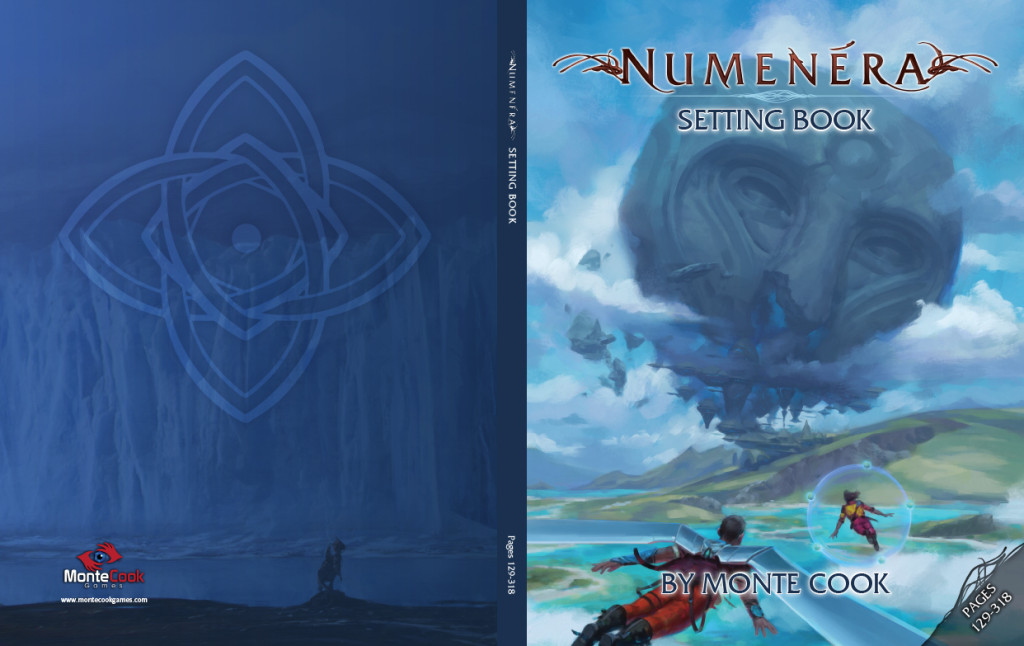 ~
Do you like us? Do you really like us? You can play an important role in helping is thrive and create more great games: Leave a review at DriveThru, Amazon, or with your local game store owner! Share these chronicles with other gamers you know. Invite those you love to sit around a table with you and delve deep into their imagination to create shared memories that will last a lifetime.
P.S. You rock.
Hey, look! Now you can subscribe to get these blog posts right in your inbox. Right down there, at the bottom of this post! Just enter your email and you'll never miss a post (we won't use your email for anything else, we promise). We've also added an easy way to share these posts on social media. You should see the buttons right at the bottom of this page!
Keep up with MCG! Follow Monte Cook Games, the Weird of Numenera, and The Strange RPG on Twitter; like Monte Cook Games, The Strange, or Numenera on Facebook, and subscribe to our MCG channel on YouTube. We also have a Pinterest account, which isn't news, per se, but it has lots of pretty pictures.
Also, don't forget: If you need us for anything or have questions, we're right here.