Books heading toward backers, and postcards from Havana. It's this week's Cypher Chronicles!
You can get Cypher Chronicles, and other MCG news, delivered right to your inbox! Enter your email address and click the Subscribe button in the right-hand column, and you'll never miss a post. You can also suggest topics for Cypher Chronicles by emailing us at [email protected].


Secrets and Slaves . . .
Secrets of Silent Streets and Slaves of the Machine Gods are on their way to Kickstarter backers! If you backed for either of these books, through the original Invisible Sun Kickstarter, the reprint Kickstarter, or the Numenera Discovery and Destiny Kickstarter, check your email for redemption instructions. (Technically, they aren't quite on their way—we haven't started shipping yet. But many, many packages will be in transit by Monday!)
What's that? You aren't a backer? Great news: They're both still on preorder. We'll start shipping preorder copies next. So don't wait for street date—get your preorder in now!
. . . And a Book of M
Even its name is a secret. Some say it comes from the Sodality of Vryn, which identifies thirteen currents of magic and gives each a letter designation—M is the 13th and most powerful. Others say the title refers to the original writer of the book, while still others believe it stands for mystery or—perhaps most simply and obviously—magic.
Whatever the source of its name, Book M is one of the rarest and most sought-after grimoires. It's whispered to contain otherwise unknown spells, incantations, rituals, charms, hexes, and more. Plus potions, amulets, bezoars, spiritstones, and madstones, as well as other physical ephemera. Within its pages a vislae might even discover artifacts of great power.
Here in shadow, a vislae will discover:
The 120-page hardcover Book M itself, with new fortes, long-form magic, and character and house secrets. And more guidelines and advice for making magic even easier— and more magical.
200 new cards for spells, ephemera, and objects of power.
All in an elegant and sturdy slipcase. It holds Book M with room for Secrets of Silent Streets along with the forthcoming Teratology and The Threshold.
The conjuring of Book M has suffered multiple instances of flux, but it is almost in our hands. Preorders opened this week. It will be released in March, and we expect to be delivering the first batch off the presses to backers in a few weeks.
Unless Your Numenera Collection is 100% Complete . . .
You don't want to miss out on the Numenera Humble Bundle offer. For about the cost of one single supplement in PDF format, you can get just about every Numenera title out there. So even if you own most—even dozens—of Numenera titles, it's worth checking out. (And if you don't, it's a great way to jump in with both feet and have a virtually complete Numenera collection—for a pittance!) Plus it supports It Gets Better, a great cause!
Cafe con Leche and Some Inspiring Surreal Art—Wherever Could Darcy Be?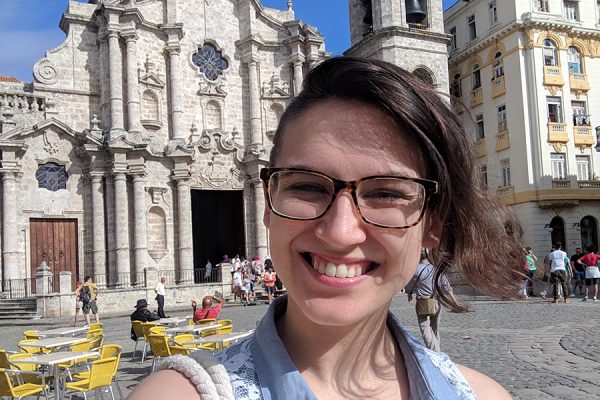 Darcy has sent us this virtual postcard:
I had the honor of traveling to Havana, Cuba before I appear as a guest tomorrow at RPG Escape 2019 at the Adventure Game Store in Davie, Florida. (The timing was great, given the amazingly cold temperatures back in Chicago.) The wonderful host and store owner, Brian Dalrymple, guided us guests through some sight-seeing in the area. In Havana's National Museum of Fine Arts, I couldn't stop the wonderful Invisible Sun inspiration from creeping into my brain. The entire city was wonderful, and that art museum struck me like few others have. My depictions of the sights and sounds of Satyrine will be immeasurably enhanced! Highly recommended.
RPG Escape brings gaming professionals to The Adventure Game Store to discuss and workshop the finer points of roleplaying game design, storytelling, world building, and game mastery. The event is free, and this year features as guests myself, Christopher Robin Negelein (who you'll recognize publishing under Ganza Gaming in the Cypher System Creator Program), Kenneth Hite, Will Hindmarch, Hal Mangold, Rich Lescouflair, and Eric Wiener.
This year, we're focusing the panel around characters (both PCs and NPCs) as a topic relevant to both players and GMs. I love that this team is considering how we can all up our game as players and GMs, like Your Best Game Ever will later this year.
I also have it on good authority that the Adventure Game Store has one of the few remaining on sale copies of Invisible Sun in their shop—I'm looking forward to showing it off! If you're in need of a copy before the reprint lands, you'll want to give them a ring.
If you're in the Fort Lauderdale/Hollywood FL area, be sure to come by on Saturday!


Wolfspell, a proggy metal album in RPG form, printed on an LP jacket. 'Nuff said.
Want to spice up your game with some funky original terrain and machines? (I do!) Sean found Todos Los Customs ("All Customs" in Spanish), a Facebook group with incredible ideas and suggestions for turning stuff in your junk drawer into gaming gold.
Grimmerspace, a Starfinder-compatible sci-fi horror setting, is coming! Among the contributors are our own Shanna Germain, actor Sean Astin, and a host of other luminaries. If you like horror and science fiction adventure, penned by some amazing writers, this is one to keep an eye on!