Iadace and welcome to this week's edition of The Cypher Chronicles! We have more movie news, the Ninth World Guidebook is here, and we go really far behind the scenes to offer a look at all (okay not all — a girl's got to have some secrets) of the products that we're currently working on!
PRODUCT NEWS
 The Ninth World Guidebook is here! You can pick up a copy at your local game store or online. We are so very proud of this book. It contains all kinds of interesting tidbits of the world and culture, opens up a lot of new places, and gives you new creatures and character options. We hope it brings all kinds of great new elements to your game!
The Strange Character Sheets will be coming in early March to a store near you. With both regular and recursion sheets, this pack makes it easy to create characters without having to print out sheets.
 The Kickstarter for Numenera: Strand is rocking and rolling! We have really high hopes for this short film — not just for Numenera, but for the whole gaming and sci-fi/fantasy world. Right now, many films and shows are being based on comic books (Yay Constantine!). Is it possible that next year, we'll see a ton of movies and shows based on games? How amazing would it be to have this film jumpstart a huge gaming/movie revolution, full of incredible things to watch? Can you imagine seeing Numenera on the big screen someday? (Or, as many backers have suggested, as a Netflix original series?). Yeah, we dream big, but that's how we like it. If you dream big too, please help us spread the word to anyone you think might be interested. The bigger and better this film becomes, the more likely that we will see even more amazing game-based movies and TV shows in the future.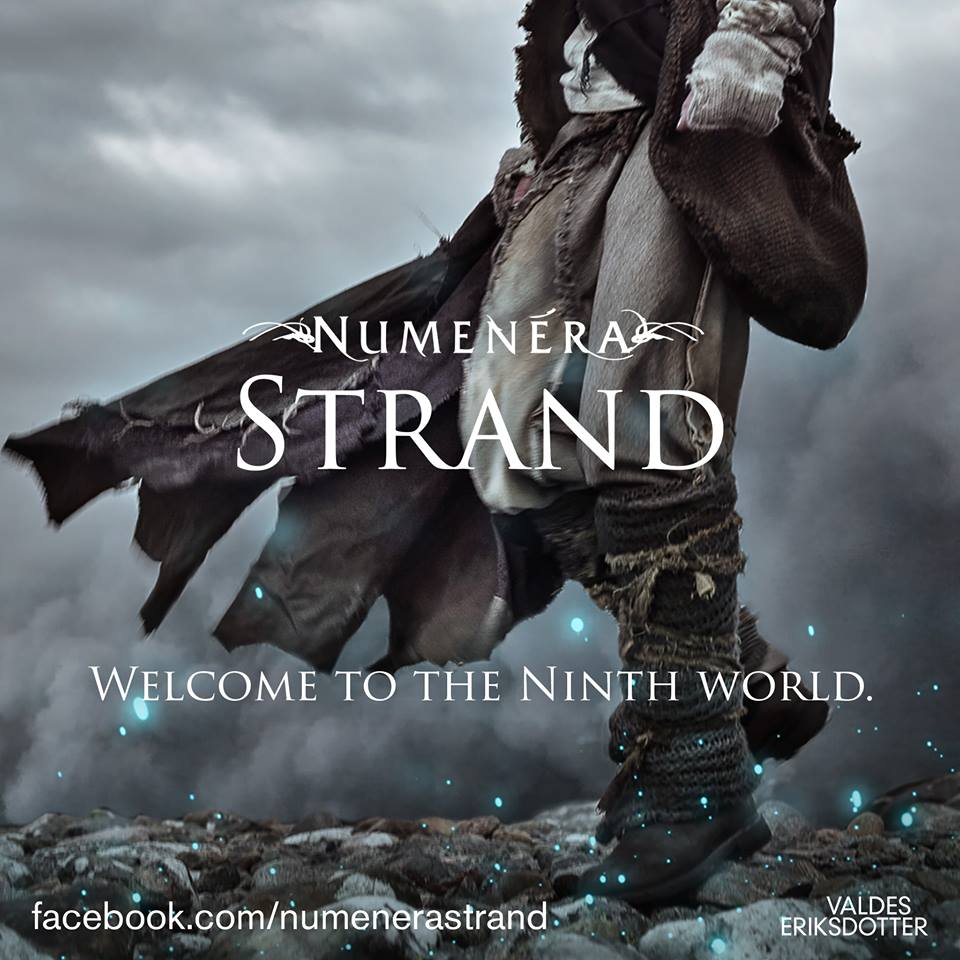 OTHER EXCITING THINGS
Don't forget about our contest on The Recursion Codex site! Make up a recursion and post it to the site (following all the contest rules, of course) and you could win some really cool things. Including the chance to have your recursion adapted for inclusion in the upcoming book, Worlds Numberless and Strange!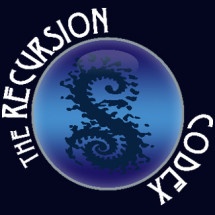 GET INSPIRED
Have you seen the footage of the Mercury flyover yet? It's so beautiful and it makes me so happy that I kind of want to cry a little. And then I want to think about what lives there or did live there or will live there.
BEHIND THE SCENES
Sometimes it's hard to believe how many different products we're working on at once here in the MCG office. Some are super-secret, the kind of things that we work on for months or even a year before we announce them. Others are products that we announce early on and keep you updated about as we go along. Here's a list of many (but not all–some are still super-secret, after all) of the products we've got our fingers in right now:
The Numenera Deluxe Boxed Set
A new Numenera adventure book
A Numenera glimmer (our PDF-only products for Numenera)
Two other Numenera print books
In Translation: The Strange Character Options
The Strange worldbook
The Strange character sheets
A Strange fractal (our PDF-only products for The Strange)
The Strange Cypher Chest (boxed set of three card decks)
The Cypher System rulebook
Here's the in-progress front and back cover for the print anthology that will come with the boxed set. Because it won't be sold in stores, we were able to do some fun things with the cover, including having a single image that wraps, creating a spine with nothing but art on it. (Art by Roberto Pitturru).
This one is from an upcoming Numenera book. It's called "You are infected." (Also by Roberto Pitturru)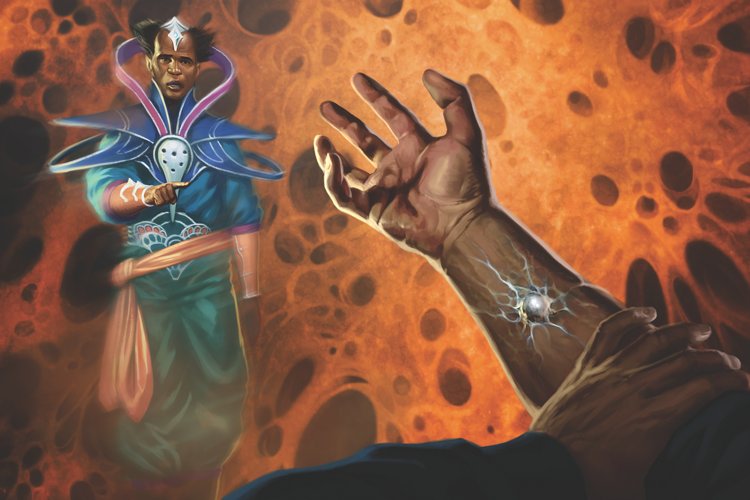 Lastly, a piece from Cathy Wilkins (from an upcoming product for The Strange):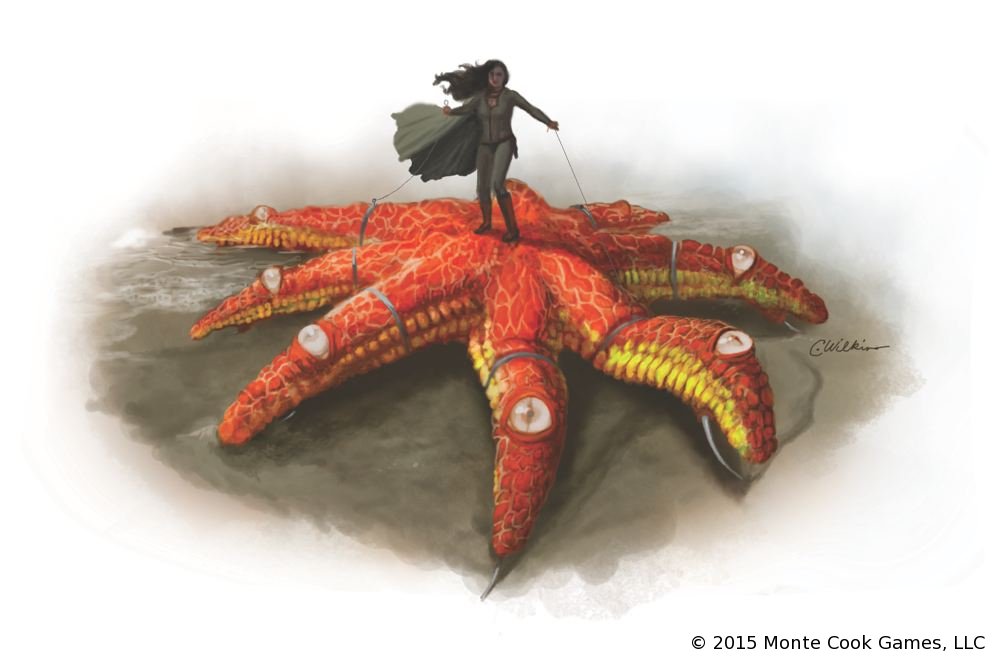 ~
Do you like us? Do you really like us? You can play an important role in helping is thrive and create more great games: Leave a review at DriveThru, Amazon, or with your local game store owner! Share these chronicles with other gamers you know. Invite those you love to sit around a table with you and delve deep into their imagination to create shared memories that will last a lifetime.
P.S. You rock.
Hey, look! Now you can subscribe to get these blog posts right in your inbox. Right down there, at the bottom of this post! Just enter your email and you'll never miss a post (we won't use your email for anything else, we promise). We've also added an easy way to share these posts on social media. You should see the buttons right at the bottom of this page!
Keep up with MCG! Follow Monte Cook Games, the Weird of Numenera, and The Strange RPG on Twitter; like Monte Cook Games, The Strange, or Numenera on Facebook, and subscribe to our MCG channel on YouTube. We also have a Pinterest account, which isn't news, per se, but it has lots of pretty pictures.
Also, don't forget: If you need us for anything or have questions, we're right here.