This week saw the release of Secrets of Silent Streets, your guide to the streets of surreal Satyrine, and on the horizon is Numenera's Slaves of the Machine God and Invisible Sun's Book M, plus plenty more down the road!
It's a busy time, but today we look ahead to places you might find yourself playing with these games: conventions.
You can get Cypher Chronicles, and other MCG news, delivered right to your inbox! Enter your email address and click the Subscribe button in the right-hand column, and you'll never miss a post. You can also suggest topics for Cypher Chronicles by emailing us at [email protected].
Calling All GMs!
Do you love Numenera, The Strange, the Cypher System, and Invisible Sun? Do you love conventions? Do you love running games and meeting new, enthusiastic gamers?
This is our call-out for GMs for both Origins Game Fair and Gen Con 2019. We'd love to have you run as many games as you feel comfortable with, and we offer some pretty good rewards if you run more than one official MCG game.


How it works:
You let us know you're interested through this survey. You tell us which games you're most interested in, and whether you're looking to get a badge reimbursed by running at least 12 hours of 4-hour game sessions and/or short demos at the MCG booth.
Our events aren't scheduled with Gen Con or Origins just yet, but we'll soon have the official schedule of all our games, and we'll ask you to choose your specific slots.
We provide you with the official adventure (or adventures, if you're running for more than one game system). You'll get it in PDF format a few weeks ahead of the convention. At the show you'll get a print copy of it, along with pre-generated characters and other handouts you need.
At the convention, we'll meet with you to deliver your goodies and have a chance to meet the MCG staff and the other GMs.
You run your games, meet new gamers, and have a great time!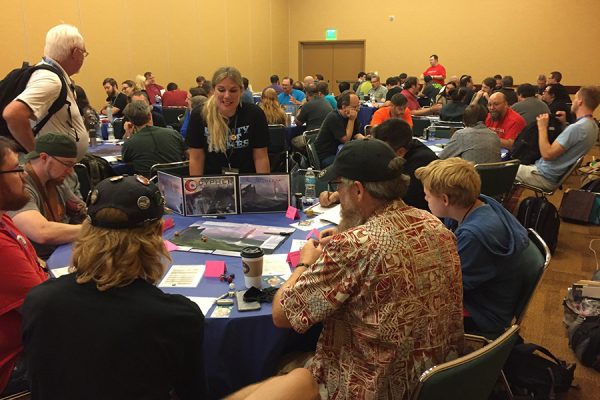 So, what do you get for taking part? What are these goodies of which we speak?
If you run at least one official game session with us, you'll get: Print copies of the adventures, our thanks, the thanks of your players, and a sense of a job well done!
If you run at least two official game sessions with us, we'll add: A GM goodie bag, full of cool and useful stuff for GMs.
If you run at least three official game sessions with us, we'll add: A GM badge! That's right, your convention badge is free! You'll still want to get a regular attendee badge to arrange hotels and sign up for events, but we'll work with you to convert and reimburse the cost!
If you run more than three events, THANK YOU! Consider becoming a member of the Asset Team and earn shins for those events! Shins can be used for MCG product and other goodies.
We ask that all GMs be:
18 years of age or older (with rare exceptions).
Friendly, kind, patient, trustworthy, helpful, outgoing, organized, well-groomed, and punctual.
Able to interact with many different personality types in a calm, friendly manner.
Committed to the games you sign up for.



RPG-related zines abound in Kickstarter's Zine Quest celebration!
Our friend Andreas Walters at Metalweave Games has launched his latest Kickstarter: Awakened NPCs and Companions for 5e. Explore various creatures that have been "awakened" and who now possess human-level intelligence and awareness, with the same care given to their Baby Bestiary books.