Iadace and welcome to Cypher Chronicles!
MCG News
Huzzah! A Strange Box campaign on Kickstarter has funded. So, we'll be creating the most spectacular experience with The Strange that we can for you. Thank you!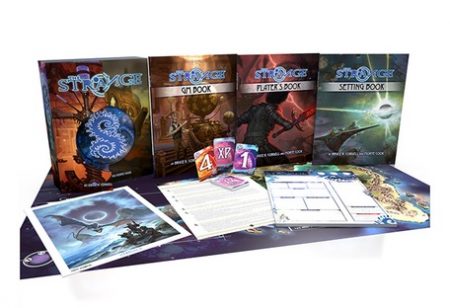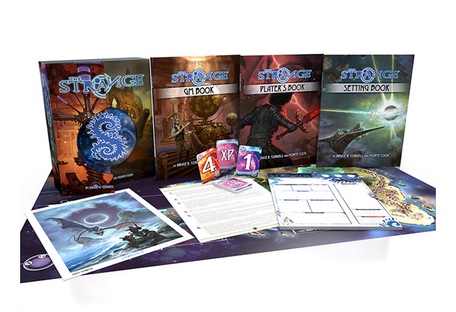 We'll be printing these boxed sets to order, and after the Kickstarter campaign is over they won't be available anywhere else, so if you've not jumped aboard the campaign, we hope you'll do so now; and if you know someone who loves The Strange, please make sure they know about A Strange Box.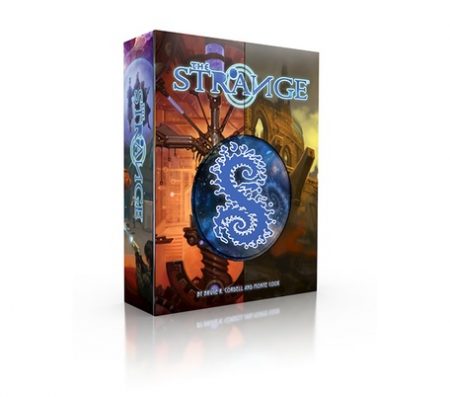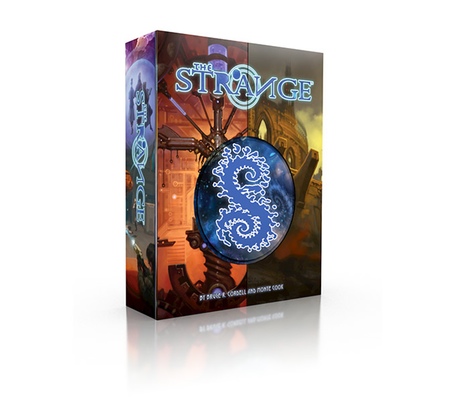 Shanna was recently interviewed on Ego Check with The Id DM. They covered many topics ranging from working in the RPG industry, balancing the demands of writing novels and designing games, the concept of grief in gaming, and much more, so don't miss it.
If you are a writer with a deadline, how do you motivate yourself to write? Shanna shares a few of her secrets with us in Words Like Magic: My Secret Card Trick for Writing a Book.
The Numenera Audio Collection from Plate Mail Games is in its final few days. As of this writing, the campaign is closing in on its twenty-first stretch goal and is just starting to unlock music based on Into the Outside. These are each 10-minute tracks perfect for putting on as background music during an RPG scene, and each seamlessly loops so you can play it for as long as your scene needs. The Ninth World Monarch pledge level gets you over 100 ten-minute tracks for just 60 cents each (at the moment—but the deal gets better as even more stretch goals are unlocked!).
Get Inspired
Recommendations
STORY: The Levitating Timepiece, a Kickstarter campaign by Flyte, is a unique way to visualize time. The orbit of the levitating timepiece can be customized to count hours, minutes, or even years; and the mundane time can be displayed, if desired, using LEDs on the surface of the wood. Beautiful, evocative, and functional.
Tales of the Warrior Princesses, a Kickstarter campaign by Brennan Taylor, is a 5E setting and adventures that turns fairy-tale princesses into active heroes of their own stories.
Thunderstone Quest from AEG is a Kickstarter campaign to fund a new version of Mike Elliott's deckbuilding game.
Inspire Us
Got something you'd like to see published in Cypher Chronicles next week? A cool blog post you've written about our games, scientific news that inspires your The Strange campaign, an Atlas Obscura photo that makes you dream of the Ninth World, a Kickstarter campaign that kindles your imagination, a charity event near and dear to your heart…share whatever you think would inspire Team MCG and would also be a good fit for Cypher Chronicles. Send your recommendations to [email protected] (submitting a recommendation does not guarantee publication).
Share
Do you like us? Do you really like us? You can play an important role in helping us thrive and create more great games: Leave a review at DriveThruRPG, Amazon, or with your local game store owner. Share these chronicles with other gamers you know. Invite those you love to sit around a table with you and delve deep into their imagination to create shared memories that will last a lifetime.
~
P.S. You Rock
Hey, look! Now you can subscribe to get these blog posts right in your inbox. Right down there, at the bottom of this post! Just enter your email, and you'll never miss a post (we won't use your email for anything else, we promise). We've also added an easy way to share these posts on social media. You should see the buttons right at the bottom of this page!
Keep up with MCG! Follow Monte Cook Games, the Weird of Numenera, and The Strange RPG on Twitter, like Monte Cook Games on Facebook, and subscribe to our MCG channel on YouTube. We also have a Pinterest account, which isn't news, per se, but it has lots of pretty pictures.