Iadace and welcome to Cypher Chronicles!
Get Cypher Chronicles, and other MCG news, delivered right to your inbox! Enter your email address and click the Subscribe button in the right-hand column, and you'll never miss a post. You can also suggest topics for Cypher Chronicles by emailing us at [email protected].


Streaming from the Ninth World and the Actuality
Tonight at 7 p.m. PST is the first episode of The Raven Wants What You Have, the streamed narrative of Invisible Sun run by Monte himself and played by Shanna, Bruce, Sean, and Darcy! Join us on Twitch to watch and chat with the cast live.
https://www.instagram.com/p/Be_x-czlrqR/
Further, we announced a whole mess of other fun Twitch content:
A Numenera live stream that will start on February 27th run, by Darcy with the Design Team as players.
A super cool custom fantasy Cypher System stream run by Asset Team member Marsie Vellan. Marsie is seeking players for a four-episode introductory arc to a possible larger campaign in a custom setting, complete with maps and art. Apply to be a player by February 18th!
Creative Space with Monte & Shanna on March 15th, featuring discussion among creative professionals covering topics near and dear to their hearts, like worldbuilding, getting creative work done, challenging yourself, writing to an audience, and more.
An RPG Brunch Chat on March 18th covering #NewGmMonth topics and questions
Gamify Everything on March 24th, where we discuss how to use the super cool, weird science fiction book Roadside Picnic in your Numenera games.
Follow us on Twitch and subscribe to our YouTube channel as we continue to roll out new content and explore the Twitchosphere!
---
Kicking It: Interview with Shanna on Music Business Hacks
Shanna was interviewed on the podcast Music Business Hacks about crowdfunding, budgeting and goal setting, her creative routine, and more!
If you're a creator, it's worth a listen.


Chris is looking to run a sci-fi @MonteCookGames Cypher system game for @VPCinfo and wants to know when you'll be free to join him! https://t.co/zRm2htoung #TTRPG

— Lawful Good Gaming (@LawfulGG) February 15, 2018
Lawful Good Gaming
is on fire lately!
Last weekend, Brian Kurtz raised $639 for the Trevor Project with his magical school No Thank You, Evil! game! He had a really good idea to encourage donations by pitting the Houses against one another. Nice work, Brian!
There are several Cypher System games on the books and others currently getting organized–visit Lawful Good Gaming to host or play in a game and raise money for charities!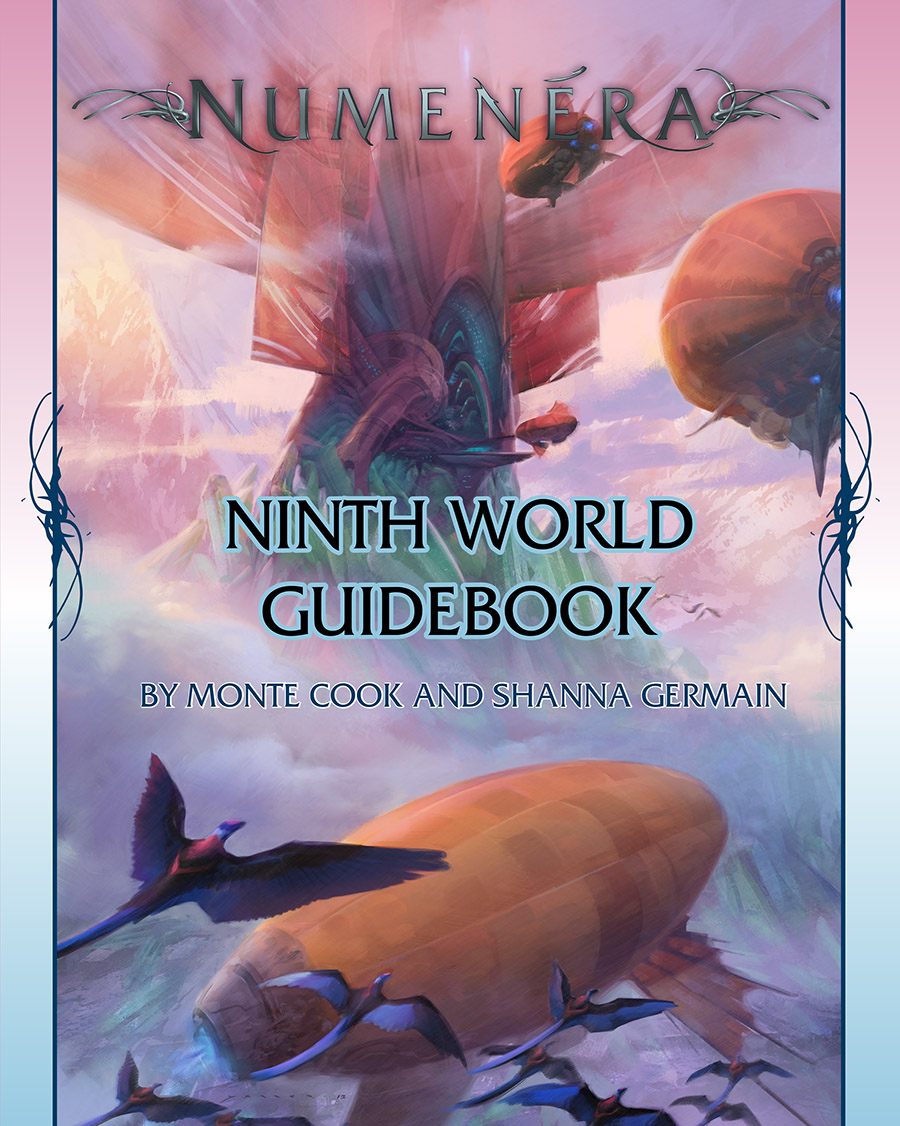 The Ninth World Guidebook brings you evermore details, artwork, story hooks, and delicious worldbuilding fluff expanding on the setting information in the Numenera corebook. It's one of my favorite books to sink into, holding something new for me each time.
–Darcy
The Ninth World Guidebook takes your Numenera campaign into uncharted territory, literally expanding the setting beyond the borders of the corebook's maps. This 256-page tome explores lands hinted at in previous books, opens new territories, and adds detail to those already discussed.
From the frozen lands beyond the Southern Wall, to the volcanic desert of Vralk and the weird, faroff realm of Corao, The Ninth World Guidebook explores new lands and includes adventure hooks, new creatures, new character options, and the incredible level of detail, imagination, and weirdness that is the hallmark of the Ninth World!