News from the streets of Ptolus, secrets of the upcoming Kickstarter revealed, the release of Stay Alive!, a Humble Bundle treasure trove of Cypher System books, a fireside interview with Monte Cook, and much more in this week's Cypher Chronicles!
You can get Cypher Chronicles, and other MCG news, delivered right to your inbox! Enter your email address and click the Subscribe button in the right-hand column, and you'll never miss a post. You can also suggest topics for Cypher Chronicles by emailing us at [email protected].
This Week in Ptolus
Brave (and foolish) adventurers, much has happened since your journey into the dungeons below Ptolus! Three weeks of This Week in Ptolus updates await you:

First Week of Wind
Well-known Dohrinthan opera singer Tyrosh Nammeter performs at the Crown Theater in the Nobles' Quarter in a revival of Von Gess' "A Night Among the Thrushes," which has not been performed in the Empire since before the Days of the Blood, due to its controversial religious subject matter.
Second Week of Wind
Shark attacks have been reported in great numbers in the Whitewind Sea and Bay of Ptolus. Since such attacks are not common during this time of year, many speculate that they have something to do with the sharks' sahuagin masters.
Third Week of Wind
Eida Laeventha, long thought to be the oldest living humanoid, died this week in Ptolus at eight hundred three years of age. Many dispute the female elf's claim, including at least one elf in the Moonsilver Forest claiming to be more than a thousand years old.
This Week on Earth
If you can't tell, we're terribly excited about the Ptolus Kickstarter, launching Monday morning next week! Ptolus: Monte Cook's City by the Spire has been a beloved campaign setting since its release, and fans have been asking us for years to return to this playground.
The excerpts above are from This Week in Ptolus, part of the vast pile of digital extras (nearly 300 pages worth) that came with the original Ptolus campaign setting, and which will accompany our new release of the book for 5e and the Cypher System.
In addition to the gorgeous, premium new books and their digital extras, the Kickstarter campaign will offer some outrageous deals on existing 3rd edition Ptolus-related products. These will come your way soon after the Kickstarter has ended, giving you plenty of material to dive into while we update Ptolus itself. The new, updated versions of Ptolus will be very faithful to the award-winning original, but there may be some new art and potentially new content, particularly if fans steer our stretch goals in that direction . . .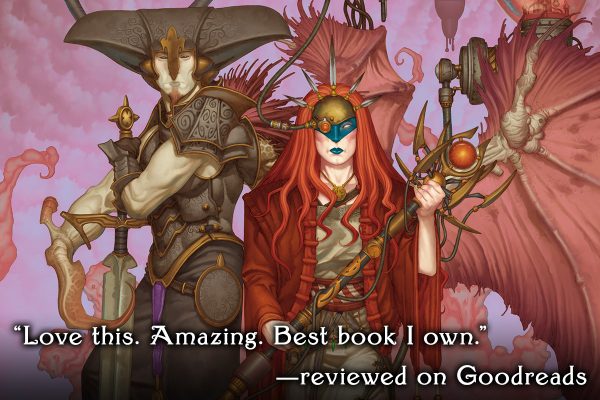 Are you new to Ptolus? Look forward to a Ptolus Player's Guide in PDF, offered for free during the campaign. It will be updated from the original book to be fully compatible with the new edition of Ptolus (that is, compatible with both 5e and the Cypher System).
With Arcana of the Ancients coming so soon, 5e fans will have plenty to enjoy while waiting for the updated Ptolus, and of course Cypher System fans have oodles to look forward to. Check out our Coming Soon page to see what's up next!
In the meantime, sign up to be notified as soon as the Ptolus Kickstarter goes live on Monday morning!
The Release of Stay Alive!
Stay Alive! is a horror-filled Cypher System supplement written by Sean K. Reynolds, and is out in the world as of this week! Bring your spooky campaigns to life with this book's horror mechanics, equipment, adventures, insights into many subgenres, and a new modern vampire setting.
Sean K. Reynolds was interviewed about Stay Alive! on the Cypher Unlimited Twitch channel on Wednesday. Watch the video on YouTube and enjoy:
Humble Bundle
The Cypher System Humble Bundle is live! An explosion of books at an outrageous price, with proceeds benefiting the ACLU and the World Wildlife Fund.
World-hopping adventures across the Strange, dinosaurs and time travel with Predation, and any world you can imagine with the Cypher System Rulebook!
Spread the word while this deal is live, and perhaps pick it up as a gift for your valentine.
Interview with Monte Cook
Monte will be a guest on Fireside with Peter Adkison: Tales of Gaming History!
Watch on Gen Con's Twitch channel on Wednesday, February 19th, at 4 p.m. PT. Videos are uploaded afterward to YouTube.
What would you like to hear Monte speak about?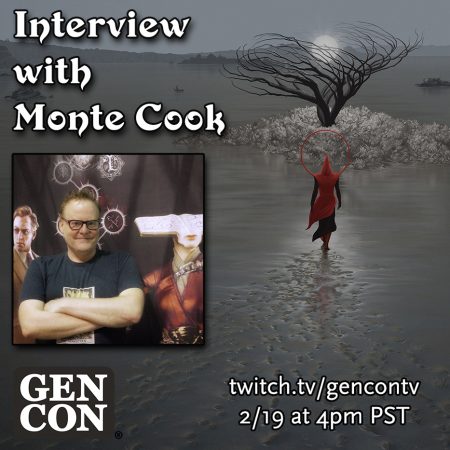 Shattered Sky is a new Cypher System podcast with a fabulous GM and players! "Welcome to the City of Sayrem: the sky is broken, the world is full of monsters, and the people are ready for change." Catch the first two episodes out now.