Literally thousands of pages of awesome game products—free or close to it. Plus squids, bats, flowers, Gustave Doré, and child vampires. It's the Cypher Chronicles!
You can get Cypher Chronicles, and other MCG news, delivered right to your inbox! Enter your email address and click the Subscribe button in the right-hand column, and you'll never miss a post. You can also suggest topics for Cypher Chronicles by emailing us at [email protected].


This Week in Ptolus
In our last Cypher Chronicles, Darcy shared three weeks of news from Monte's fantasy city of Ptolus. Here's what's happened in the week since.
Fourth Week of Wind
Priests from across the Empire gather in Ptolus this week to meet with the Holy Emperor in the first such synod in a decade. Many take this as further evidence that the Emperor of the Church has no intention of returning to Tarsis.
What's the significance of this little snippet? There's a lot going on in Ptolus, and the broader world beyond it. Maybe the politicking of the church will be central to your adventures. Maybe it'll just be a minor factor. Or maybe it's just background information, something that breathes life into the world around your characters as they go about their own activities. The key thing is that Ptolus is a dynamic city, filled with NPCs, factions, and other forces all pursuing their interests. You could run half a dozen full-length campaigns in Ptolus, and not use every hook it gives you.
This Week in Ptolus covers an entire year in the fantasy city, one short paragraph per week. It's just one of a bunch of digital extras that come, standard, with the Ptolus book itself. This Week in Ptolus is a 6-page PDF—altogether the digital extras amount to nearly 300 pages. And that's all in addition to the 672-page book itself!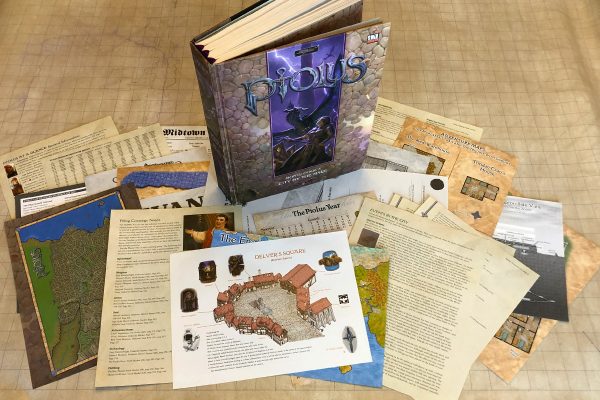 This Week in the Ptolus Kickstarter
What's better than a 672-page, premium-quality setting book that comes with 300 pages of extras? How about all of that, plus stretch goals? That's right, we've already upgraded the book a couple of times, unlocked a GM screen, and, as of this writing, are working on a new adventure. And it's only day five of the Kickstarter!
The Ptolus Kickstarter campaign got off to an amazing start Monday, and is on track to be one of the hottest campaigns we've ever run.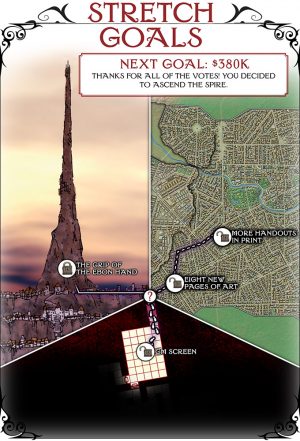 2100 Pages of Additional Ptolus Stuff!
Ptolus is coming for 5e and the Cypher System. But most backers won't have to wait for the new versions to start exploring the city and dreaming about their campaigns. Most backer levels include a huge library of existing Ptolus titles in PDF: map books, art books, adventures, and even the entire original Ptolus: Monte Cook's City by the Spire itself. These rewards—a $250 value—will be delivered shortly after the Kickstarter campaign ends.

An Astounding Deal on Cypher System and The Strange
If you haven't checked it out yet, it's not too late: The Humble Bundle offer of the Cypher System and The Strange is still on! For as little as $15, you can pick up The Strange corebook, the Cypher System Rulebook, and literally dozens of supplements in PDF—a total value of roughly $300. You will never find a better deal—even if your collection is only missing a couple of books, getting this bundle is worth it!
(Oh, and it supports the ACLU, and the WWF fund for Australian wildlife. So spread the word!)