Iadace and welcome to Cypher Chronicles!
MCG News
If you've backed A Strange Box Kickstarter at THE STRANGE BOX level, did you notice that upgrading to the LIBRARY OF IMPOSSIBLE THINGS level for only $40 more gets you every The Strange title in PDF? It's an incredible value!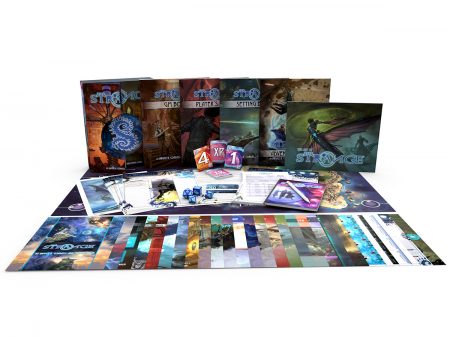 Many of you reading Cypher Chronicles are MCG Insiders (those in the know about all-things-MCG), and we are asking for your help spreading the word about A Strange Box Kickstarter. We want to reach people who may not have heard of The Strange RPG, so please spread the word. Share the campaign link on Facebook, tweet about it, tell your local FLGS about the retailer level. The world needs more Strange!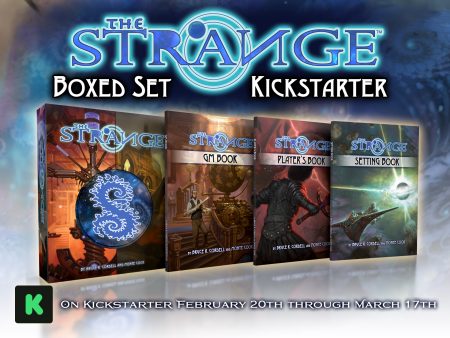 Bruce's next novel, Myth of the Maker, comes out in April of this year (you can preorder it now). Isn't it cool how Bruce's idea for a novel became the basis for The Strange RPG?!?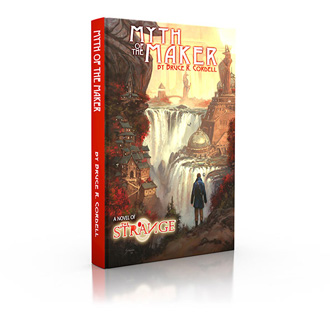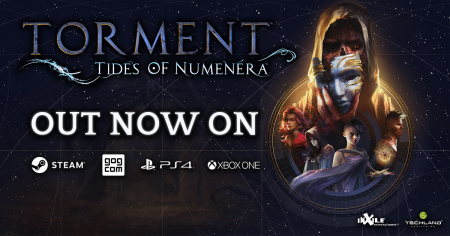 You can include Torment: Tides of Numenera in your tabletop Numenera game through Torment: Tides of Numenera—The Explorer's Guide. Written by Shanna, this is a spoiler-light book that details and expands upon the weird and fascinating places, people, and creatures first glimpsed in the videogame.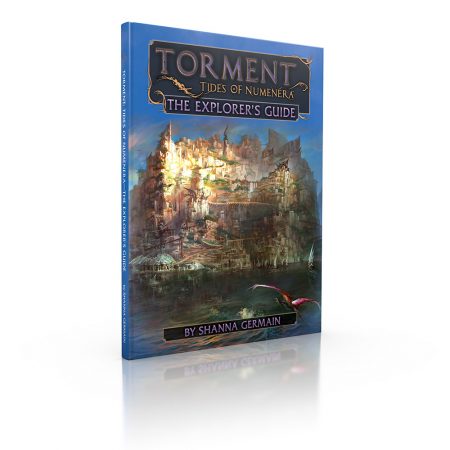 Monte, Shanna, and Bruce will be at Emerald City Comicon this weekend, working with our fiction publisher Angry Robot Books (booth #1816). If you're in the Seattle area, drop in to chat!
Get Inspired
Recommendations
Shadow of the Demon Lord Freeport Companion, by Robert J Schwalb: Oh, y'all! Schwalb is bringing Freeport to the Shadow of the Demon Lord, so this is a Kickstarter campaign you do not want to miss! The man himself says it best, "When building the setting for the game [Shadow of the Demon Lord], I reserved a small spot for Freeport, a city that will always have a soft-spot in my cold, black heart. Now that I have shipped out all the rewards for Shadow and released 120 titles for the game (including adventures, card decks, sourcebooks, and more), I want to bring Freeport to my world, and I need your help to do it."
By Order of the Queen, by David Gerrard: The Queen calls upon you to save the kingdom! Play your hand of heroes to complete quests, defeat monsters, and work with the other guilds of Tessandor to fulfill the orders of the Queen. A 2-4 player, family-friendly, cooperative game.
Fidgi Pen: A Fidget Toy Disguised As A Pen, by Fidgi Pen: It's a fidget toy disguised as a pen. So what if I already have a dozen fidget toys? I need this one, too. It allows discrete fidgeting.
Inspire Us
Got something you'd like to see published in Cypher Chronicles next week? A cool blog post you've written about our games, scientific news that inspires your The Strange campaign, an Atlas Obscura photo that makes you dream of the Ninth World, a Kickstarter campaign that kindles your imagination, a charity event near and dear to your heart…share whatever you think would inspire Team MCG and would also be a good fit for Cypher Chronicles. Send your recommendations to [email protected] (submitting a recommendation does not guarantee publication).
Share
Do you like us? Do you really like us? You can play an important role in helping us thrive and create more great games: Leave a review at DriveThruRPG, Amazon, or with your local game store owner. Share these chronicles with other gamers you know. Invite those you love to sit around a table with you and delve deep into their imagination to create shared memories that will last a lifetime.
~
P.S. You Rock
Hey, look! Now you can subscribe to get these blog posts right in your inbox. Right down there, at the bottom of this post! Just enter your email, and you'll never miss a post (we won't use your email for anything else, we promise). We've also added an easy way to share these posts on social media. You should see the buttons right at the bottom of this page!
Keep up with MCG! Follow Monte Cook Games, the Weird of Numenera, and The Strange RPG on Twitter, like Monte Cook Games on Facebook, and subscribe to our MCG channel on YouTube. We also have a Pinterest account, which isn't news, per se, but it has lots of pretty pictures.