We get digital today in Cypher Chronicles: Cypher System and Your Best Game Ever videos, exciting Invisible Sun news, and new books and cool inspiration for Numenera! Get the quick round-up of all this goodness and more.
You can get Cypher Chronicles, and other MCG news, delivered right to your inbox! Enter your email address and click the Subscribe button in the right-hand column, and you'll never miss a post. You can also suggest topics for Cypher Chronicles by emailing us at [email protected].
Callisto 6 Thinks Cypher System RULES!
Callisto 6 GM Eric Campbell and player Sam de Leve created a short video to explain the basics of Cypher System and power shifts, using fantastic examples from the characters of the show. Check out the video, and share the Cypher love around!
Your Best Worldbuilding Ever
In other video news, Monte and I recorded more video for the Your Best Game Ever video series (a stretch goal of the Kickstarter), and we had a blast. Look forward to hearing more about those upcoming videos in a few weeks.
Your Best Game Ever (preorder here!) breaks down some some of the advantages, disadvantages, and specific advice for the various kinds of worldbuilding you might do. As a player or a GM, do you like to play in custom settings, in pre-made settings (like Predation, Numenera, Invisible Sun), or do you like to borrow settings from media you love? For instance, I'm itching to run a space game after watching the new Star Trek: Discovery episodes. As a GM, I definitely fall in the "Purchase" and "Borrow" categories.
Vote in this Twitter poll and let us know how you like worldbuild!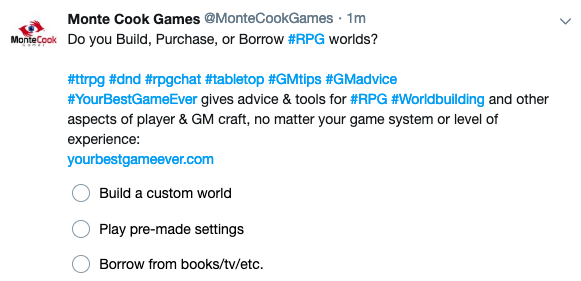 Arcana of the Ancients Announced
Earlier this week we announced an upcoming book that brings the weird science-fantasy of Numenera to your 5E games: Arcana of the Ancients.
Arcana of the Ancients will be your comprehensive guide to bringing science-fantasy into your 5th-edition campaign. This hefty, hardcover book will be filled with creatures, devices, character abilities, technologies, tips, advice, and adventure. All fully compatible with 5E.
Visit the announcement for more info and to sign up for a notification when the Kickstarter goes live mid-March!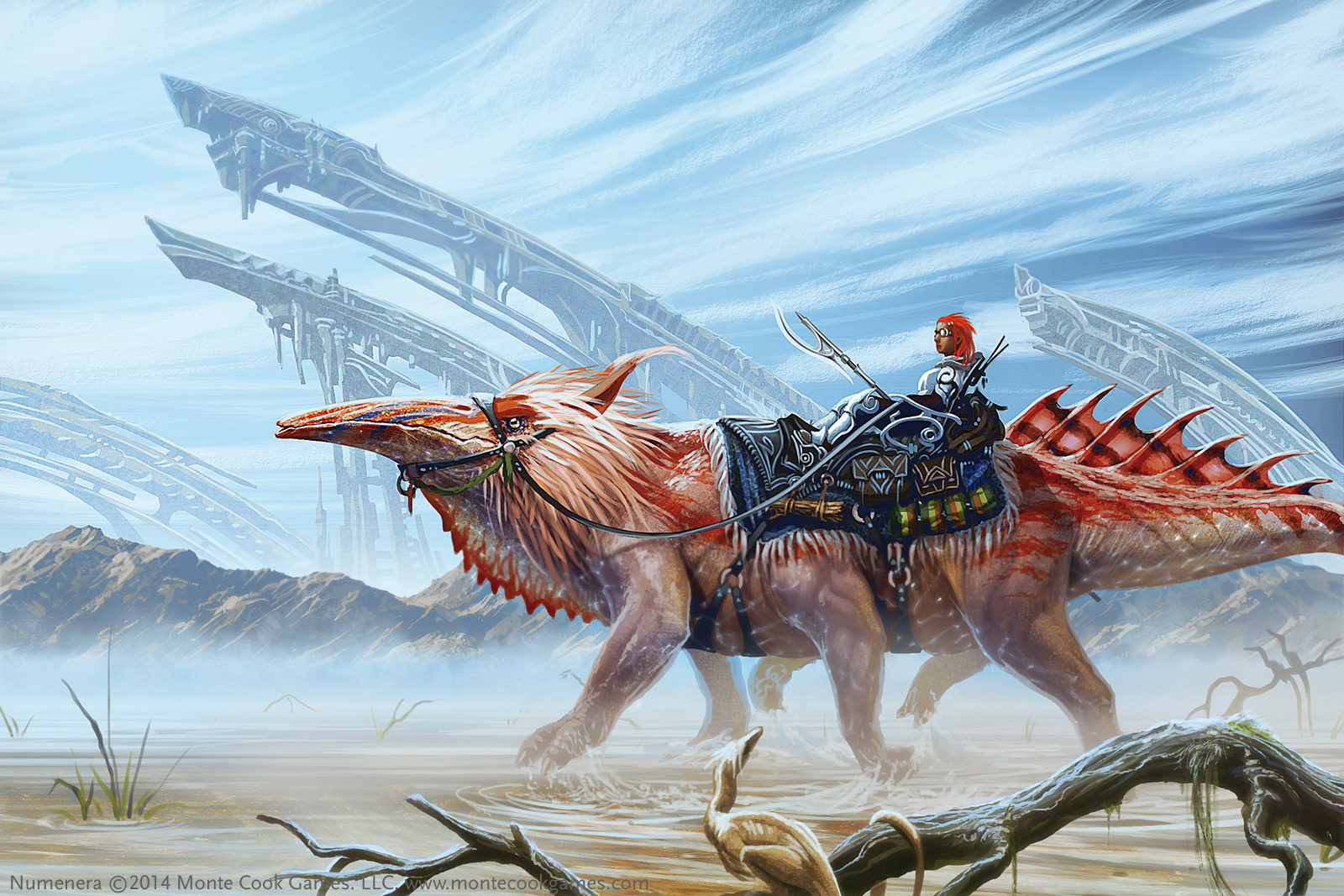 This year is packed full of fulfillments and new ventures and delight already! Here is some of the news happening this week:
Slaves of the Machine God by Bruce Cordell is here! This is our biggest book of adventure material for Numenera ever, with two separate or interweavable story arcs of eight adventures each. On the horizon lies Priests of the Aeons by Sean Reynolds, bringing you lore and character options and much more surrounding the powerful Order of Truth. New Numenera content is coming out faster than the raster flies.
Invisible Sun fans will want to have a look at the recent Kickstarter updates–we're bringing Invisible Sun to the realms of Shadow's digital landscape, and we're including it free for those who backed or preordered the Black Cube as a thank-you for bringing this project to life. (If you didn't back for the Black Cube, and would like to purchase Invisible Sun in PDF, it will be available in the near future.) The game remains best experienced in its physical form, so secure your copy by preordering the Black Cube, which now comes with the PDF!
We're recruiting GMs for both Origins Game Fair and Gen Con 2019. We'd love to have you run as many games as you feel comfortable with, and we offer some pretty good rewards if you run more than one official MCG game. Sign up here.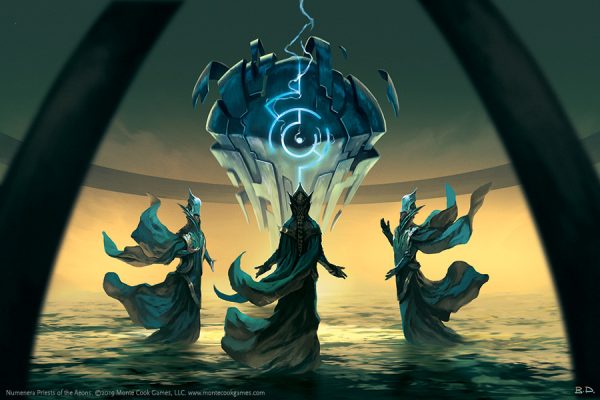 From Sean: Medieval illuminated manuscripts often had weird illustrations in the margins, such as jousting snails. Now there's a Kickstarter to get some of these made into 28mm scale miniatures, because weird miniatures are the best miniatures. Medieval Marginalia Presented by Old School Miniatures
From Charles: The Numenera minis from Reaper are very cool. And with a bit of customization, you can turn some of their non-Numenera minis into great Ninth World characters. Here's one such modeler's journey, complete with loads of neat photos.
From Darcy: I know almost nothing about this in-development game, Sable, but the art immediately grabbed me as the likes of Moebius with that delightful Numenera aesthetic. I'll be keeping an eye out for this game.
Sable is a coming-of-age tale of discovery through exploration across a strikingly rendered open world desert. Go on a deeply personal journey across an alien planet as the young Sable, exploring ancient monuments, ruined architecture, and ships fallen from the cosmos, all while learning the history of its inhabitants and discovering her place in the world.