Iadace and welcome to Cypher Chronicles!
Exciting News and Interviews
Six stretch goals! Yes, we're just into day five of the Worlds of the Cypher System Kickstarter campaign, and the stretch goals are already piling on. We've added three poster maps, two PDF supplements, and the coolest one (so far): Myth of the Maker, a novel for The Strange in hardcover and popular ebook formats! Even without the stretch goals, these three incredible settings will change the way you look at their respective genres. Now we're adding more Kickstarter-exclusive extras and new titles. You don't want to miss this!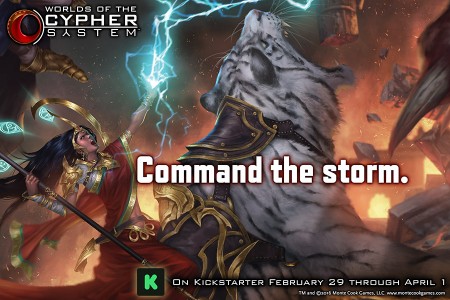 Speaking of Worlds of the Cypher System, check out the #haiku #CypherSystem hashtags on Twitter. People are posting some pretty cool Cypher System micropoetry!
Cypher System is
Full of possibilities
There are no limits
—@D_and_DHaiku
~
My camp is burning.
The dinos stomped through it.
Bad Triceratops!
—@RosnerGM
~
Old gods are now gone
Who will rise and replace them?
I'm looking at you
—@D_and_DHaiku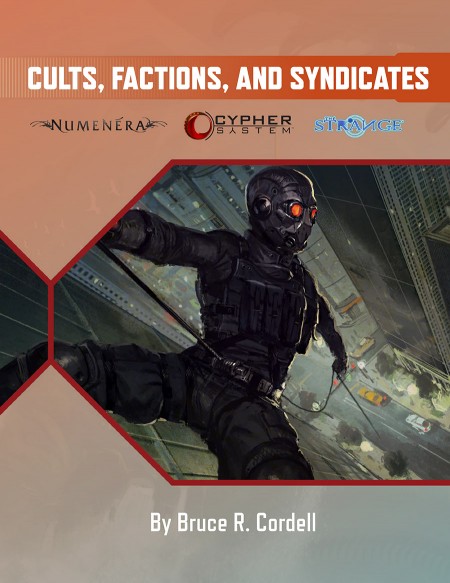 There's a new Monte Says article! Find out how to bring your passions into your roleplaying game to make deeper characters and more compelling scenes in Use Your Passion.
Get Inspired
Crowdfunding Campaigns and Other Things We Love
Inspire Us
Got something you'd like to see published in Cypher Chronicles next week? A cool blog post you've written about our games, scientific news that inspires your The Strange campaign, an Atlas Obscura photo that makes you dream of the Ninth World, a Kickstarter campaign that kindles your imagination, a charity event near and dear to your heart…share whatever you think would inspire Team MCG and would also be a good fit for Cypher Chronicles. Send your recommendations to [email protected] (submitting a recommendation does not guarantee publication).
Share
Do you like us? Do you really like us? You can play an important role in helping us thrive and create more great games: Leave a review at DriveThruRPG, Amazon, or with your local game store owner. Share these chronicles with other gamers you know. Invite those you love to sit around a table with and delve deep into their imagination to create shared memories that will last a lifetime.
~
P.S. You rock.
Hey, look! Now you can subscribe to get these blog posts right in your inbox. Right down there, at the bottom of this post! Just enter your email and you'll never miss a post (we won't use your email for anything else, we promise). We've also added an easy way to share these posts on social media. You should see the buttons right at the bottom of this page!
Keep up with MCG! Follow Monte Cook Games, the Weird of Numenera, and The Strange RPG on Twitter; like Monte Cook Games, The Strange, or Numenera on Facebook, and subscribe to our MCG channel on YouTube. We also have a Pinterest account, which isn't news, per se, but it has lots of pretty pictures.
Also, don't forget: If you need us for anything or have questions, we're right here.