Iadace and welcome to this week's edition of the Cypher Chronicles! We've got Cypher System superheroes, No Thank You, Evil! news, a new video from the Torment: Tides of Numenera computer game, and more!
Product News
You can still pre-order The Cypher System Rulebook — all the rules you need to create a campaign of horror, high fantasy, espionage, superheroes, and more! And you get the free PDF for any print orders prior to June 26. (You can also preorder the Cypher System Rulebook PDF at DriveThruRPG.) We played a superhero scenerio using the Cypher System a few days ago, and had a blast. (Literally: Bruce's character Stainless Steel Man threw himself on an exploding bomb (after Bruce rolled a 1)). Here's the Cypher System character sheet so far (not final but getting close!):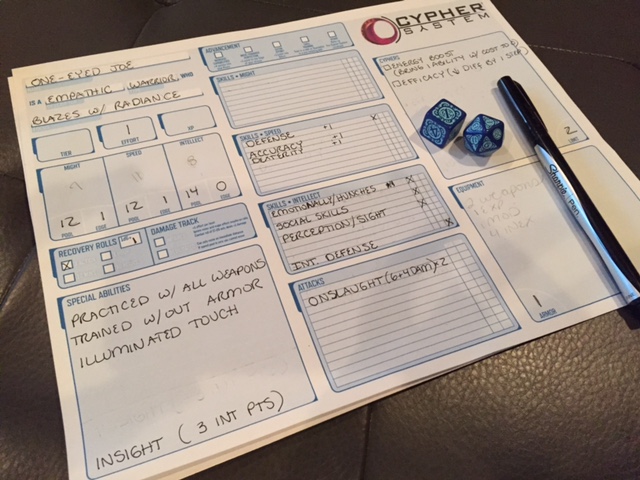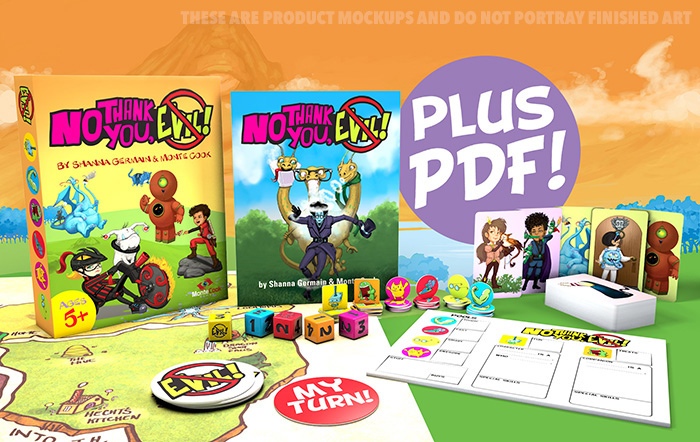 There's lots more going on too! The Deluxe Numenera Boxed Set is getting loaded onto a cargo ship, the new Native American recursion is being edited and "arted," there are a couple of new Glimmers and Fractals coming down the pike, and Into The Night is just about to go to the editor.
Other Exciting Things
Spectrum Fantastic Art Live is this weekend! Bear will be there. Go and see him!
All 70 of our Numenera and The Strange game events sold out fast for Gen Con 2015. If you missed out, we'll be running demos at the booth and of course we hope to see you at our seminars!
The Numenera short film is coming along beautifully. We just saw a rough cut and… wow! They're just blowing us away. We're so excited about it.
Have you seen the newest Torment: Tides of Numenera video? Um. Wow!
Get Inspired
Behind The Scenes
How about a little more from the The Cypher System Rulebook? A little science fiction anyone?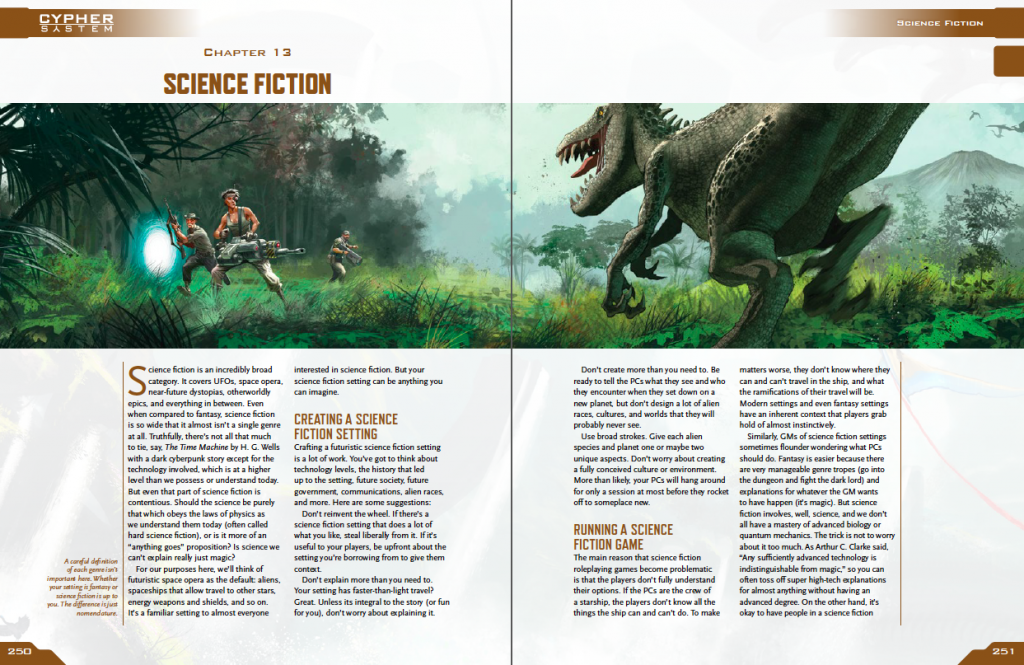 ~
Do you like us? Do you really like us? You can play an important role in helping is thrive and create more great games: Leave a review at DriveThru, Amazon, or with your local game store owner! Share these chronicles with other gamers you know. Invite those you love to sit around a table with you and delve deep into their imagination to create shared memories that will last a lifetime.
P.S. You rock.
Hey, look! Now you can subscribe to get these blog posts right in your inbox. Right down there, at the bottom of this post! Just enter your email and you'll never miss a post (we won't use your email for anything else, we promise). We've also added an easy way to share these posts on social media. You should see the buttons right at the bottom of this page!
Keep up with MCG! Follow Monte Cook Games, the Weird of Numenera, and The Strange RPG on Twitter; like Monte Cook Games, The Strange, or Numenera on Facebook, and subscribe to our MCG channel on YouTube. We also have a Pinterest account, which isn't news, per se, but it has lots of pretty pictures.
Also, don't forget: If you need us for anything or have questions, we're right here.