Iadace and welcome to this week's edition of the Cypher Chronicles! We have
Product News
If our pre-order numbers so far are to be believed, the Cypher System Rulebook is going to be an incredibly hot release—perhaps the biggest RPG release of the summer! Although the street date for CSR isn't until August, we're shipping pre-ordered books and PDFs in mid-July. (And if you order the print book, you get the PDF version as well—but this is a pre-order only deal!) Pre-orders close in June, so don't delay!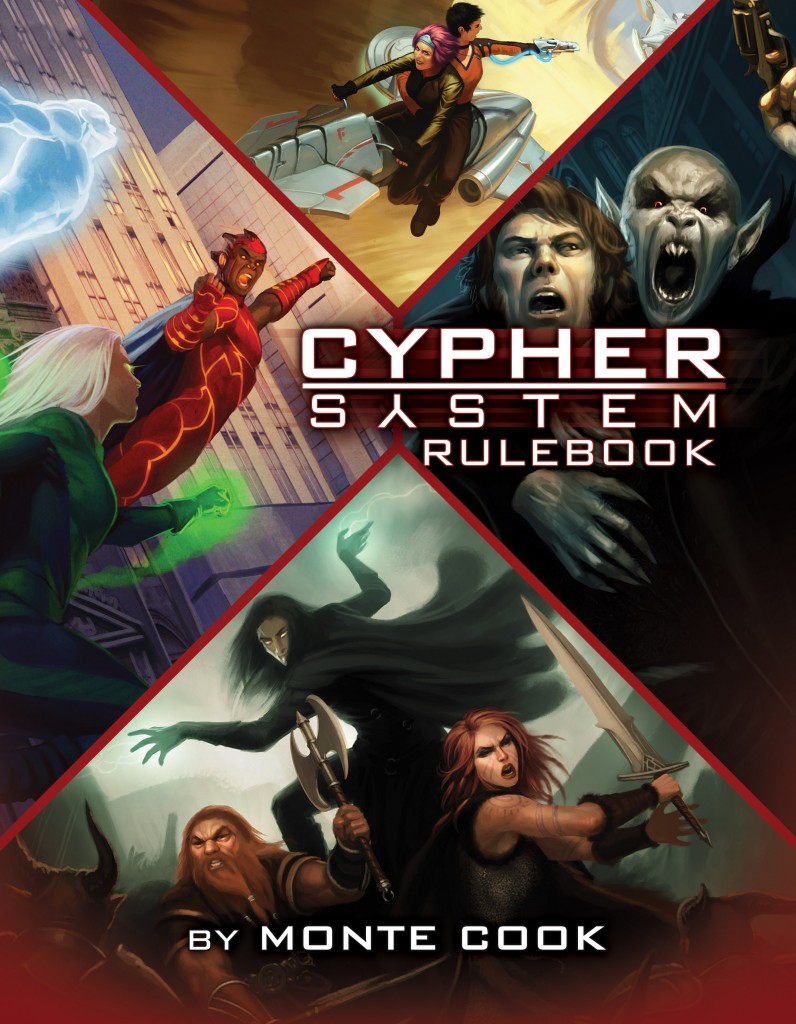 We're so excited that the No Thank You, Evil! Kickstarter is doing so well! We've already hit two stretch goals (an adventure book and reusable character sheets), and are on our way to a third! It's getting tons of great press too — and of course, all of your amazing support. Thank you, thank you! We've got a couple of cool things happening that you might be interested in as part of the Kickstarter:

First, #StoriaNeedsHeroes — if we get 1,000 social media hits that include that hashtag (and a link to the Kickstarter), we're going to add three new character Nouns (types) to the game: Astronaut, Creature, and Wizard!
We're doing lots of fun stuff that you can participate in next week: a Google on-air hangout on Wednesday with the adorable girls from Living4Crits, an Ask Me Anything with Shanna on EN World, and more! Stay tuned to the KS updates and social media for details!
We've got more amazing art continuing to flow in from our artists. Below find an in-progress map of Storia, designed by Michael Startzman. There are tons of fantastic places for adventures–and more to come! (And Numenera fans will find a place that sounds awfully familiar…).
Please spread the word if you can — every time we do a Kickstarter, we hear from sad gamers who missed out on the goodies because they found out about the KS too late. It will make us cry to know that there are kids out there who wanted No Thank You, Evil! and missed out 🙁 (And, of course, the more stretch goals we hit, the better the game gets for you too!)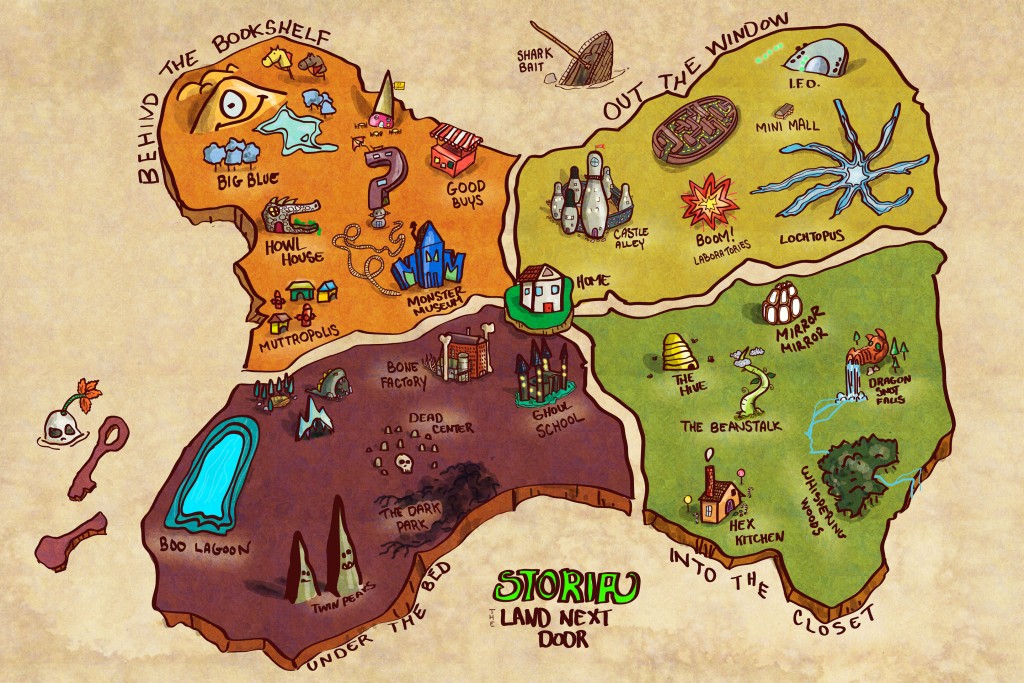 Other Exciting Things
The Exclusive Numenera Boxed Set fulfillment is underway! The majority of backers (78%) have completed the checkout process already.

The boxed set won't reach our warehouse until late June, at which time Tammie will be visiting our warehouse in Atlanta to help with fulfillment. We're hoping to ship these beauties out to backers within a matter of days, and so we have incentivized the process: 

If you complete the checkout process (described in the most recent KS update) by

June 1st

, we'll send you a $5 gift certificate for the MCG store. (Expect that gift certificate via email in early June. Some overseas backers have asked if they could get the $10 coupon that's part of the boxed set in advance, to help offset shipping costs. Sorry, it's just not practical to do that, nor to do it with the $5 code we're offering now.) But, if for some reason you can't give us your shipping info now, don't sweat it. You can place your order later if you prefer—it just won't make the first wave of shipping.
Mark your calendars! Next month, Bruce will be a guest at the

Evergreen Tabletop Expo sponsored by Uncle's Games

. The event takes place 

June 20th and 21st

at the Greater Tacoma Convention & Trade Center in Tacoma, Washington (follow the link for info and tickets). Come by on Saturday between 10am and 12pm and say hi. MCG will also have an Asset Team Member, Marleon, onsite on Saturday demoing games and spreading MCG joy! We hope to see you there!
Get Inspired
Behind The Scenes
We're really delighted that fabulous artist Tiffany Turrill is doing some art for us for No Thank You, Evil! She's done beautiful work for our other games (and for lots of other games and books!) and she's already making some really cool pieces for this game too. Here is one of her very early sketches for the game — featuring two characters, their companions, and some serious evil! Look for more to come soon!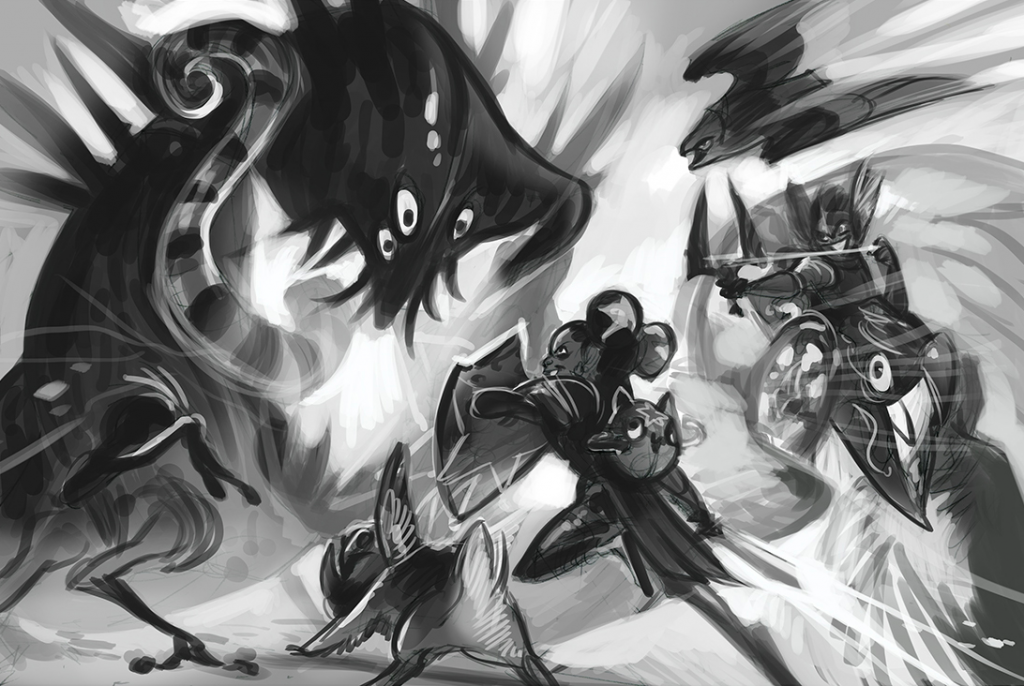 ~
Do you like us? Do you really like us? You can play an important role in helping is thrive and create more great games: Leave a review at DriveThru, Amazon, or with your local game store owner! Share these chronicles with other gamers you know. Invite those you love to sit around a table with you and delve deep into their imagination to create shared memories that will last a lifetime.
P.S. You rock.
Hey, look! Now you can subscribe to get these blog posts right in your inbox. Right down there, at the bottom of this post! Just enter your email and you'll never miss a post (we won't use your email for anything else, we promise). We've also added an easy way to share these posts on social media. You should see the buttons right at the bottom of this page!
Keep up with MCG! Follow Monte Cook Games, the Weird of Numenera, and The Strange RPG on Twitter; like Monte Cook Games, The Strange, or Numenera on Facebook, and subscribe to our MCG channel on YouTube. We also have a Pinterest account, which isn't news, per se, but it has lots of pretty pictures.
Also, don't forget: If you need us for anything or have questions, we're right here.