Iadace and welcome to this week's edition of The Cypher Chronicles! We are hard at work on the Numenera Boxed Set, the PDF of The Ninth World Guidebook, a new surprise for the Recursion Codex, planning our adventures for Gen Con (SO early!), and much, much more.
PRODUCT NEWS
 The Ninth World Guidebook comes out in just over week! We were just looking at the proofing copy we got from the printer, and realized that in many ways, it's just as much an art book as it is a gaming supplement. The amount of art and maps in this book is absolutely over the top (and we love it that way). Here's another sample spread of this incredible book: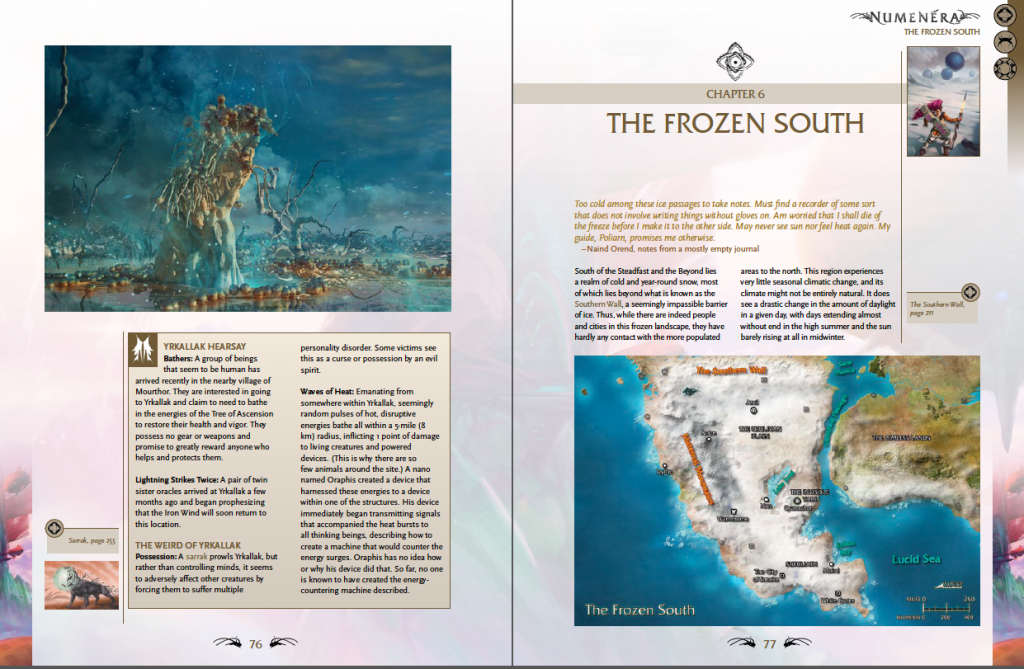 In Translation: The Strange Character Options is just about to go off to press. It's full of all kinds of character ideas to use in a whole lot of different recursions. Want to play a character who Aspires to be Posthuman? Grows to Towering Heights? Is Idolized by Millions? We've got you covered. (As always, many of the character options in this book will also work with Numenera).
We're hard at work on the Numenera Boxed Set too. So far, we've nailed down the dice, the cards, the books, the poster maps, the cloth map, the art print, the pencil, the dice bag, and oh my god, many of the other pieces that are going into this giant box o' Numenera stuff. It's going to be crazy-beautiful. Here's another cover, from the uber-talented Kieran Yanner: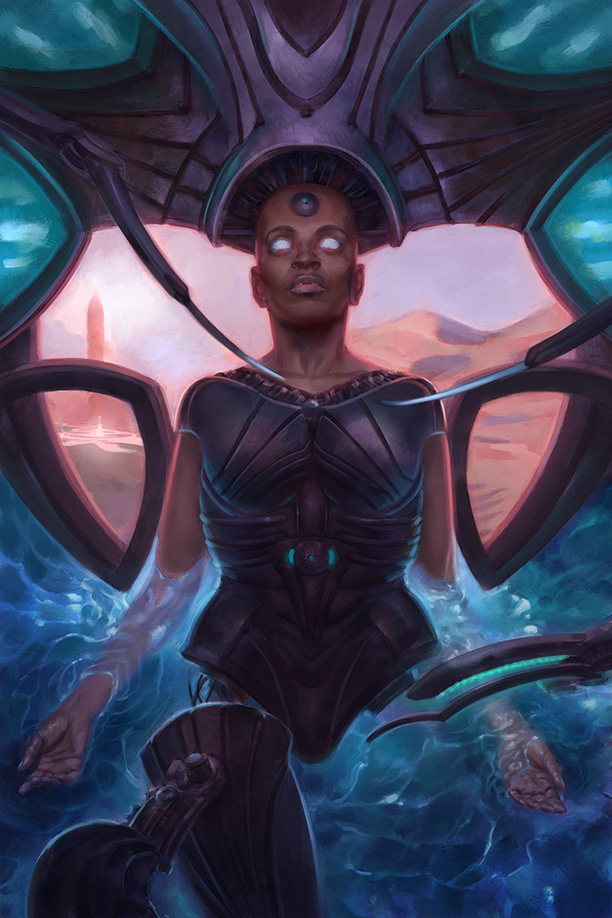 Also: The Numenera film. I bet you thought we forgot, didn't you? Heck no. We promised a film if we made it to $500,000 on the Numenera Kickstarter, and we've been working hard on making this thing happen. After a few false starts last year–we really, really wanted to find a company to work with who "got" Numenera–things are moving forward. We can't reveal very much yet, but let me tell you this: we recently watched the teaser and got to see the movie poster and OH MY GOD. We are so incredibly excited about the possibilities right now. So keep an eye out, as we'll be revealing more on this as we can!
OTHER EXCITING THINGS
NaNewGaMo—(Inter) National New Gamemasters Month—is still rocking and rolling! Learn how to go from being a player to being a GM throughout the month of January. We started the program at the beginning of the week, but it's never too late join in!
Have you checked out the Recursion Codex lately? We're planning something exciting for it. Check back

on Monday

to get the details!
GET INSPIRED
BEHIND THE SCENES
I can't tell you what this amazing piece, called "Sealed Door," is from because we haven't officially announced it yet. But let me say that this book is going to blow your mind. Promise. (Art by Guido Kuip).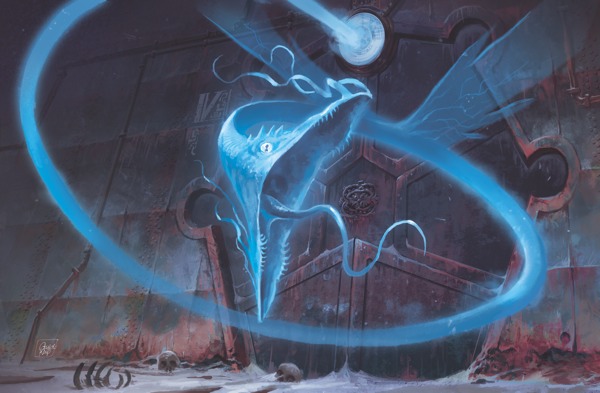 ~
Do you like us? Do you really like us? You can play an important role in helping is thrive and create more great games: Leave a review at DriveThru, Amazon, or with your local game store owner! Share these chronicles with other gamers you know. Invite those you love to sit around a table with you and delve deep into their imagination to create shared memories that will last a lifetime.
P.S. You rock.
Hey, look! Now you can subscribe to get these blog posts right in your inbox. Right down there, at the bottom of this post! Just enter your email and you'll never miss a post (we won't use your email for anything else, we promise). We've also added an easy way to share these posts on social media. You should see the buttons right at the bottom of this page!
Keep up with MCG! Follow Monte Cook Games, the Weird of Numenera, and The Strange RPG on Twitter; like Monte Cook Games, The Strange, or Numenera on Facebook, and subscribe to our MCG channel on YouTube. We also have a Pinterest account, which isn't news, per se, but it has lots of pretty pictures.
Also, don't forget: If you need us for anything or have questions, we're right here.