No Thank You, Evil! has a number of cool components inside the box. What are they, and how do you use them? Here's a quick guide to all of the items you get in the Standard Edition and Kickstarter Edition, and their purpose in the game. (The images in this post are early mockups. These components are still in development, and haven't been laid out–so expect a higher level of art and polish in the finished product, in keeping with our usual top-notch production values!)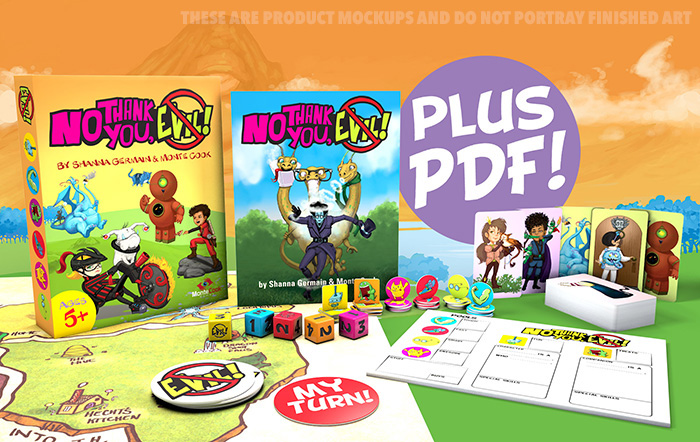 No Thank You, Evil! rulebook: This includes all of the game and character creation rules you need to play and run the game, as well as sections that detail Storia: The Land Next Door and the creatures within it. A special section on running the game helps Guides start off on the right foot. Expect lots of fantastic art and maps, as well as a layout that's easy for beginning readers. (Note: Players don't have to read the book—only the Guide needs to do that—but we want to make it easy for players to read if they want to do so).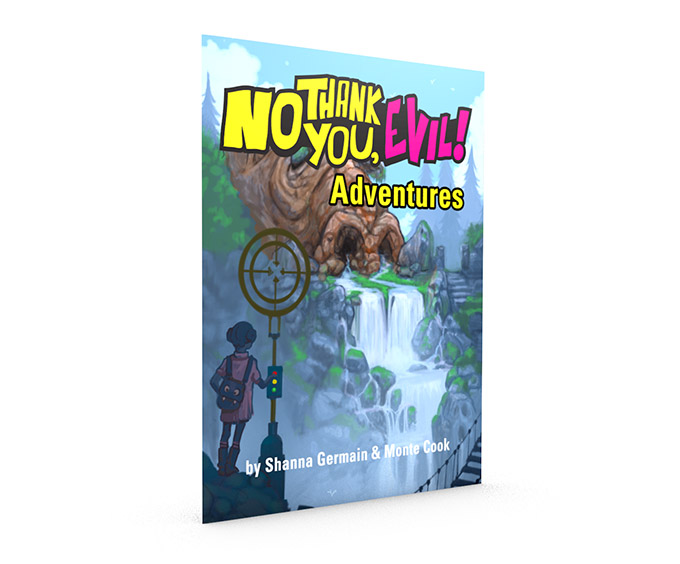 Adventure Book: This book features adventures designed for beginning players and Guides, up through more advanced players. Maps, artwork, and special creatures provide lots of fun for players of all experience and maturity levels. The same consideration for young readers is going into the design of this book as well.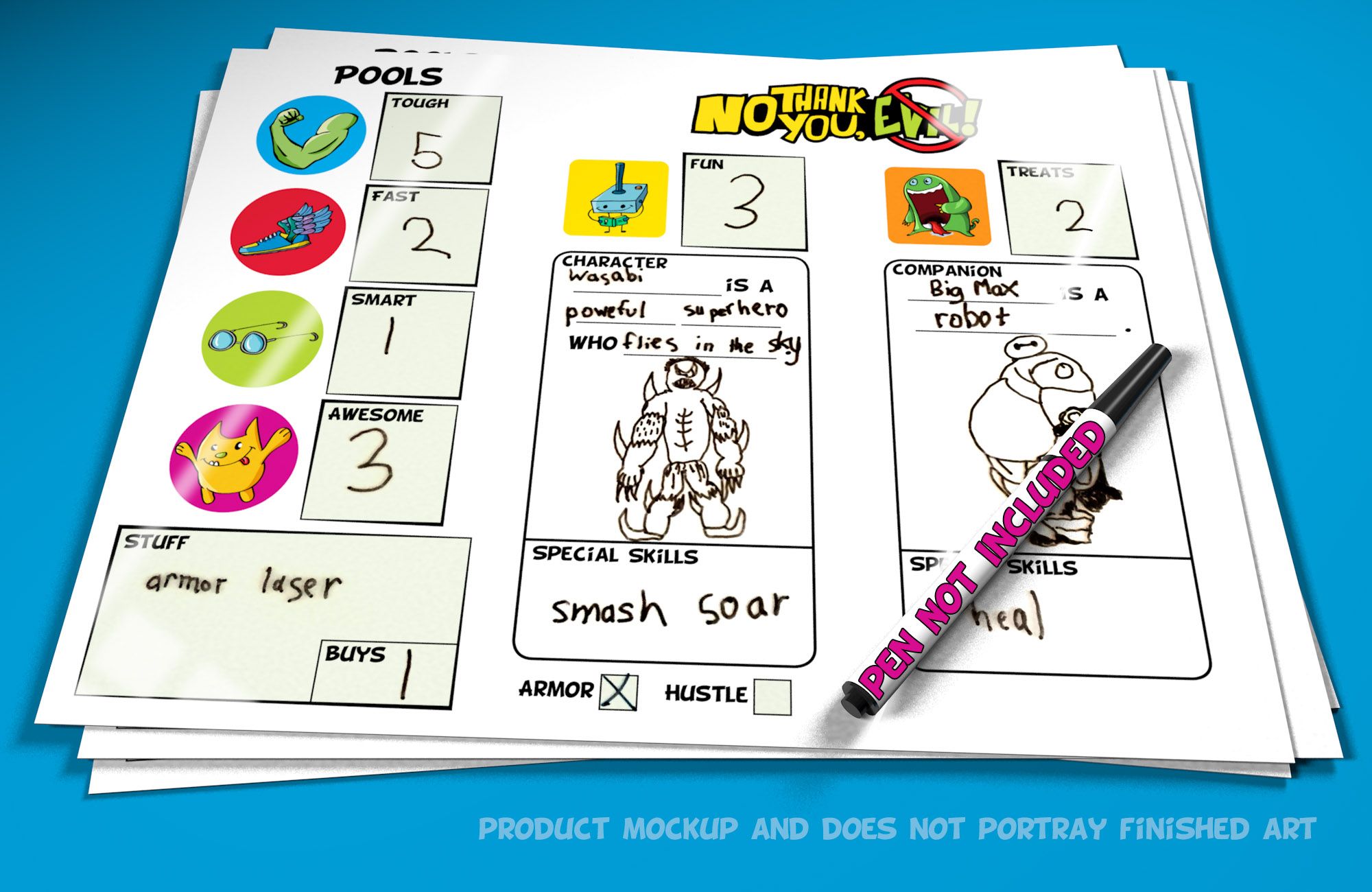 Character Sheets: The character sheets are designed to be beautiful and clean, with lots of room for writing, drawing, and erasing. They include everything the player needs for her character on a single side, eliminating the need to turn the sheets over. The elements are positioned so that the tokens are placed closer to the top of the sheet and writing spaces are closer to the bottom to decrease the chance of token-flying mishaps!
You get five character sheets in the Standard Edition. The Kickstarter Edition includes a pad of character sheets, as well as five reusable laminate character sheets. These write-on, wet-erase sheets make it easy to keep track of points, and can be re-used for new games. You'll also be able to download and print character sheets if you need more.
Pool Tokens: Large, colorful tokens are designed for tracking points in players' Pools. Sized for small hands and designed with color-blindness concerns in mind, the tokens eliminate the need for writing and help with counting. They fit right on to the character sheets so that players can tell at a glance how many points they have in any of their Pools.
Play Tokens: The game comes with two additional types of tokens: No Thank You, Evil! tokens and a My Turn token. If the game gets too intense for a younger player, he can play his No Thank You, Evil! token, letting the Guide know it's time for a break or a change of tone. The My Turn token gets passed around from player to player, prompting excited players to remember whose turn it is.
Character, Companion, and Cypher Cards: The cards are oversized and full color. The character and companion cards fit right on the character sheet. One side is just an image, for players who want to write their own characters based on the art. The other side is a pre-generated character type (or companion), making it a snap to get started.
The cypher cards are designed to be drawn randomly whenever a player is ready for a new cypher. (Cyphers are one-use skills that only companions know how to do!)
All the cards feature large, easy-to-read text in a dyslexia-friendly font.

Dice: The dice are high-quality plastic, larger than normal dice (around 22mm, compared to the more common 16mm size). They feature numerals instead of pips, so that young players can quickly see what they rolled. Instead of a "6" numeral, that face shows the No Thank You, Evil! symbol (because that result has a special effect). The game includes 5 dice in different colors, so everyone can pick his or her favorite.
The No Thank You, Evil! Kickstarter campaign hit another stretch goal today! As we achieve these stretch goals, we get to make the game better. (Both the Adventure Book and the reusable character sheets were added to the game by stretch goals.) Currently in the queue are character standups and Lucy Lawful and the Awful Waffle, a storybook that can be read to players to introduce them to the world and set them off on a related adventure!