Description
Bring the Actuality to Life Here in Shadow!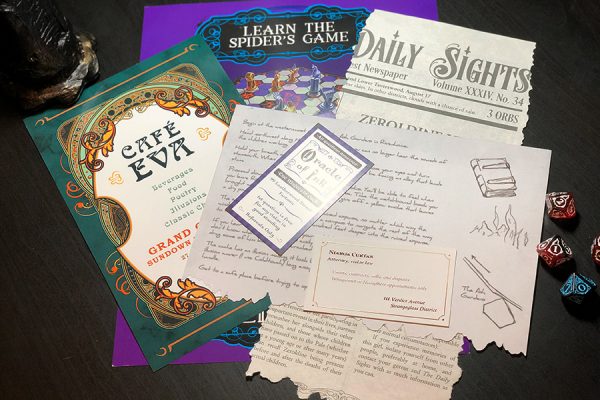 Part of what makes Invisible Sun so remarkable (in addition to the truly unique setting and the magical rules system) is the game's tactile nature. The Black Cube contains, among the many hundreds of components, a large, thick envelope stuffed with props and handouts—little bits of the Actuality to share at your game table. Menus, business cards, signs, handbills, posters, train and theatre tickets, letterhead, brochures, postcards . . . the list goes on. Few things draw players into a game world, and make their eyes light up at the game table, like well-crafted props.
Prop Set 2 gives you well over two dozen additional, all-new props for your Invisible Sun narrative—more, in fact, than the substantial number included in the Black Cube. Invitations, tickets, playbills, old letters, pages torn from mysterious books. Like everything Invisible Sun, these items are filled with hints, clues, hooks, and hidden truths. They bring the Actuality to life here in Shadow, and are a great aid to any Invisible Sun narrative!