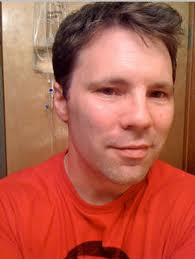 Today we announced that Bruce Cordell will be joining our team at Monte Cook Games as a Senior Designer. You can read the official press release here.
Bruce and I have been friends since the 8th grade. We met, appropriately enough, because we both played games. We were in shop class, and he was making a leather patch with a crossed sword and axe on it. I asked, "Do you play D&D?" and it was pretty much instant friendship from there.
When Bruce and I–and our other friends–weren't getting killed by Acererak in the Tomb of Horrors (or, more likely, playing in some modified 1E homebrew campaign), we were preparing for or participating in high school debate. Debate was really big in our hometown, and our circle of friends was really into it. In fact, in our senior year, most of us qualified for the National Tournament. So, debate and D&D–basically, that means we just thought and talked a lot.
Bruce and I stayed in touch throughout college even though we went to schools quite far apart, and then I went to work for Iron Crown Enterprises in 1990, so we were further apart. Still, when I needed writing help on a project, I turned to Bruce, whom I knew to be a creative designer and writer, even if he'd never been published professionally. This was Bruce's introduction into the RPG industry.
In 1992, when I left ICE, I realized that–as a freelance game writer–I could live anywhere I wanted to. I'd enjoyed Colorado when I visited Bruce, so why not move to where my best friend lived? And so I did. Eventually, however, I had to move to Wisconsin, because I'd been hired by TSR. Bruce started TSR a year later in 1995, and it was great having him there. When Wizards of the Coast bought TSR, both of us went out to Seattle (where we still are).
Even though our personal and professional lives have crossed paths so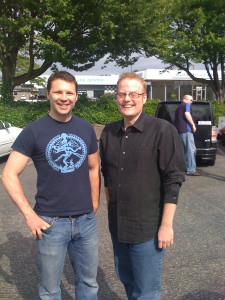 many times, the only time Bruce and I worked directly together was on "D&D Next" for a short time a year or two ago. I always lamented the fact that we hadn't co-designed anything, because Bruce and I think so much alike and our sensibilities about gaming, fantasy and sci fi, and so many other things are so similar. This isn't surprising, really, as formed those very sensibilities together in our teenage years. Now, finally, after 30 years of friendship, Bruce and I will work together on roleplaying game products. The first of many will be a joint project with Shanna Germain, Bruce, and I all working on the Ninth World Bestiary together. It promises to be a great time and I know that it will be a far better product with his creativity, talent, and enthusiasm involved.
Please help me in welcoming Bruce Cordell to Monte Cook Games.