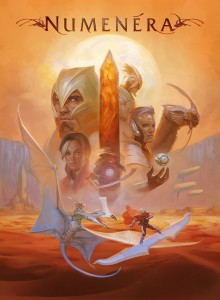 On August 12, 2012 as part of an update to the then on-going Numenera Kickstarter, I created a new stretch goal:
"If we manage to reach $100,000, I will make 300 copies of the corebook (in print format) available FOR FREE to educators and libraries who want it. Tell your teacher and librarian friends that once the book is out, they will be able to contact me to get this book to use as a tool or to make available in libraries. (I'll have all the formalized details posted on our website by then.) Please help me promote this particular goal, because I think it could be really cool and rewarding on a lot of levels."
Thanks to the Kickstarter backers, we not only reached that goal, but far surpassed it. While that seems like a long time ago, here we are, and it's time to post the details of the donation program for educators and librarians.
• As promised, Monte Cook Games, LLC, will donate up to 300 copies of Numenera to educators or librarians.
• To be eligible for this donation, the recipient must be a teacher or librarian. To the best of our ability, we will verify that each requestor is a teacher or librarian
• This offer is valid worldwide. The only cost to the recipients will be the cost of packaging and sending the book to them.
• Interested teachers and librarians must simply complete an online form.
• Once a request is approved, a member of staff will contact the requestor via email with further information and directions.
• The first 30 donated copies will be inscribed with bookplates. Each bookplate will name one of the backers who backed at the ALTRUISTIC COLLECTOR level, The bookplate will read, "This book donated thanks to [name of ALTRUISTIC COLLECTOR]."
• This will be an active program until Monte Cook Games, LLC, has donated 300 books or until December 31, 2013, whichever comes first.
Numenera will be released on August 14, 2013. Obviously, fulfillment of the donations won't begin until after the release date, but we can start to take in requests now. So, put the word out to all the teachers and librarians you know who might like to use the game in a school club or program, or who might want to make a copy of the game available to library patrons. Ask them to complete the form. Help us get Numenera into their hands to share the wonders of the Ninth World!