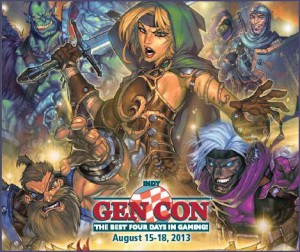 Thank you to all the wonderful gamers who came to our Numenera launch and our booth. It was particularly nice to hear from those of you who are Kickstarter supporters. Some of you were so kind, so understanding, and so supportive that it blew me away. A few of you touched me so deeply that I almost came to tears.
Thanks for the support, the smiles, the fun, the condolences, and the goodwill. And to to be even more specific, the card, the scarf, the cookies, the chocolates, the books, the maps, and the cosplay. (You know who you are.)
Thanks to those of you who recognized that it was a real effort for me to even be there this weekend, standing upright, after the loss I'd had in my family. And thanks to each of you that made it a bit better.
Thanks in particular to Charles, for organizing, for selling, for meeting, for hauling, for walking, and for supporting. Thanks to Tammie for organizing, providing, posting, and helping in every way. Thanks to my new friend David for selling, planning, GMing, filming, and always being ready to do anything. Thanks also to Ray for GMing, selling, and talking. Oh, and for editing. Thanks to Colin, James, Tom, Chris, and Ryan for GMing.
Thanks to Bruce for saying yes, and then continuing to say yes whenever we needed you throughout the convention.
Thanks to Steve, Matt, Scott, Pauline, and everyone else in the booth for all your help.
Thanks to Aaron, Michael, Nick, Yoshi, and Troy for playing in a very fun game, and thanks to everyone who stopped by to watch.
Thanks to Jen and Max for pulling together a fun episode to premiere.
Thanks to Nathan for being even cooler than I had expected, to Miranda for another amazing sushi meal, to James for dinner, and to Ed, Russ, Enrico, and others for some great interviews.
And thanks to Shanna for absolutely everything.